'Open House': Realtor Dragged for Leaving Key in Front Door
The way a realtor left a door after a viewing has shocked the internet this week after a picture captured viral attention.
Shared on Reddit on Thursday, Caleb Dilley who lives in central Minnesota posted the picture alongside the caption: "The realtor left my front door like this after a showing." In the picture, the door handle is shown with the key still in the lock and the lock box wide open.
With more than 9,000 upvotes and hundreds of comments, Redditors shared the poster's frustrations.
One reply said: "When you want to do an open house but the realtor understands differently."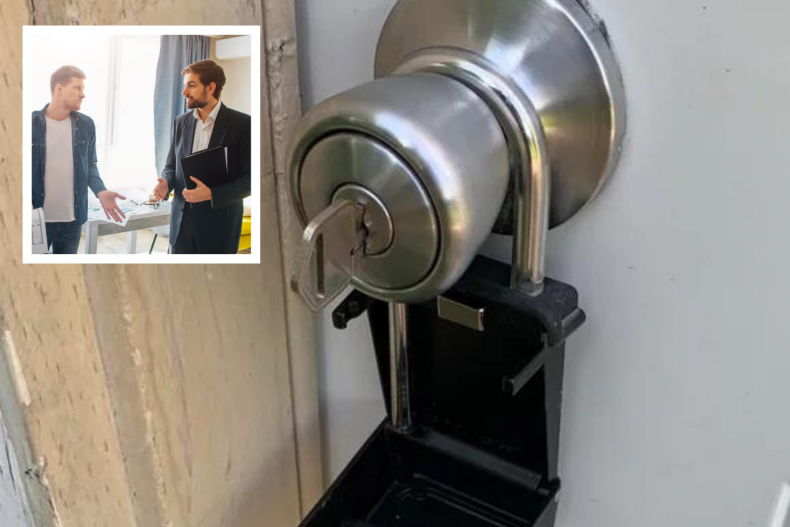 "I would assume she is trying to give your house away," said another reply.
Dilley told Newsweek: "They had a showing at our house and left the key directly in the lock and left the lock box open with the code to open it still on it. It was like this for just under an hour."
"Today's realtors seriously don't give a f***," wrote another Redditor. "They're so used to the easy money rolling in from the crazy market that they don't pay attention to shit."
As first-time buyers face increasing difficulty in finding property thanks to surging mortgage interest rates and inflation, realtors are working with a huge rise in demand for homes. But there are more realtors in the U.S. than you might think—data shows that nearly 2 percent of the adult population in Florida has an active real estate license.
As of October 2021, there were more than 1.56 million members of the National Association of Realtors. More than 65 percent of active realtors are women and the median age of all realtors in the U.S. is 52.
The padlock-shaped lock box that hangs around the handle is open in the picture and the door key is left in the door, which prompted Redditors to point out the potential consequences.
"Get a new realtor," said one commenter. "What if someone had come in and helped themselves to your stuff or worse. Everyone makes mistakes, but that's a pretty serious f-up."
"Your house looks very welcoming," joked another reply, while another said, "Yay a free house."
Another commenter suggested: "I would take the key and lockbox off and tell them they can't show the house unless I'm present."
When it comes to the public perception of realtors, the Roy Morgan Image of Professionals study from 2015 reported that only 9 percent of those polled rated real estate agents as having "very high" or "high" ethics and honesty. Only advertising professionals and car salesmen scored worse.
"I would be calling to say a thing or two," said another commenter on the viral post. "Not okay."
"I did not complain to them," said Dilley. "As much as I wanted to, I understand accidents happen but if it's like this again I will be saying something."
Update 07/04/2022, 6:05 a.m. ET: This article was updated with a new image and additional comment from the poster.