Oprah Winfrey has been accused of playing the victim, after speaking out about the backlash she faced in response to her efforts following August's deadly Maui wildfires.
Media mogul Winfrey reportedly owns about 1,000 acres of land in Maui. She is said to have bought 870 acres on the Hawaiian island for $6.6 million earlier this year, adding to the 100 acres she already owned. She has lived part-time on Maui for more than a decade.
Following the wildfires—which killed at least 115 people, with hundreds more missing, and caused extensive destruction to the resort town of Lahaina—Winfrey joined forces with actor Dwayne "The Rock" Johnson to launch the People's Fund of Maui.
The fund pledges to give direct financial assistance to those affected by the wildfires. After Winfrey and Johnson seeded the fund with a combined contribution of $10 million, they asked the public for donations. The move sparked backlash against Winfrey, with detractors asking why the billionaire didn't fund it herself.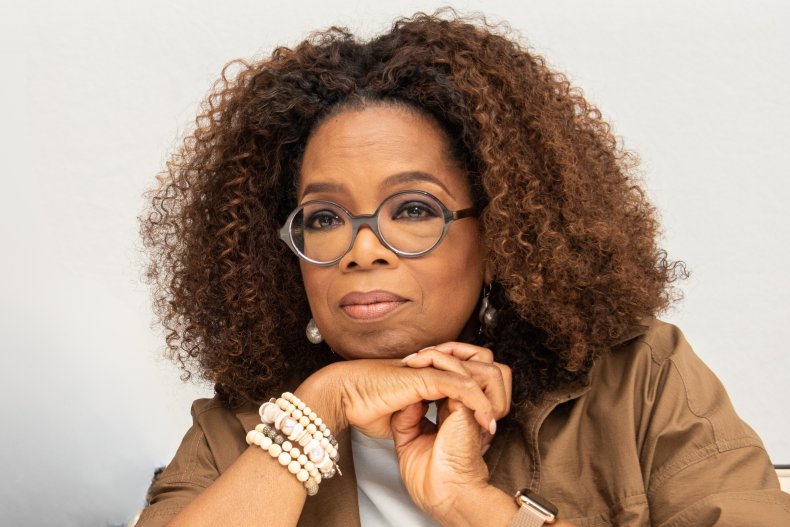 During a September 12 appearance on CBS Mornings, which is co-hosted by her best friend, Gayle King, Winfrey addressed the backlash she faced.
When asked about the reaction she got from a faction of her detractors, Winfrey said: "Well, this is a really great point about being happier in the midst of an onslaught of being terrorized and vilified online.
"I will say this: I came out of this experience... with so much more compassion for young kids, because I was thinking, 'What if I didn't really know who I am? What if I didn't have the assurance of [the poem] Invictus, that I am the master of my own fate and the captain of my soul?" added Winfrey.
"It would have taken you down," co-presenter King interjected.
"It will take you out," Winfrey agreed. "So all of the online... attacks, lies, conspiracy theories really took the focus off of what was the most important thing, and that was the people of Maui."
A clip of Winfrey's comments was shared on X, formerly Twitter, where the former talk-show host faced further vitriol as she was accused of "playing the victim."
"Oprah playing the victim while trying to sell her book [Build the Life You Want]. Gross," wrote an X user who shared a clip of the interview.
"They are giving Oprah more air time playing the victim than the real victims," commented another. "SAD!"
"Oprah playing the victim and saying she was terrorized online. Gee. I wonder how the people of Hawaii must feel," wrote another on X.
"And now Oprah is playing the victim," another posted. "And blaming the internet for people being distrustful of her. Oprah, in case you read this, you are not the victim here, talk to the people who lost everything, that is where our sympathies and prayers are."
While Winfrey was targeted with an onslaught of criticism for her comments, the TV personality was also defended by others who felt that her treatment was unfair.
On launching the People's Fund of Maui, Winfrey and Johnson said that they were inspired by country-music star Dolly Parton. She took similar action after wildfires devastated parts of Gatlinburg, Tennessee, back in December 2016.
Noting this, one X user wrote: "So Dolly does it and she's great, she's a savior. Oprah and the Rock do it and it's not enough. Doesn't make sense. [...] This criticism is unfair. But typical of the internet these days."
Another pointed out that Winfrey went around helping the people of Maui and noted that the star spoke of her intentions to make a major donation to recovery efforts. "People are being cruel," the X user added.
Agreeing with Winfrey's assertion that she had been vilified by certain social-media users, another wrote that she had been subjected to "baseless [and] hostile attacks."
Newsweek has contacted a representative of Winfrey via email for comment.
Misinformation and several unverified claims, including about Winfrey's response, have spread on social media following the wildfires.
A recent TikTok video, originally posted by user AlltheNope and viewed millions of times, made several allegations. They include that Winfrey hired a private firefighting team before the fires spread; hired private security to prevent people seeking shelter at her property; and had previously bought her land for "pennies on the dollar."
Asked about the viral TikTok, a spokesperson for Winfrey told Newsweek all allegations in the video were false.
Answering specifically the allegation that Winfrey bought the land at "pennies on the dollar," the spokesperson said: "The land is not undervalued; it is an unbuildable area with no water rights.
"The land is dedicated to open space and to planting trees to help restore the water-shed," they added.
"It is common knowledge in Maui that the lands have been traditionally used for grazing and has a lack of water. The County would have the records that span decades. It's very steep land, high elevation without roads."
The original video has since been removed from the platform; however, reposts with several millions of views are still available at the time of publication.
None of the claims in the TikTok video was presented with evidence. Newsweek did not find any information or data elsewhere that supported the accusations.
Another viral social-media post suggested a property of hers was protected from the wildfires because it had a blue roof. The post was based on a bogus news article, that used photos of buildings not situated in Maui.
Winfrey faced criticism during the wildfire crisis after she and a CBS camera crew were turned away from Wailuku's War Memorial Complex, where an evacuation shelter was based.
Winfrey later returned and was filmed doling out supplies to survivors, with officials at the site describing the star as polite and obliging.