Oprah Winfrey Responds to Donald Trump Twitter Attack: 'You Don't Win by Meeting Negativity Head-On'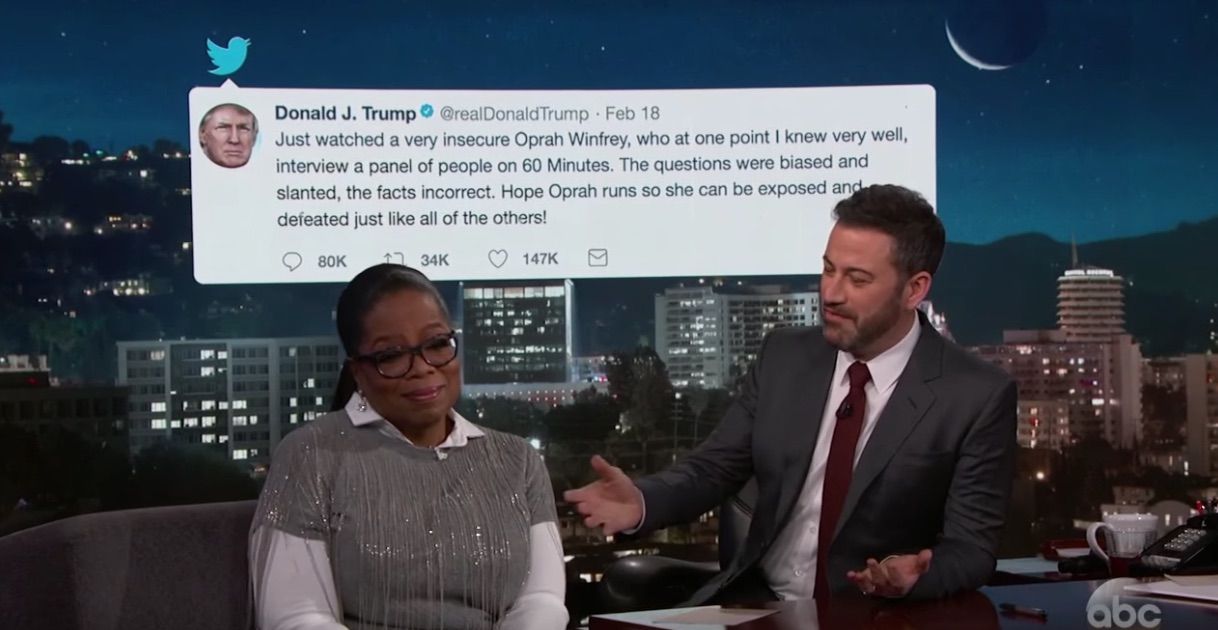 Oprah Winfrey had a very diplomatic response to President Donald Trump's searing tweet about her earlier this week: "You don't win by meeting any kind of negativity head-on."
On Sunday's episode of 60 Minutes Overtime, Winfrey gathered voters from Michigan, some Republican and some Democrats, to discuss Trump's first year in office.
The segment drew scorn from Trump, who tweeted that Winfrey was "insecure."
On Jimmy Kimmel Live! Thursday, Winfrey revealed that she found out about Trump's tweet through her friend, director Ava DuVernay.
"Ava DuVernay texted me and said, 'Call me when you get up.' I called her and she said, 'Are you aware?' I was like, 'What's going on?' She said, 'Check your feed,' and I went, Oh, no, no. Really?" Winfrey recalled.
Kimmel asked the former daytime talk-show queen if she thought about responding to Trump via Twitter. The answer was a resounding no.
"Not a second," Winfrey said emphatically. "You don't win by meeting any kind of negativity head-on. You just have to say, well, I don't know what that was, but all right. I wasn't in the room when he did that."
Trump's tweet claimed that he at one point in time knew Winfrey "very well." Winfrey told Kimmel that she and her partner, Stedman Graham, often bumped into Trump at boxing matches, and Trump attended a party she threw for Maya Angelou's 80th birthday. The party was held at Trump's Mar-a-Lago golf resort in Florida.
On Sunday's 60 Minutes Overtime, Winfrey again denied having any intention to run for president herself, after her rousing speech at the Golden Globe Awards in January prompted calls for her to consider a career in politics.
"I was just trying to give a good speech. I was looking for a way to express what was going on in this moment in terms of gender and class and race. I cared about landing that speech in the room," said Winfrey.
But she conceded she had not ruled out considering a run in the future.
"I had a lot of wealthy men calling, telling me that they would run my campaign and raise $1 billion for me. I think that when you have that many people whose opinions you value coming at you, it's worthy of thinking about."