Oprah Winfrey has compared the "caste system" of systemic racism in America, saying it served as a "template" for Nazi Germany.
The media mogul made the comments in an interview with author Isabel Wilkerson, who wrote the book "Caste: The Origins of Our Discontents."
Winfrey's discussion took place on her Apple TV series Oprah's Book Club this week and Wilkerson's book argues that the U.S. "social structure" is a caste system defined by a hierarchy of human divisions that shapes lives today.
The concept links the caste systems of America, India, and Nazi Germany.
During the interview, Winfrey asked the Pulitzer Prize-winning author: "How did you decide to focus the book on three caste systems, India, Nazi Germany and the United States? I think a lot of people get riled up and offended that you're comparing the caste system here to Nazi Germany, yet we discover that we were the template for Nazi Germany."
"It's a focus in on what lies beneath, what we think we see, and it focuses us on the structure of a thing and that allows us to see how race has essentially been the cue and the signifier of where a person fits in that hierarchy," Wilkerson told Winfrey.
Wilkerson explained this in a previous interview. "They sent people to the United States to research Jim Crow laws, and they were beginning to debate and contemplate Nuremberg laws," she said, later adding: "In Nazi Germany, Jewish people couldn't swim with those who identified as Aryan. And in the U.S., there were tremendous restrictions on access to pools and bodies of water for African-Americans."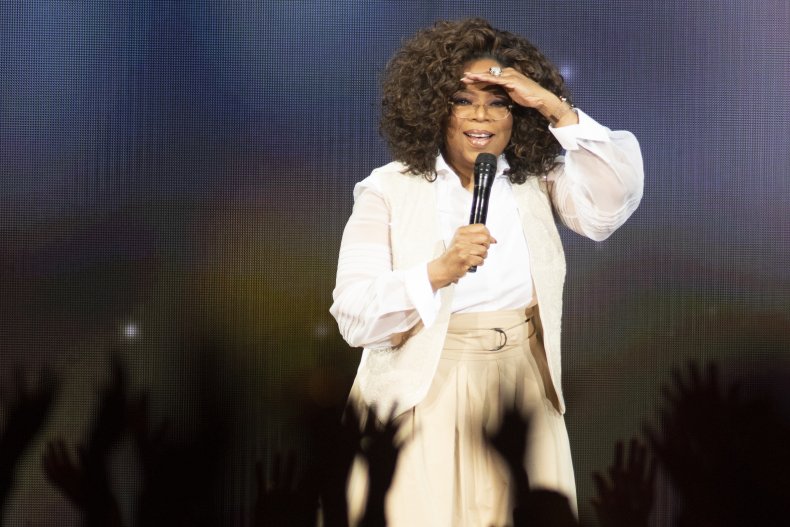 Winfrey herself has penned a piece about the upcoming election, urging Americans to choose "civility, decency, humanity" at the polls.
Published in eponymous publication, O Magazine, Winfrey wrote: "Beyond all the policy issues that will matter most in the future—the economy, climate change, healthcare, Social Security, education—what's really at stake are civility, decency, humanity. The hatred that's been unleashed will take some reckoning to overcome."
She added in am Instagram video: "Voting is a giant step in the direction of the collective vision we hold for our country. This 2020 election holds the highest stakes we've known for our democracy in our lifetime. Life as we know and hope for it to be is on the line, I believe. And, if you're paying any attention at all, you cannot just see it in all the newsfeeds or the hateration of social media, you can feel it. Get still and know the truth for yourself."
Winfrey also recently launched a billboard campaign to demand justice for Breonna Taylor by erecting 26 billboards.