Optometrist Charged With Allegedly Delivering Nooses, Making Racist Threats
During a summer of racial justice protests that erupted after the police killing of George Floyd in May 2020, a man was allegedly delivering nooses along with racist calls and notes throughout Michigan.
The Justice Department announced on Wednesday that Kenneth Pilon, a 61-year-old retired optometrist, had been federally charged with hate crimes for intimidating and attempting to intimidate people who signaled their support for the Black Lives Matter movement. According to data from the FBI's Uniform Crime Reporting Program, Michigan recorded 353 hate crimes committed against people in 2020.
A criminal complaint filed against Pilon on Tuesday detailed six counts of "willfully intimidating and attempting to intimidate citizens from engaging in lawful speech and protests." Each misdemeanor charge is punishable with a fine and up to one year in prison.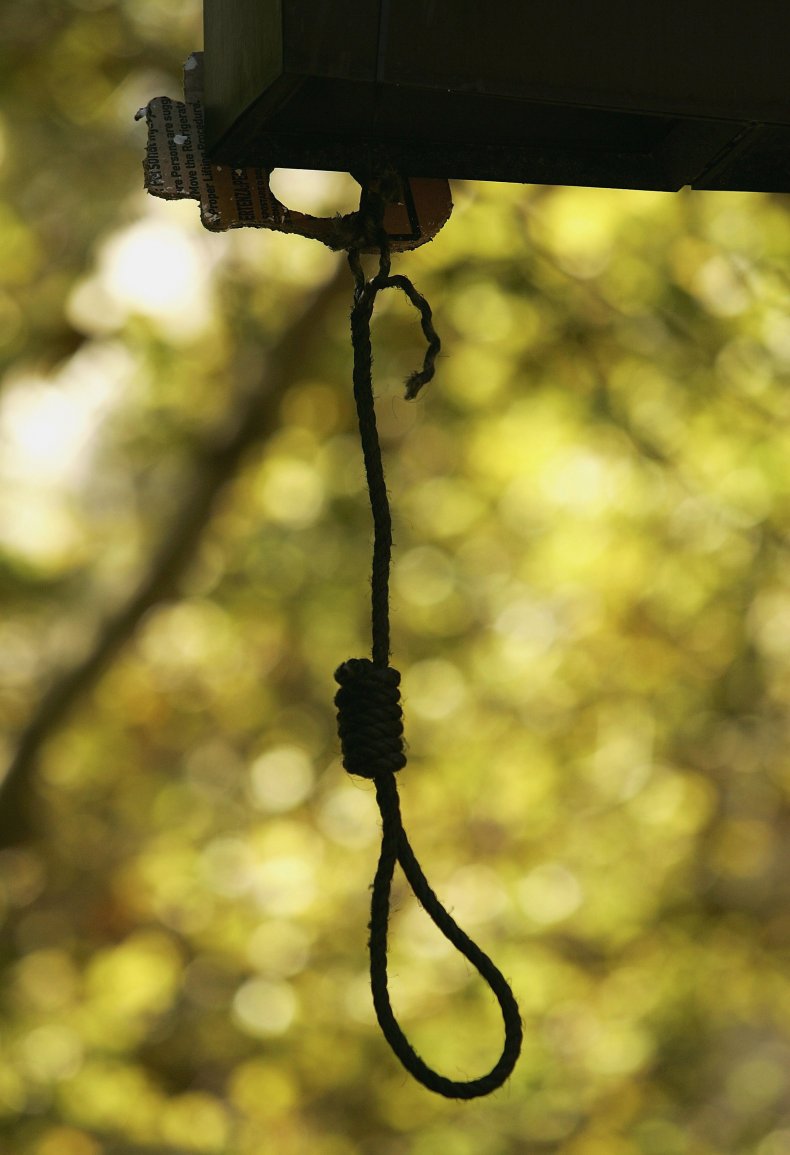 Pilon's alleged threats began on June 14, 2020, according to the complaint. He was accused of calling nine Starbucks stores across Michigan between 4:39 pm and 5:42 pm that day. In just over an hour, he allegedly directed nine staffers who picked up the phones to "Tell all the Starbucks workers wearing BLM shirts that the only good n***er is a dead n***er."
Pilon also allegedly told one of the employees, "I'm gonna go out and lynch me a n***er."
Two days earlier, Starbucks had announced that it was providing 250,000 "Black Lives Matter" T-shirts to employees who wanted to share their support for the movement during their shifts.
On June 22, Pilon allegedly left a noose in the parking lot of a Goodwill in Saginaw, Michigan. Attached to it was a handwritten note that said, "An accessory to be worn with your 'BLM' t-shirt. Happy Protesting!" He allegedly continued to leave nooses with similar notes at a 7-Eleven, a Walmart and a Kroger store over the following month.
Pilon also allegedly slipped a noose with an identical note into a truck owned by a Saginaw couple, prosecutors said. MLive identified the couple as Donald Simon, who is Black, and Regina Simon, who is Mexican-white. Regina told the outlet that she had been wearing a Black Lives Matter shirt while playing with the family dog in her front yard on July 11, the day before they discovered Pilon's threat.
After the attempted intimidation, defiant community members held a Black Lives Matter rally outside the Simons' home later that month.
Newsweek reached out to the Justice Department's Civil Rights Division for comment. An attorney for Pilon could not be identified by publication.
It's certainly not the first time Starbucks has made the news, and, unfortunately, it's not the first time a noose has made the news, either.
In March, someone hung stuffed monkeys by a noose while their neighbor had an open house because they "apparently didn't want any Black neighbors."
At least eight nooses were found at an Amazon construction site in 2021.
And prior to that, two nooses were found hanging on the bleachers of a high school.