Lawmakers have offered condolences to the families of the people killed in a "heartbreaking" mass shooting in Orange, California, on Wednesday evening.
At least four people were killed in the shooting at an office building in the city. It has been reported that a child was among the four.
Another victim was severely injured and taken to a local hospital. Authorities said the suspected assailant was shot and captured by police, and then taken to hospital. No other information on the suspect has been released.
Rep. Katie Porter, a Democrat who represents California's 45th congressional district, including parts of Orange, said in a statement: "I'm deeply saddened by reports of a mass shooting in Orange County, and I'm continuing to keep victims and their loved ones in my thoughts as we continue to learn more. My team and I will continue to monitor the situation closely."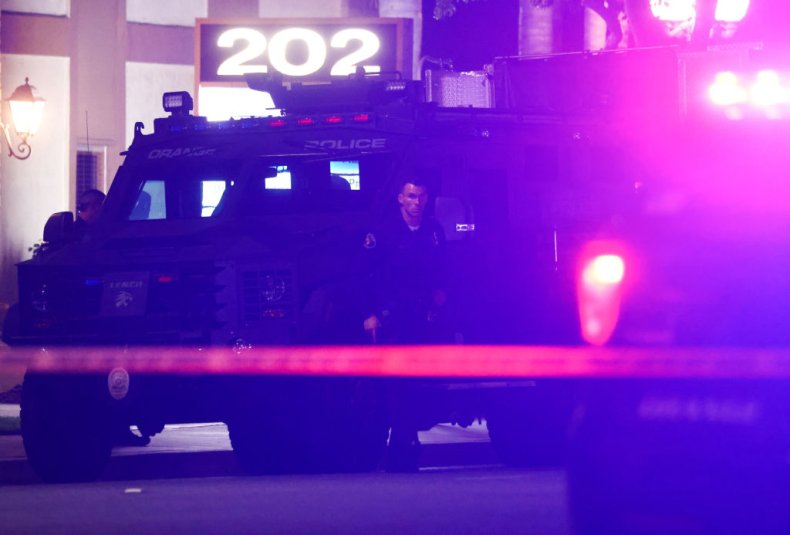 Rep. Mike Levin, a Democrat who also represents part of Orange County, tweeted: "Chrissy and I are thinking of all impacted by tonight's mass shooting in Orange County. Another heartbreaking tragedy. We will be monitoring closely. Please stay safe, everyone."
Another Democratic congressman who represents a portion of Orange County, Rep. Lou Correa, tweeted: "I am devastated by the news that a child died tonight in a mass shooting in Orange. My thoughts are with the victims and their families."
Rep. Andy Kim of New Jersey also said he would be mourning with the Orange County community over the "tragic" mass shooting, and promised to "reaffirm our commitment to fight for every life."
California Gov. Gavin Newsom described the shooting as "horrifying and heartbreaking," adding: "Our hearts are with the families impacted by this terrible tragedy tonight."
In a statement released late on Wednesday night, the Orange Police Department said they responded to a call about a shooting at 5:30 p.m. local time. Shots were still being fired when officers arrived, but police soon confirmed that the situation had been "stabilized" and there was no longer a threat to the public.
There were at least a dozen mass shootings in the U.S. in March. On March 16, eight people were killed in attacks on three spas in the Atlanta area. Six of those killed were Asian women. Robert Aaron Long has been charged with multiple counts of murder.
Ten people were killed six days later in a mass shooting at a supermarket in Boulder, Colorado. A local police officer who responded to a call about the incident was among the dead. Ahmad Alissa has been charged with murder.