Orcas Filmed Terrorizing Humpback Whales in Battle off Washington Coast
Orcas have been filmed terrorizing a pair of humpback whales in a deep sea battle off the Washington coast.
The incident was captured by crew members aboard a whale watching tour in the Salish Sea—on the Juan de Fuca Strait near the U.S./Canada border.
Crew members on a boat with Eagle Wing Tours first spotted about 15 Bigg's orcas being "unusually active" at the surface of the water, the Pacific Whale Watch Association (PWWA) said in a press release.
A captain aboard another vessel, of BC Whale Tours, then spotted a pair of humpback whales among them.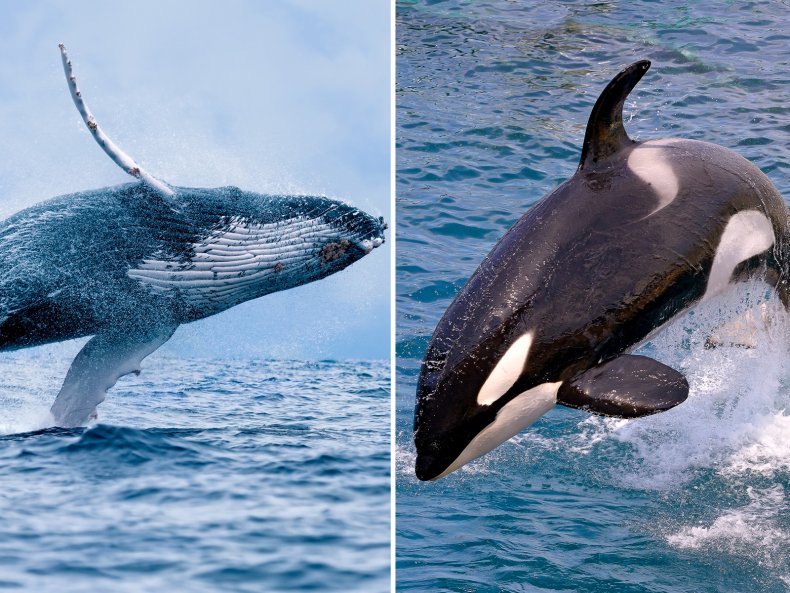 A video taken of the encounter shows orcas breaching the surface of the water as a humpback whale swims in the distance.
Witnesses told the PWWA the encounter lasted for nearly three hours. In that time, the whales continue to breach the surface of the water, omitting loud vocalizations.
They eventually "disappeared into the fog," the PWWA said.
"This is normal," Luke Rendell, a reader in biology at the University of St Andrews and marine mammal expert, told Newsweek. He said this particular location is "intensely observed."
Orcas, also known as killer whales, are known to feast on nearly every species of whale. They have even been observed taking down blue whales—the largest animal on earth.
Orcas, which travel in pods, tend to work together to take down really large prey. It is possible this is what the orcas in the video are doing with the humpback whales. However, it has not been confirmed whether they were hunting the whales, or terrorizing them for some other purpose.
Sometimes, these whales can be much larger than themselves.
Rendell said there is insufficient evidence as to whether the orcas are hunting, but this is usually the case. "But in general, yes, [they do this] for eating," he said.
Mollie Naccarato, captain and naturalist for Sooke Coastal Explorations on south Vancouver Island, witnessed the incident.
"I'm still trying to wrap my head around it because it was absolutely unbelievable," Naccarato said in a press release.
"At first the orcas seemed to be chasing the humpbacks, but then when it seemed there was space between them, the humpbacks would go back toward the orcas."
While orcas are known to feast on larger whales, they also target smaller prey such as seals, sea lions and porpoises.
To take down larger whales, the orca pod must work together tirelessly to succeed.
The PWWA said in a press release that it has not yet documented any humpback whales that have died by orcas in the Salish Sea. It is possible that interactions like this may become more common, as orcas and humpback whale numbers are increasing in the area.