Dirty Dozen List Puts Unnecessary Fear in Consumers Over Healthy Foods, Food Scientist Warns
The Environmental Working Group (EWG) on Tuesday released its 2018 "Dirty Dozen" list to showcase the top pesticide-riddled fruits and vegetables. But some argue that the list should be disregarded completely and may be scaring consumers away from otherwise healthy produce.
The EWG, a nonprofit that works to protect human health and the environment, releases a list each year of the top 12 fruits and vegetables with the highest traces of pesticide residue. In an emailed statement, the EWG said the list is created through an analysis of the most recent tests from the U.S. Department of Agriculture.
The following are on this year's Dirty Dozen:
Strawberries
Spinach
Nectarines
Apples
Grapes
Peaches
Cherries
Pears
Tomatoes
Celery
Potatoes
Sweet bell peppers
Once again, strawberries made the top of the list. The EWG's analysis showed that more than one-third of strawberry samples from 2016 contained residue from 10 or more pesticides. In addition, more than 98 percent of strawberries, peaches, potatoes, nectarines, cherries and apples tested positive for residue of at least one pesticide.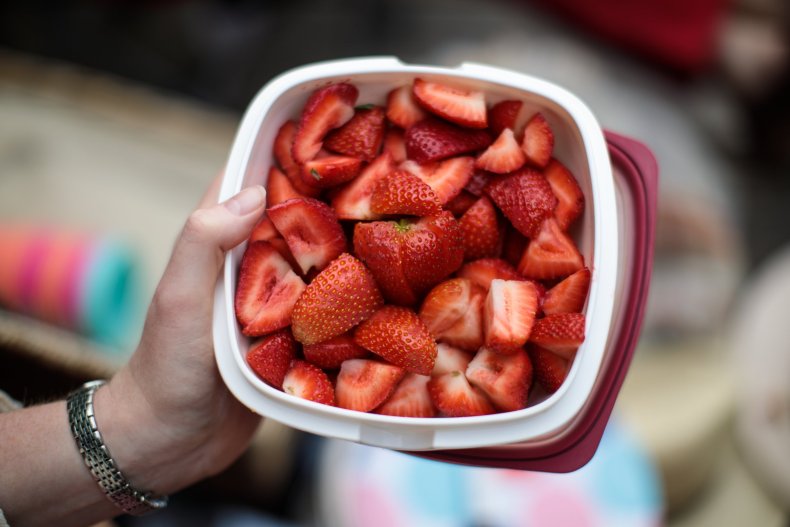 Related: Saving the bees: Europe may ban world's most common pesticide
The list is meant to help guide consumers on which fruits and veggies may be most safe to eat and feed to their families, Sonya Lunder, a senior analyst for EWG, said in the statement.
"With EWG's guide, consumers can fill their fridges and fruit bowls with plenty of healthy conventional and organic produce that isn't contaminated with multiple pesticide residues," Lunder said.
However, Tamika Sims, director of food technology communications at the International Food Information Council and the IFIC Foundation, told Newsweek that this list may actually do consumers harm by advising them to avoid otherwise healthy foods.
"I think that it's a disservice to people to tell them to avoid all of these nutritious foods if they can't afford or don't have access to the organic option," Sims said.
Related: EPA might let bee-killing pesticide be sprayed on 165 million acres of farmland
Exposure to pesticides is dangerous. Research has suggested that it is linked to health problems such as decreased fertility and damage to various vital organs, such as the heart or lungs. However, pesticide use is regulated in the U.S. by the Department of Agriculture (USDA), and the most recent results show that 99.5 percent of all samples tested had pesticide residue well below the levels set by the Environmental Protection Agency, while 22 percent had absolutely no detectable residue.
The USDA and IFIC assure consumers that the government-set levels are for food that is safe for consumption. While organic produce does offer lower pesticide exposure, Sims, who holds a doctorate in virology and immunology, said consumers should feel safe buying conventional produce over organic because "both are equally regulated by the USDA."