The Originals ended its five-year run on the CW with Tuesday's series finale, "When the Saints Go Marching In." Elijah Mikaelson redefined the family's vow of "always and forever" as his brother, Klaus, prepared to sacrifice his life.
Klaus (Joseph Morgan) had witches put the dark magic of the Hollow killing his daughter, Hope (Danielle Rose Russell), in his body in the previous episode. When the finale began, Hope stopped him before he could kill himself to rid the world of that magic. She and Elijah (Daniel Gillies) brought him home to New Orleans, where he said his goodbyes. He followed through on his previous offer to show Caroline (Candice King) his city, and she kissed him goodbye.
Klaus spent time with his family, including his brother, Kol (Nathaniel Buzolic). Kol was leaving until their sister, Rebekah (Claire Holt), told him they needed to honor what Klaus was doing. Klaus said goodbye to his daughter, who had made him feel "unconditional love." She promised to make him proud. "I'll be okay because I'm a Mikaelson," she told him. "I promise you I'm going to do right by our name."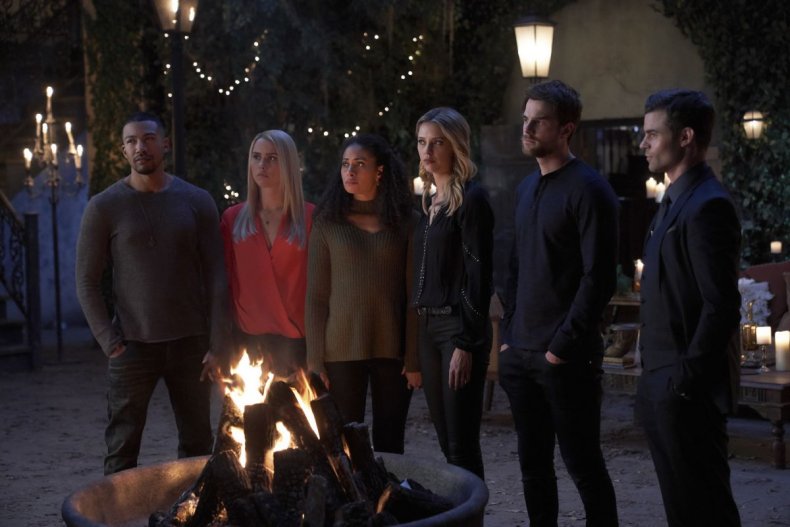 When Klaus was about to take his own life, Elijah "followed [him] into the fire" like he'd done earlier in the episode. He'd had their sister, Freya (Riley Voelkel), a witch, channel some of the dark magic into him so Klaus' mind would be clear. In his brother's final moments, Elijah planned to die by his side. He broke the white oak stake in half. "The purpose of my life … has always been your redemption," Elijah said, and in his eyes, Klaus was redeemed. The rest of the family knew of Elijah's plan to "redefine always and forever," their vow to never leave each other. The brothers staked each other and died together.
As for the rest of the family, Rebekah chose happiness—for herself and with Marcel (Charles Michael Davis). Klaus told her there was a cure waiting for her in Mystic Falls when she was ready so she could be human like she wanted. She told vampire Marcel of that catch, that he'd watch her grow old and die one day when she proposed to him. She gave him the envelope he'd given her to use if said yes to his proposal earlier in Season 5. He said yes.
Newlyweds Freya and werewolf Keelin (Christina Moses) planned to start a family and wanted witch Vincent (Yusuf Gatewood) to be their child's father. Though he originally refused, having suffered too much loss in his life, Klaus' sacrifice urged him to find the "courage" to say yes.
As Klaus told his family before his death, "This is not the end of the Mikaelsons." Hope's story will continue in The Originals spinoff, Legacies, premiering Thursday, October 25 at 9 p.m. ET on The CW.