'Orphan: First Kill' Release Date, Cast, Trailer, Plot
Over a decade after the gripping psychological horror film Orphan premiered, the origin story of 9-year-old Esther (played by Isabelle Fuhrman) is finally being told, much to fans' delight.
Titled Orphan: First Kill, the movie jumps back 13 years to when Esther first escaped from an Estonian asylum and arrived in the U.S, eventually committing her first kill.
The events in Orphan: First Kill take place before Esther arrived in the care of Kate (Vera Farmiga) and John Coleman (Peter Sarsgaard) from 2009's Orphan, exploring her origins and how she became the killer that she did.
Newsweek has everything you need to know about Orphan: First Kill, including the release date, cast, trailer, plot and more so you do not miss a thing.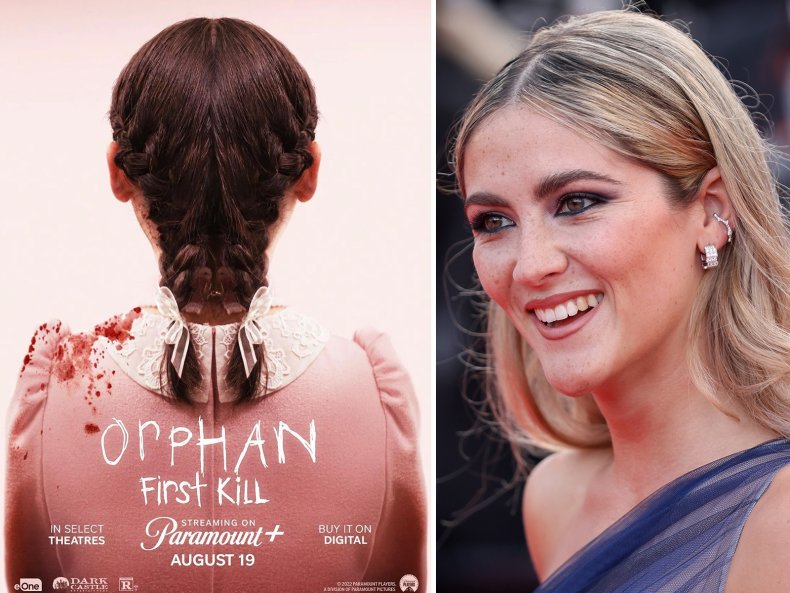 When Is Orphan: First Kill Out?
Halloween is coming a little early for fans of the 2009 horror Orphan who have been dying to know the backstory behind Esther.
The highly-anticipated prequel will premiere on Friday, August 19 in select theaters.
If you do not fancy going to the cinema to see Orphan: First Kill, the good news is that Orphan: First Kill will be available to stream on Paramount+, also on Friday, August 19.
To watch Orphan: First Kill, you must be a Paramount+ customer. You can subscribe now to the streaming platform for $4.99/£6.99 per month after a seven-day free trial.
Orphan: First Kill will also be available to purchase on Digital so audiences should keep an eye out on platforms such as Amazon Prime Video and Apple TV+ which offer Digital purchases.
Who Is in the Cast of Orphan: First Kill?
Isabelle Fuhrman has reprised her role of Esther in Orphan: First Kill. Fuhrman originated the role in 2009 when she was just 12 years old.
Now, aged 25, Fuhrman looks just as young as she did back in 2009, without any de-aging work or CGI in place.
Speaking to The Hollywood Reporter about reprising the role of Esther, Fuhrman said: "I love the challenge of being able to play a kid because that's never historically been done in cinema. I was like looking all this up—because I love looking up old movie history and things like that—and I was like, 'Oh, an adult has never reprised the role that they played as a child.'
"Will Smith, for example, recently did that movie [Gemini Man] where they de-age somebody, but to reprise a role that you literally did as a kid as an adult has never been done before. It's kind of impossible. And we did it. We didn't use special effects, we didn't use any crazy makeup tricks. And I think that's what makes the movie work, is because you really can't figure out how I look like a [9-year-old], but I do. And it's really creepy."
Since Orphan, Fuhrman has gone on to star in Escape Room: Tournament of Champions and The Novice. She is also well known for playing Clove in The Hunger Games.
Reign's Rossif Sutherland and Riviera's Julia Stiles star alongside Fuhrman in Orphan: First Kill. Sutherland plays the role of Esther's adoptive father, Allen Albright, and Stiles plays her over-protective mother, Tricia.
Also starring in Orphan: First Kill is Matthew Finlan as Gunnar Albright, Morgan Giraudet as James Klammer, Hiro Kanagawa as Inspector Donnan, and Samantha Walkers as Dr. Sager.
What Is Orphan: First Kill About?
Warning: This article contains spoilers about 2009's Orphan
Orphan: First Kill serves as a prequel to 2009's Orphan and will tell Esther's backstory.
The movie sees a young Esther escape from a psychiatric facility in Estonia and successfully make her way to America by pretending to be the missing daughter of a super-rich family.
From 2009's Orphan, everybody knows Esther's real identity is Leena Klammer, a 33-year-old woman who suffered from a rare hormone disorder.
Orphan: Frist Kill does exactly what it says in the title and follows Esther/Leena as she immerses herself in an innocent family, tears them apart, and ultimately, commits her "first kill."
The official synopsis teases: "Esther's terrifying saga continues in this thrilling prequel to the original and shocking horror hit, Orphan. After orchestrating a brilliant escape from an Estonian psychiatric facility, Esther travels to America by impersonating the missing daughter of a wealthy family.
"Yet, an unexpected twist arises that pits her against a mother who will protect her family from the murderous 'child' at any cost."
Is There a Trailer for Orphan: First Kill?
Yes, there is a tense trailer for Orphan: First Kill you will not want to miss.
The trailer begins with Tricia being given the news her daughter is still alive. However, the daughter who re-enters her life is not one she recognizes.
Esther is then seen attending counseling and acting erratically, while at the same time her family begins to doubt her true identity.
Her therapist can be heard sharing in her sessions that watching Esther "felt like a performance" as a detective uncovers that Esther is not Tricia's daughter after all, thanks to DNA evidence.
If the trailer is anything to go by, the detective may just be Esther's first kill. If you look really closely, Esther can be seen standing behind him as he makes the shocking discovery about her identity.
As the trailer comes to an end, Esther is seen going head to head with Tricia, who vows to protect her family, no matter what.
Orphan: First Kill is in theaters, on Digital, and streaming on Paramount+ on Friday, August 19.