'The Oscar Goes to': Dog's Dramatic Reaction to Nail Clipping Goes Viral
A video that first made its rounds on the internet in 2019 resurfaced and has gone viral on the popular Reddit forum "Aww."
The video of the pup sinking to the floor as its nails were getting clipped was originally posted by Aashin Khosla, but it was recently re-shared by u/i_am_ur_dad.
"And the Oscar goes to...," read the title of the post, which amassed more than 51,000 votes since it was posted on Tuesday.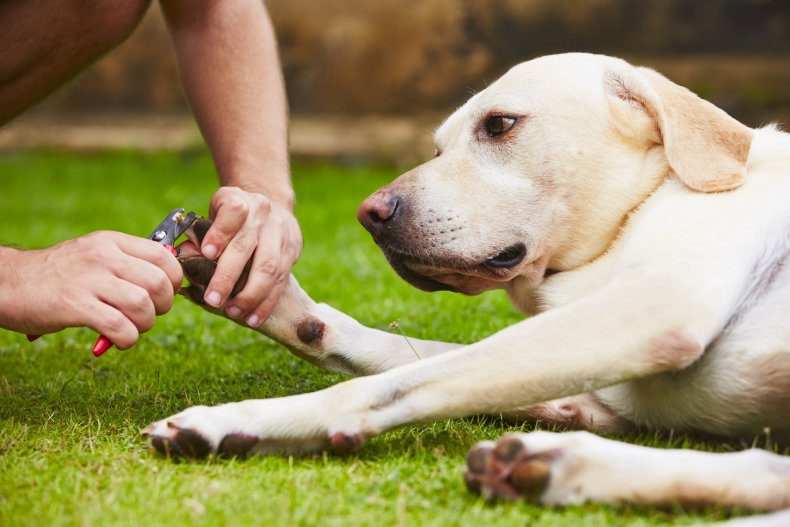 How to Clip Dog Nails
According to VCA Animal Hospitals, dog owners are encouraged to start training their canines when they are young. This ensures that puppies will learn to relax as their nails are clipped.
If a dog is already scared when they get its nails trimmed, owners will need to exercise patience as they train it to become more comfortable with the process.
A few tips the VCA Animal Hospitals recommended include training the dog to allow having their paws handled and letting the dog get used to the sound of the nail clippers before putting the training to the test.
"Avoid scolding your pet if she pulls her paw back or exhibits fear," the organization said. "Punishment may suppress her resistance to nail trimming, but may serve to increase the dog's fear, which will not solve the problem in the long run."
The Oscar Goes to...
The 14-second clip started by showing a big, blond golden retriever-looking dog sitting with three paws on the ground next to a woman who sat cross-legged and holding its left front paw in her hand.
The dog wore a weary expression, nose up, looking into the distance, avoiding eye contact as its owner held its paw.
She ever-so-slowly approached his paw with nail clippers.
The closer she got to his paw, the dog seemed to be contemplating its fate.
Just as she began clipping one of the nails, the dog slowly—and dramatically—rolled to its side, all while not pulling its paw from being held.
Redditor Reactions
Commenters did not hesitate to share their thoughts on the hilarious reaction.
"Best looking lead I've ever seen," a top comment read.
"Get out the violins," wrote a viewer. "Woe! Woe! Woe!"
Some Redditors seemed to have similar experiences to the owner in the video with their own dogs.
"Mine acts like all hope is lost and he will never get his paw back again," one wrote.
Commented another, "I grew up with a husky that would cry and whine the entire time, then limp around for 5 minutes after she was done."
However, not all dogs seemed to hate getting their nails done—one Redditor wrote that their brother's dog enjoyed the process.
"My brother used one of those little grinder wheel gizmos to do it and I guess he really enjoyed the vibrations on his feet or something," they wrote.
Other animals have gone viral for their own dramatic behavior.
A cat abruptly fell asleep while lounging in a serving bowl, as seen in a viral video shared on Reddit.
One viral TikTok video showed a dog's reaction to being scolded after it chewed its owner's shoes.
Another video of a cat who was "going through" some emotions while in the shower also went viral on TikTok.