Oscar Isaac's 'Moon Knight' Accent Has a Bizarre Origins Story
When the trailer for the new Disney+ series Moon Knight dropped earlier this year, Oscar Isaac was widely mocked for his English accent with hundreds of people agreeing that it was somewhat questionable.
The reason for the dodgy accent becomes clearer by the end of the first episode as it is revealed that Isaac's character lives with a debilitating form of dissociative identity disorder.
This aspect of his personality goes by the name Steven Grant and he is a shy and insecure museum worker from London.
The actor already revealed that he drew inspiration from an unlikely comedian for the role by watching Karl Pilkington's An Idiot Abroad show but he also explained how certain London neighborhoods inspired his accent and cadence for the Steven Grant character.
"I thought about the Jewish community in London and where a lot of that community is from and Enfield as an area and sort of listening to accents that are northeast London," Isaac told Newsweek and other press. "And then just committed to that and found this guy—that it wasn't just about accent, but it was also about his timidness, but also wanting to connect with people but not quite knowing how."
Later in the show, viewers discover that "Steven" has dissociative identity disorder and also goes by Marc Spector, which is a name more familiar to fans of Marvel comics.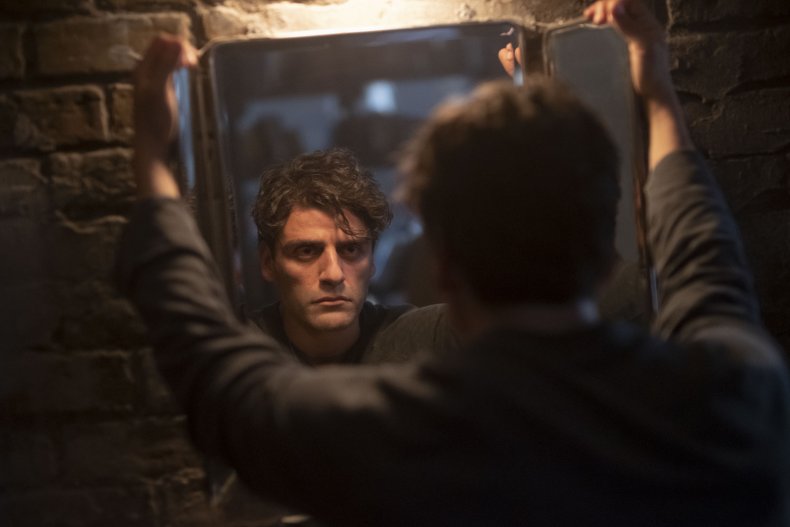 Discussing his inspiration for the character, Isaac revealed he drew from comedies like Stath Lets Flats and The Office.
Isaac also explained how Moon Knight came to be set in London.
"When I asked 'Why?', it was like the answer was, 'We just have too many characters in New York.'
"So it seems like let's just change it up. Let's make him an expat in London."
He continued: "But then it felt like there was—I mean, I love English humor, like The Office and Stath Lets Flats.
"There's just so much of that humor that I just find so funny, and I thought there's an opportunity here to maybe make something. What if we make him English? What if Peter Sellers was approached with a Marvel project, what would he do?"
Issac later spoke about what he learned from playing different characters, and said it is a "superpower" to be "able to live through abuse or trauma and survive it and then come to terms with that, as opposed to push it all away."
He added: "And to see that journey happen, I think that's a really powerful thing."
Moon Knight will begin streaming on Disney+ on March 30.