Oscar Nominee Tems' View-Blocking Oscars Look Sparks Jokes
Singer Tems' show-stopping ensemble proved to be something of an inconvenience during Sunday's 95th Academy Awards, when audience members seated directly behind her struggled to see the stage.
The Nigerian musician, 27, attended the star-studded show as a nominee, with her Black Panther: Wakanda Forever track "Lift Me Up" scoring a nod in the best original song category. She was nominated alongside Rihanna, Ludwig Göransson and Ryan Coogler.
As Tems, whose full name is Temilade Openiyi, arrived at Hollywood's Dolby Theatre, she was an ethereal vision in her white gown of choice, commanding attention as she sported a mass of rising tulle that wove its way around her head, reminiscent of a cloud.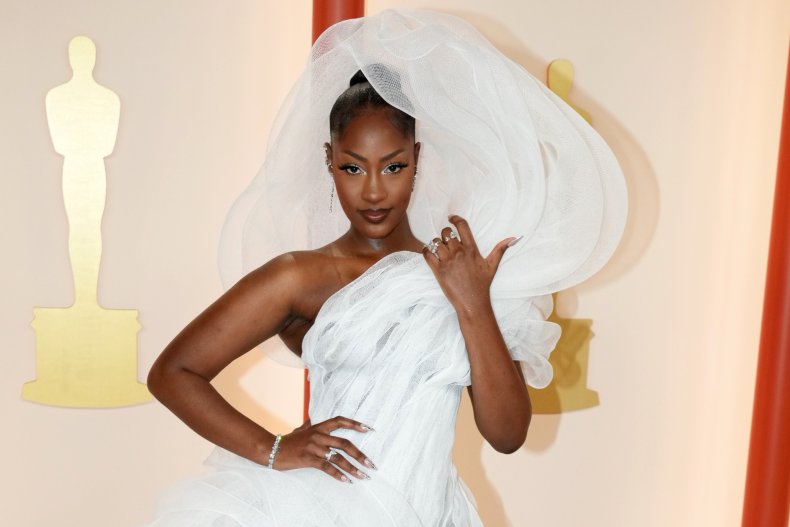 However, on settling into her prized seat at the star-studded show, it quickly became apparent that the mound of material rising from the back of her dress wasn't particularly helpful for those sitting directly behind her.
As the show proceeded, a number of viewers flocked to Twitter to share footage of audience members leaning to the side to see around Tems' dress so that they could watch all of the action taking place on the stage.
Writer and journalist Jarrett Bellini shared a photo of Tems applauding during the show, with the excess of material surrounding her head.
"Imagine waiting your whole life to be at the Oscars and you end up sitting behind a stratus cloud," captioned the image.
"LMFAO I know whoever behind Tems is heated," one Twitter user responded to the post.
Another Twitter user shared a photo of a set of thick curtains, joking that it was "what people sitting behind Tems are seeing."
Another shared video footage of an Oscars attendee slowly peering to the side of Tems' ensemble, in an attempt to get a better view of the stage.
"I'm cryinnnnnnn," wrote the uploader, who added that Tems "got that lady fighting for her life."
Another shared a photo of a man leaning to the side as he sat beside Tems, adding the caption: "Hate to be the brother next to Tems in the Oscar audience. Fighting for his life."
Posting a photo of a mound of material, another said: "POV you're sitting behind Tems watching the Oscars."
Taking things up a notch from jokes to outright criticism, one viewer tweeted of Tems' outfit: "This is so disrespectful to the people sitting behind her."
However, there was strong pushback from an army of Tems' supporters, a number of whom felt that she had been unfairly targeted, given that Hollywood's stars have had a long history of wearing larger-than-life outfits to awards shows.
When actor George Hahn commented that the styling of Tems' gown was "so rude," a fan hit back: "No Tems slander will be tolerated. If the #Oscars was okay with her beautiful fashion statement you should be too."
Another commented: "I'm not hearing Tems slander after decades of white women wearing stupidly obnoxious headdresses to awards shows. Miss me with that s***."
Posting a photo of Tems alongside a snapshot of rapper Cardi B at this year's Grammy Awards, another Twitter user shared their theory about the criticism directed at Tems.
"It's how racist everyone gets when someone from Africa does something, everyone is bashing Tems for her outfit but same y'all didn't say s*** when Cardi wore it or when Lady Gaga or Beyoncé wore bigger outfits," they wrote. "Shame on y'all. No Tems slander will be tolerated here."
Taking a tongue-in-cheek approach, British author Bolu Babalola styled her take as a mock essay introduction as she wrote: "Actually it is an ironic symbol, she is taking up space as a Black woman, whilst the white not only represents a femininity BW have traditionally not had access to but also how whiteness has obscured and obstructed paths of progress."
In a follow-up tweet, Babalola added: "My sister looks great thank you she looks radiant."
While Tems was on hand to watch Rihanna perform her Oscar-nominated song, the winning track on the night ended up being "Naatu Naatu," from the hit Telugu-language film RRR. The victory saw RRR become the first Indian film song to win an Oscar.
Other songs nominated in the category on the night were "Applause," from Tell it Like a Woman, "Hold My Hand" (Top Gun: Maverick), and "This is a Life" (Everything Everywhere All at Once).