What Rihanna Has Said About Motherhood, A$AP Rocky and More
Superstar singer Rihanna has mostly preferred to keep her personal life out of the spotlight, but she has shared some details with fans over the years.
The "Umbrella"hitmaker has previously spoken of her relationship with rapper A$AP Rocky and her family's reaction to him. She also talked about their first child together, a son, whose name has been kept a secret.
Here is everything that Rihanna has said on these subject matters.
What Rihanna Has Said About Motherhood, ASAP Rocky and More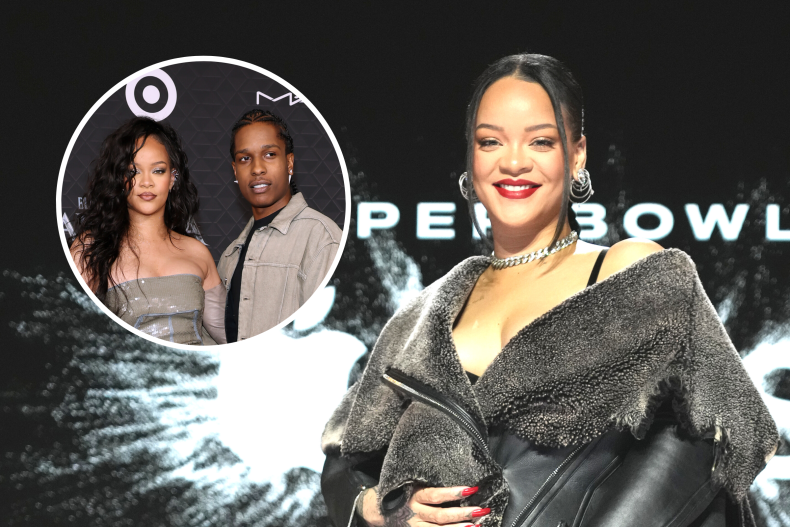 Rihanna and A$AP Rocky were first romantically linked in early 2020, and the couple went public with their relationship in November of that year. In September 2021, they made their red-carpet debut together at the Met Gala.
Shortly after, Rihanna spoke to E! News' Daily Pop and admitted that they had not intended to do so to begin with.
She said: "We weren't even sure if we were going to go, so separately we were planning our looks just to be prepared.
"We ended up getting ready together and going and I didn't even realize we were on a carpet together until somebody said, 'You're making your debut,' and I was like, 'Oh, s***.'"
The couple spoke on different occasions about each other, with A$AP Rocky calling Rihanna the "love of [his] life" in an interview with GQ in May 2021. They confirmed in January 2022 that they were going to be having a baby together.
Rihanna spoke with Vanity Fair in April 2022 about their relationship, in which she said her boyfriend had become her "family" during the COVID-19 pandemic. She even shared how her mother had reacted to the musician when they first met in Barbados.
Of their romance, the singer said: "People don't get out of the friend zone very easily with me. And I certainly took a while to get over how much I know him and how much he knows me, because we also know how much trouble we can land each other in."
She went on to say of A$AP Rocky's first meeting with her matriarch: "My mother has a really good read on people. She observes first and then she'll move slowly. I guess I'm like that too. There are some guys that I've dated that she won't even look at to this day. But she was charmed by him from the jump."
Rihanna also spoke of them having their first child together, and said: "I always thought it would be marriage first, then a baby, but who the f*** says it has to be that way. I'm certainly not gonna let that get in the way of me being a mom."
The beauty mogul most recently spoke about her and A$AP Rocky's family life in British Vogue, for which they graced the cover alongside their son.
Rihanna spoke about what her first months as a mother had been like, describing them as "legendary" before adding that motherhood was "everything."
"You really don't remember life before, that's the craziest thing ever," she told the publication. "You literally try to remember it—and there are photos of my life before—but the feeling, the desires, the things that you enjoy, everything, you just don't identify with it because you don't even allow yourself mentally to get that far, because... Because it doesn't matter."
Rihanna went on: "Essentially, from one person I became two. You walk into the hospital as a couple and leave as a family of three. It's nuts.
"And oh, my gosh, those first days are insane. You don't sleep. At all. Not even if you wanted to. We came home, cold turkey, had no one. It was just us as parents and our baby. Man, you're a zombie for the most part."