Oscar Pistorius: Reeva Steenkamp 'Did Not Love' Athlete, Says Model's Cousin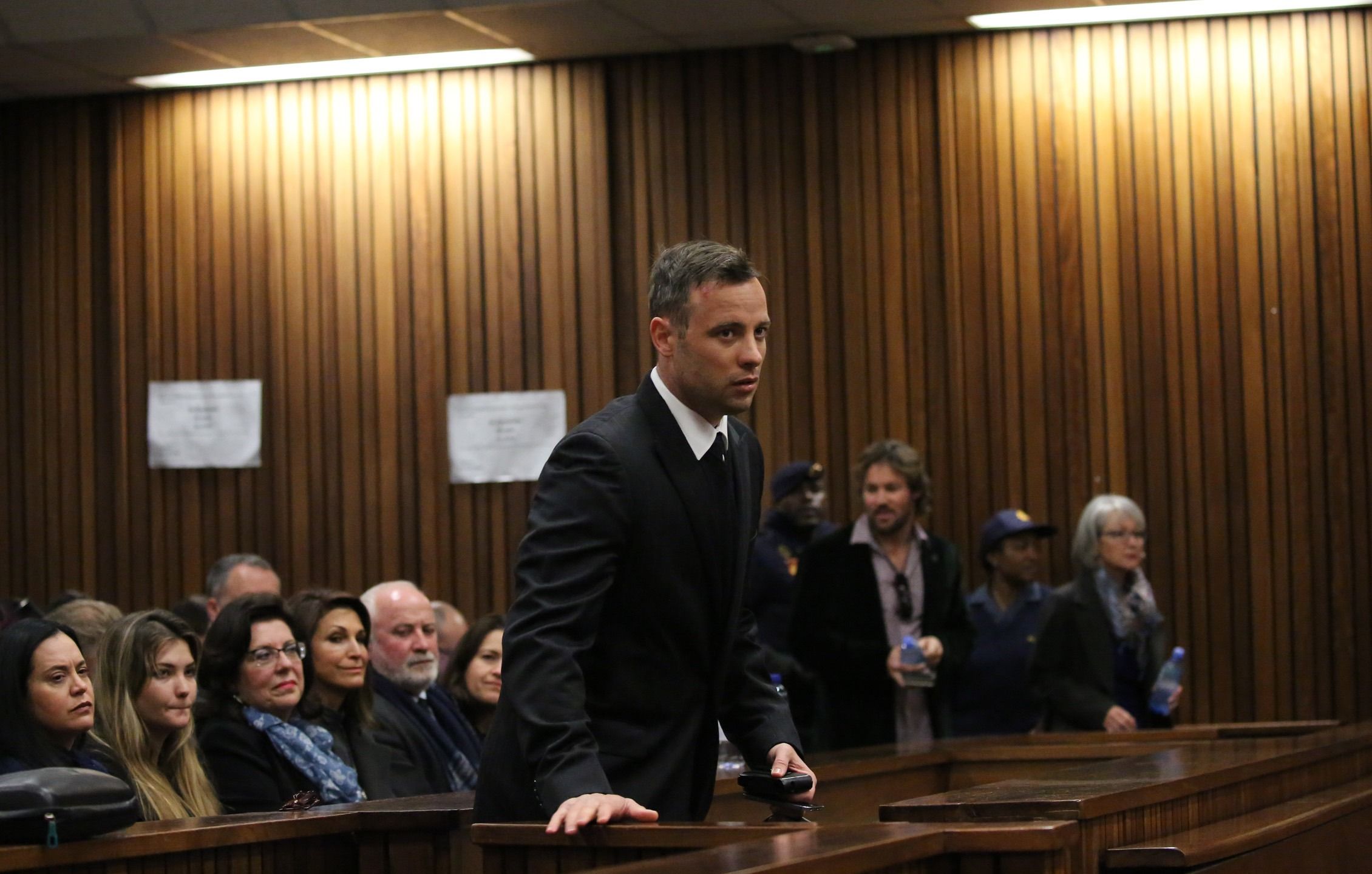 The cousin of Reeva Steenkamp has told a South African court that she does not believe the model loved her boyfriend Oscar Pistorius, who shot her dead in February 2013.
Kim Martin appeared as the state prosecution's final witness at the sentencing hearing for Pistorius, who is facing a possible 15 years in jail after his conviction of culpable homicide was upgraded to murder.
Martin, whose father is the brother of Reeva's father Barry Steenkamp—who himself delivered an emotional testimony in court Tuesday—told the Pretoria high court that she did not believe the Paralympian had given a true account of what happened on the night of February 14, 2013, when Pistorius shot dead Reeva through a locked toilet door. The athlete has always maintained that he believed there was an intruder in the toilet and that he did not intend to kill Reeva.
"We just wanted the truth. People say we got the truth, but we didn't. Oscar's version changed so many times," said Martin under questioning from state prosecutor Gerrie Nel, The Guardian reported. Martin was critical of Pistorius' decision to give an interview to British broadcaster ITV, which airs on June 24. Steenkamp's cousin said it was "unfair to tell the world of your version when you had the chance to do so in court."
Discussing the nature of the relationship between Pistorius and Reeva, the athlete's defense counsel Barry Roux read statements from friends of Steenkamp, including one that said that the 29-year-old model had said she loved Pistorius and would marry him if he asked her. Martin said that was not the impression she got from her cousin. "I could see she was bubbly, I could see she was excited, and I could see there was a fondness for Oscar, but I did not see any love," said Martin. "Reeva had the opportunity to tell me that she loved Oscar and she never did."
In his closing statement for the defense, Roux highlighted findings by a clinical psychologist, Dr Jonathan Scholtz, who testified that the athlete—known as the Blade Runner due to his prosthetic limbs—was suffering from depression, anxiety and posttraumatic stress disorder. Scholtz stated in his testimony that the athlete should be hospitalized rather than imprisoned.
Judge Thokozile Masipa is due to sentence Pistorius by Friday. The South African athlete was convicted of culpable homicide—South Africa's equivalent of manslaughter—in September 2014 and served just under one year of a five-year sentence before being released on parole in October 2015 and ordered to spend the rest of his sentence under house arrest.
His conviction was changed to murder by the Supreme Court of Appeal in December 2015, which found that Masipa had misinterpreted the principle of dolus eventualis—whether Pistorius knew that his actions would kill, regardless of who was behind the toilet door.