Oscar Pistorius: Why Is the Blade Runner Back in Court?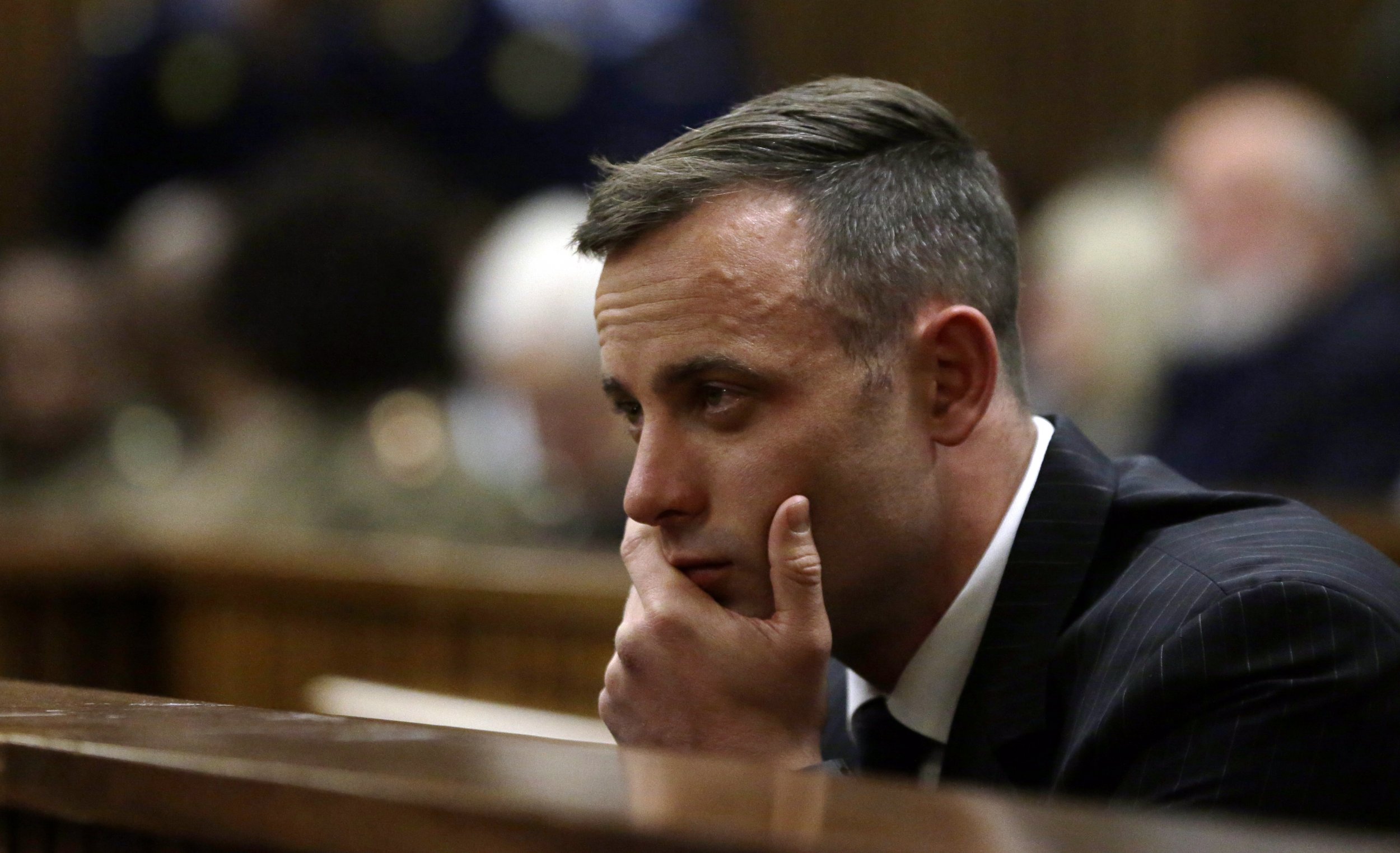 South African athlete Oscar Pistorius is back in court.
The Paralympic and Olympic runner, 29, was convicted of culpable homicide—South Africa's equivalent of manslaughter—at the end of a marathon trial in September 2014, but Pistorius has been forced to face Judge Thokozile Masipa again after a South African appeals court disputed the original verdict.
Here's what you need to know about the sentencing hearing that could bring to a close one of sport's most infamous cases.
What did Pistorius do?
On Valentine's Day 2013, Pistorius killed his girlfriend Reeva Steenkamp, a 29-year-old South African model, after firing four shots from a 9mm pistol through a locked toilet door at his home in the capital Pretoria. Pistorius has always maintained that he did not intend to kill Steenkamp but thought that he was shooting an intruder.
What was his original conviction?
He was convicted of culpable homicide by Masipa on September 12, 2014, and later sentenced to a jail term of five years. After serving just under a year of his sentence in a private cell at a maximum-security prison, Pistorius was freed on parole in October 2015 and ordered to serve the rest of his sentence under house arrest at his uncle's property in Pretoria.
Why is he back in court?
Following an appeal by state prosecutors, the Supreme Court of Appeal upgraded Pistorius's conviction from culpable homicide to murder. The appeals court said that, in the original ruling, the lower court had not properly applied the principle of dolus eventualis —whether Pistorius foresaw that his actions would cause death. The appeals court said that it did not matter that Pistorius did not know the identity of the victim—he must have known that his actions would have killed whoever was in the toilet, and he proceeded anyway.
What could happen next?
Masipa, the same judge that heard the original trial, will hear arguments from both prosecution and defense beginning on Monday, with a verdict expected to be given by Friday. Murder carries a jail sentence of at least 15 years in South Africa, though Pistorius's sentence could be reduced due to time already spent in prison, good behavior and disability. The athlete himself could testify—though the defense is arguing that he is mentally unable to do so—while Steenkamp's father, Barry Steenkamp, may also appear in court.
What's been said so far?
A psychologist called by the defense, Jonathan Scholtz, told the court on Monday that Pistorius is a "broken" man who should be hospitalized rather than imprisoned. Scholtz said the athlete has suffered from depression and post-traumatic stress disorder since the killing and said Pistorius told him he had sold all his guns.
Prosecutor Gerrie Nel, however, pointed out that the athlete was fit enough to give a TV interview that is due to air on British channel ITV later in June, according to local media. Nel also claimed Pistorius had "temper tantrums" while in prison and was given access to preferential treatment, including use of a gym.