Oscars 2021 Will Still Have a Red Carpet—But Not As We Know It
The 2021 Oscars are set to be a completely different experience this year for both guests and viewers as organizers plan the ceremony around coronavirus restrictions.
For the most part, that means a greatly reduced attendee list, with 170 guests expected to arrive on Sunday at the Union Station in downtown Los Angeles.
Awards season in a pandemic society has already proved interesting, with the Golden Globes and Grammys managing to pull off successful events—albeit with a few bumps along the way.
Those putting on the Academy Awards this year have said they are determined not to have to rely on Zoom, that ever-ubiquitous pandemic tech we've come to begrudgingly rely on.
One question that viewers may be wondering however, is what's the deal with the red carpet this year? Can a red carpet co-exist with restrictive COVID-19 protocols?
Well, turns out it can but it won't be what we're used to.
In fact, the red carpet at the 93rd Academy Awards is confirmed to be "teeny tiny."
"It's not a traditional [Oscar] red carpet, it's a teeny-tiny red carpet," said producer and organizer Stacey Sher at a virtual press conference last Saturday, per USAToday. "It's a very small footprint for safety reasons, obviously."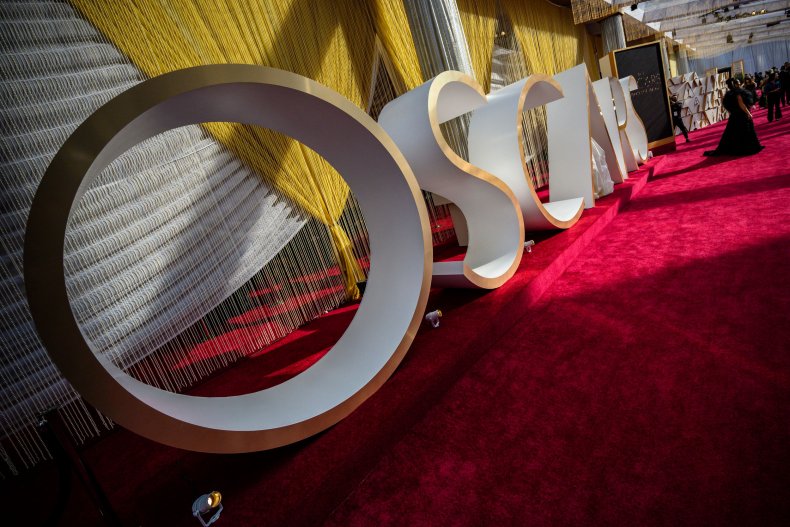 Sher, along with director Steven Soderbergh and fellow producer Jesse Collins, are helming the televised event to keep viewers interested.
The red carpet coverage will be featured on the Oscars pre-show on ABC at 6:30 p.m. ET and will be hosted by Ariana DeBose and Lil Rel Howery.
Another huge issue to be considered this year is the wearing of masks.
The Academy of Motion Picture Arts and Sciences has confirmed that attendees will not be required to wear face masks while taking part in the televised event.
This is because the show is being legally treated as a film or television production, therefore masks will not be required.
Soderberg addressed the mask question during Saturday's press conference, saying they will play "a very important role in the story."
He continued: "If that's cryptic, it's meant to be. But that topic is very central to the narrative."
Collins added: "The impact of COVID-19 will be highlighted throughout the show and masks will play a very important role in the story that the ceremony is trying to convey."
On delivering an engaging show that will appeal to television audiences, Soderberg added: "If we can get out at three hours and deliver a show that we see on paper right now, we feel like we will have had a cultural moment where the nation, the world, will say, 'Yes, I love movies!'"