Oscar-Nominated Short Film Name Sparks Audience Laughs—'No Comment'
The audience at the live announcement of the 2023 Academy Award nominations couldn't help giggle at the name of one short film.
Actors Riz Ahmed and Allison Williams hosted the presentation where they read the nominees for the upcoming 95th Academy Awards.
But one short film nominee caught the attention of those in the audience and people watching at home with its risque name.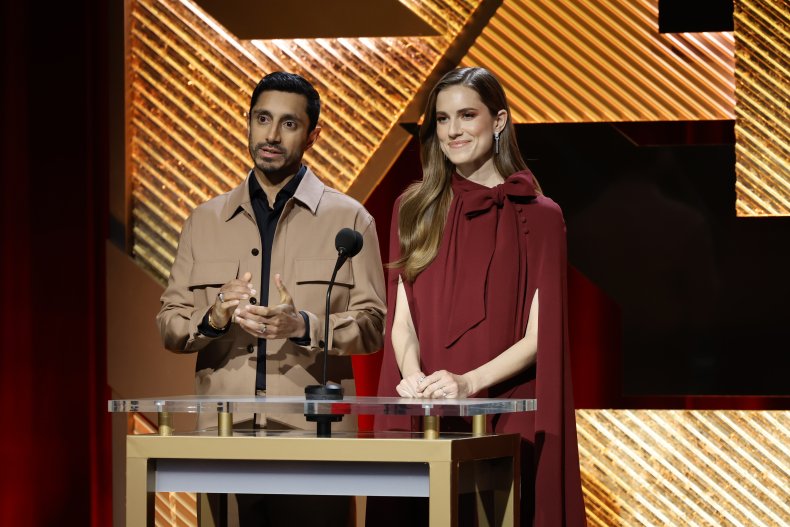 Ahmed revealed My Year of Dicks was nominated in the Animated Short Film category as the live audience sniggered at its name.
Williams quickly said, "no comment" to the hilarious moment as Twitter quickly reacted.
"The eruption of giggles when My Year of Dicks was nominated for Best Animated Short. Lol," tweeted film critic Courtney Howard.
One person watching at home wrote: "Riz Ahmed breaking while announcing My Year of Dicks Oscar nomination will be more entertaining than the entirety of the Oscars ceremony."
And another person added: "Riz Ahmed saying My Year of Dicks to delighted giggles, yes Hollywood is back."
My Year of Dicks was directed by Sara Gunnarsdóttir and created and written by Pamela Ribon. It is based a Ribon's comedic memoir Notes to Boys: And Other Things I Shouldn't Share in Public.
Ribon is best known for her work writing on animated feature films such as Moana, Ralph Breaks the Internet and Smurfs: The Lost Village.
Her short film follows a 15-year-old Pam living in Houston in 1991 as she embarks on a journey to find the right boy to lose her virginity to.
Prior to its Academy Award nomination, My Year of Dicks picked up a bevvy of awards on the international circuit including at the SXSW Festival and Chicago International Film Festival.
Other nominees in the Animated Short Film category include The Boy, The Mole, The Fox and The Horse, The Flying Sailor, Ice Merchants and An Ostrich Told me the World is Fake and I Think I Believe It.
The 95th Academy Awards is set to be held on March 12, 2023 at the Dolby Theatre in Los Angeles and will be hosted by Jimmy Kimmel. It's his third time hosting after doing doing the job in 2017 and 2018.
Some of the major players this year which picked up multiple nominations across the major categories included Everything Everywhere All At Once, The Banshees of Inisherin, All Quiet on the Western Front and Avatar: The Way of Water.
The other Best Film nominees were Elvis, The Fabelmans, Tár, Top Gun: Maverick, Triangle of Sadness and Women Talking.