'The Ref Made a Bad Call': Spike Lee Tried to Storm Out of Oscars After 'Green Book' Won Best Picture Award
Spike Lee was visibly unimpressed at Green Book being awarded the Oscar for best picture during last night's ceremony and attempted to storm out of the theater in protest.
The BlacKkKlansman director, who took home his first non-honorary Academy Award upon winning best adapted screenplay the same night, was seen heading to the back of the Dolby Theatre in Los Angeles after Green Book was named the year's best picture.
According to Associated Press reporter Andrew Dalton, Lee was "visibly angry" when Green Book was announced the winner and could be seen "waving his arms in disgust."
Dalton said the director was then was stopped at the doors as he attempted to make his way out of the venue, before returning to his seat when the speeches were over.
According to Deadline, Lee turned his back to the stage during the acceptance speeches.
Images appearing to show Lee walking down to the aisle away while those involved in the movie were heading to the stage to collect the Oscar were also shared on social media.
Speaking to reporters backstage while holding his own Oscar and repeatedly sipping champagne, Lee was asked about his reaction to Green Book's win.
"Let me take another sip," he said, before adding "next question" and breaking out in laughter.
Lee then asked, "Oh wait a minute, what reaction did you see? What did I do?" before eventually responding: "I thought I was courtside at the [Madison Square] Garden. The ref made a bad call."
After Green Book was named best picture ahead of BlacKkKlansman, Lee also made a joke about his previous Oscar snub.
"Every time somebody's driving somebody, I lose," Lee said. "But they changed the seating arrangement."
Lee was referencing to how his debut film Do The Right Thing was not nominated for the best picture Oscar the same year that Driving Miss Daisy won—a movie about an elderly white women's relationship with her black chauffeur.
The infographic below, provided by Statista, illustrates how this year's Oscar nominees for Best Picture fared in critic and audience ratings.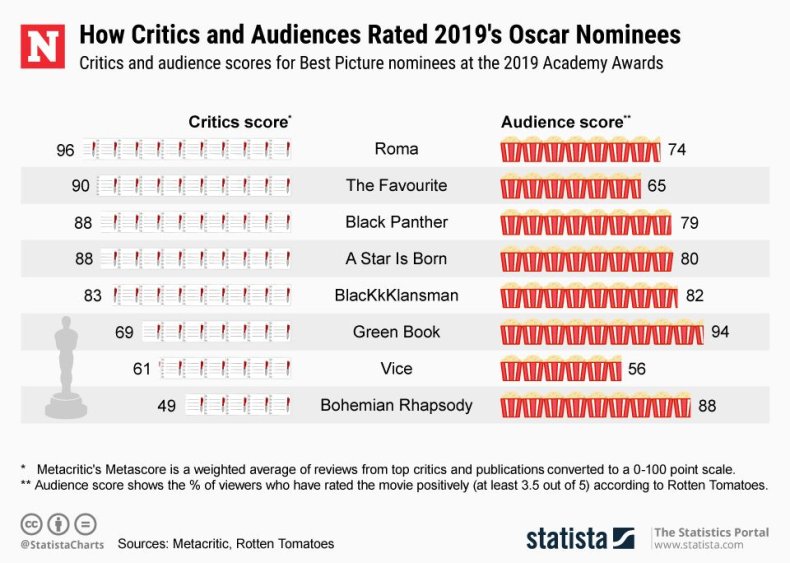 This year, the best picture movie went to a film about a white driver, played by Viggo Mortensen, driving for black musician Don Shirley, played by Mahershala Ali. Ali won best supporting actor the same night.
Green Book received plenty of criticism in the run-up to awards season, including claims the movie plays upon the "white savior" narrative, as well as controversies surrounding the film's accuracy and Mortensen's use of the n-word while promoting the film.
Ahead of the ceremony, Lee appeared to predict there would be some outrage if the movie did take home the award for best movie.
"All I know is, if things don't work out a certain type of way, black Twitter is going to be on fire," he told CNN on the red carpet.