Our Favorite Books of 2016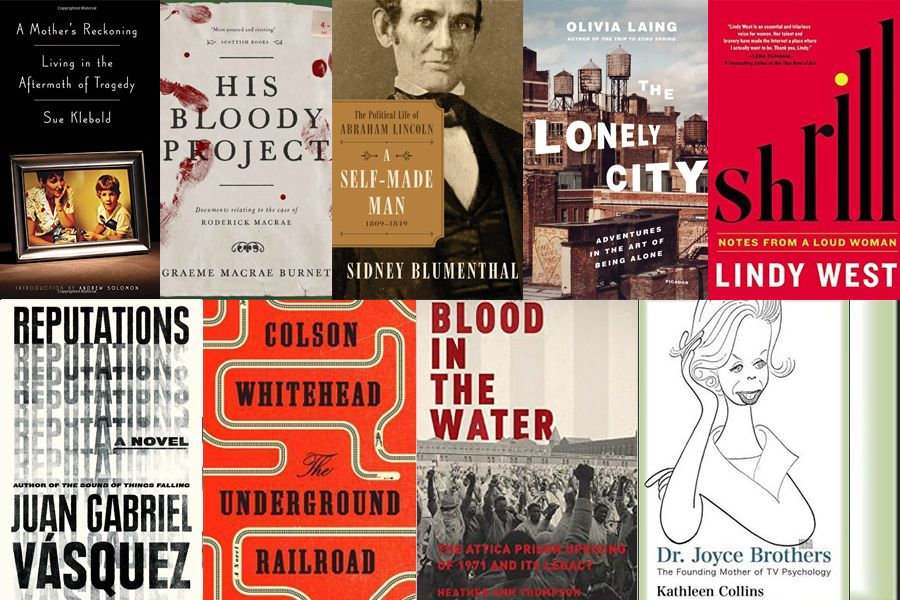 As 2016 comes to a close, Newsweek staff members from New York; Washington, D.C.; London and the Bay Area are sharing some of our favorite books published this year.
We loved titles that reimagined stories about the Manson family murders, dragged us on an obstacle-ridden path of escape from a slave plantation and whisked us to a house in the mountains where a controversial cartoonist lives. And we loved nonfiction volumes that revealed new things about familiar topics like the American AIDS crisis, Abraham Lincoln, the Attica prison uprising and the shooting at Columbine High School.
Related: Nine must-read books in the age of Donald Trump
Neat and precarious stacks of books are ubiquitous on Newsweek office desks, and there are many more great titles among them we wish we could have included. While this short list offers some excellent recommendations for our readers' reading lists, it's by no means exhaustive.
Still, much of it reflects the conversations, questions and fears this year has stoked. How did the radical right rise up in American politics? Why does gun violence happen and how can it be prevented? How do powerful people react to criticism? How has this country treated incarcerated people? Why do racism and sexism persist? Not all of these queries are unique to 2016, though they seem to have a new, dire significance. And perhaps—we hope—they can show us a way forward. —Stav Ziv
Dark Money: The Hidden History of the Billionaires Behind the Rise of the Radical Right
By Jane Mayer
It's a good bet that most Trump voters did not read Mayer's damning history of a small group of American billionaire families who have been working together and individually for decades to control American politics, law and even higher education. But their collective populist rage, whether they understood it or not, was directed at the people who are the subject of this book. Mayer traces the history of Koch family involvement in right-wing American politics from John Birch Society to Tea Party, but also reveals how Olins, Mellons, Mercers, Sheldon Adelson and a few others have poured money into "astroturf" front groups, think tanks and PACs to create an American system that lowers their taxes, removes regulations that fetter their many interests and in general has had the effect of buying the entire government into not just maintaining but widening the income gap between the 1 percent and the rest of us. Sadly, the election of Donald Trump assures more of the same. Mayer's book makes clear that the rich in our democracy leave very little to chance. —Nina Burleigh
The Girls
By Emma Cline
This is one of those rare novels that doesn't merely meet the hype, but exceeds it. Cline's debut is a fictionalized retelling of the Manson Family murders, as told years later by one of the young women, who is now drifting through middle age. Less concerned with the cult's charismatic leader than the rudderless "girls" who cast their lot with him, Cline writes with a languid beauty that coils around your throat, inspiriting both terror and awe. It would have been far easier to turn The Girls into a lurid period piece. Instead, Cline has created a true work of art. —Alexander Nazaryan
The Lonely City: Adventures in the Art of Being Alone
By Olivia Laing
I have a confession to make: I really like confessionals.
Don't misunderstand me, though. I don't mean the trashy kinds you get in bargain basement bins authored by the ghost writers of C-list celebrities. More, the hybrid kinds, think Maggie Nelson's 2015 work The Argonauts, which sails across memoir, theory and poetry—intensely lovely and hard to define.
Olivia Laing's The Lonely City: Adventures in the Art of Being Alone fits into this amorphous genre. Mixing memoir, biography and cultural criticism it opens with Laing mourning the loss of her relationship and describing the experience of moving to New York still heartbroken. Once there, adrift amid the skyscrapers, Laing finds herself overwhelmed with loneliness.
As she struggles with her own isolation, retreating inward, Laing explores the phenomenon of loneliness through chapters devoted to masters of the subject, both known and unknown: Edward Hopper, Andy Warhol, David Wojnarowicz, Henry Darger, Valerie Solanas.
Coupling detailed explorations of these people's lives and works with lyrical descriptions of her own experiences, Laing succeeds in defining that most ineffable of emotions. Under her careful hand, loneliness morphs from something shameful and pathological to something shared, even special. As Laing writes, loneliness is "intrinsic to the very act of being alive." —Mirren Gidda
A Mother's Reckoning: Living in the Aftermath of Tragedy
By Sue Klebold
The story of a parent who loses a child is always painful. But when that child and his friend took guns to school and shot other students—killing 12 teenagers and a teacher and wounding 24 others before taking their own lives in one of the most high-profile, fatal and imitated mass shootings in American history—the narrative and the emotions become infinitely more complicated. That's why this memoir by Sue Klebold, the mother of Columbine shooter Dylan Klebold, is such a feat.
Her excruciating account of the day of the event and its immediate aftermath, of her family and all its seeming normality in the decades before it and of the treacherous years that followed is remarkable in its honesty, bravery and skill. She weaves in short excerpts from journals written in the fog of close proximity to the tragedy. She's spoken to family, friends and experts. She's looked through writings Dylan left behind. She's mined her memories and reflected on happy childhood moments of a son she loves as well as missed signs that he was sinking. She's tried to reconcile the boy and the monster.
Klebold, who has become an advocate for mental health awareness and suicide prevention, has given us a heartbreaking and crucial book and is donating all author profits to mental health research and charitable foundations. "Sixteen years have passed since that terrible day, and I have dedicated them to understanding what is still incomprehensible to me," she writes in the book's preface. "It is not easy for me to come forward, but if the understanding and insights I have gained in the terrible crucible of Columbine can help, then I have a moral imperative to share them." —Stav Ziv
Reputations
By Juan Gabriel Vásquez
Juan Gabriel Vásquez's novels wrestle big subjects in small places. Reputations unfolds largely in a house nestled deep in the mountains of Vásquez's native Bogotá, where a controversial cartoonist is visited by a woman who forces him to re-evaluate his career and distant past. But its plot spirals out, way out, to probe themes of memory, freedom of expression, the weight of the past and — as the title suggests—the fragility of public and private reputations. (The story of Javier Mallarino, the fictional cartoonist whose work infuriates the ruling class, feels especially pertinent in the year of Gawker and Trump.) The novel was published in Spain in 2013, but the English translation was not released until this fall. Much credit belongs to Anne McLean, whose translation captures Vásquez's most luxurious descriptions and cutting dialogue. Like Vásquez's brilliant Sound of Falling Things, the book lingers in mind for weeks after it's finished. —Zach Schonfeld
Blood in the Water: The Attica Prison Uprising of 1971 and Its Legacy
By Heather Ann Thompson
Ever since the Attica prison uprising in 1971, state and federal officials have stubbornly resisted releasing documents that would shed light on the decisions that led to state troopers and prison guards retaking the upstate facility by force and shooting dead 39 prisoners and hostages. Heather Ann Thompson, a historian at the University of Michigan, spent 13 years researching Blood and hurdled that official resistance by uncovering two new caches of Attica documents and evidence: the first in the Erie County Courthouse in Buffalo in 2006 and the second in a Quonset hut packed full with items gathered from Attica prison yards after the standoff. The result is a definitive and groundbreaking account—and a finalist for the National Book Award—that names for the first time the troopers and guards who shot unarmed inmates, reveals that troopers took off their badges and used their personal weapons when they stormed the prison and describes then–New York Governor Nelson Rockefeller's secret meetings to make sure all officials repeated an acceptable narrative. "Attica really shows us that when we allow our prisons to be closed institutions, we allow atrocities to go on behind those bars," Thompson tells Newsweek. —Josh Saul
A Self-Made Man: The Political Life of Abraham Lincoln Vol. I, 1809-1849
By Sidney Blumenthal
Yes, this Lincoln volume was written by that Sidney Blumenthal, the Clinton aide who has become a bête noire for Republicans. Before he was a White House counselor, Blumenthal was a stylish and smart journalist, penning must-reads for The New Republic, The Washington Post and The New Yorker. A Self-Made Man, the first of three volumes on Lincoln as cunning politician is an easy and insightful read. Young Abe is a wily Whig floor leader in the Illinois, an anti-slavery progressive dubbed Abraham Africanus in one jeering pamphlet and is attacked for not belonging to a church in another. (The latter led Lincoln to have to explain his views about the Lord in detail.) All of this ugliness can't help but remind us of our own times. Reading Blumenthal, you can understand why Simon & Schuster's legendary Alice Mayhew greenlit such an ambitious project. You didn't think the world needed another Lincoln biography, but it really did need this one. —Matthew Cooper
Dr. Joyce Brothers: The Founding Mother of TV Psychology
By Kathleen Collins
Before there was Dr. Phil or Dr. Ruth, before people knew there were such things as OCD, ADD, ADHD or even AC-DC, Dr. Joyce Brothers was on TV helping people cope with them (not Drs. Phil and Ruth, but the rest of them). Kathleen Collins tells the story of the first big television psychologist in clean, readable prose. —Joe Westerfield
His Bloody Project
By Graeme Macrae Burnet
The subtitle of Scottish writer Graeme Macrae Burnet's second novel, published in the U.S. in October 2016, is Documents Relating to the Case of Roderick Macrae, and about half the pages are filled with the teenager's written confession to a savage triple murder in his rural village in the Scottish Highlands in 1869. That portion of Bloody Project, which was shortlisted for the Man Booker Prize, recalls William Styron's The Confessions of Nat Turner in the way it portrays an abused people and makes the ensuing violence understandable. Highland "crofters" of that period were ostensibly free to travel and manage their small farms, but Bloody Project shows that the power held by landowners and overseers allowed cruelties just like those suffered by the Virginia slaves in Confessions. Halfway between a thriller and a sociological study of an exploitive economic system with eerie echoes to our own time, His Bloody Project is a gripping and relevant read. —Josh Saul
Shrill: Notes From a Loud Woman
By Lindy West
With the title of her first book, Lindy West stares defiantly into the eyes of anyone who reaches to pick it up and dares them not to shed any sexism they might harbor, whether conscious or not and whether it's in big ideas or small words—like the "egregious double standard" of the gendered word "shrill." Her writing is sharp, smart, hilarious, relatable, insightful and memorable. She tackles serious and personal subjects—like being fat, getting an abortion, feeling lonely or dealing with harassment online—and is just as capable of eliciting tears as laughter. The combination is part of what makes her voice so effective and absorbing. The book "is largely about my journey from quiet to loud and figuring out how to be loud and big in all of these different areas," she told Newsweek the week her book came out in May. And just because it's a memoir written by a woman doesn't mean "it's this froufrou, whiny, niche, shrill thing," she said. Women won't likely need encouragement for this one, so men, take note. Lindy and I dare you to pick up a copy. —Stav Ziv
Related: Lindy West gets loud about fat, feminism and internet trolls
Baby Bailino
By Dina Santorelli
In Baby Grand, Jamie Carter was kidnapped and raped by Mobster Don Bailino. Now, in Baby Bailino, Don Bailino has escaped from prison, and his and Carter's child, Faith, has disappeared. Mayhem ensues. Carter and Bailino—who is now being chased by the both the FBI and members of the mob—eventually join up to search for Faith. The result is a fun, taut well-written thriller. —Joe Westerfield
How to Survive a Plague: The Inside Story of How Citizens and Science Tamed AIDS
By David France
David France's documentary about the AIDS epidemic, How to Survive a Plague, was one of the finest of 2012. The book, coming four years later, is even better. Though understandably focused on the plight of gay men in New York and San Francisco, this is a truly American story—of a culture testing its norms, a country slowly accepting gays and lesbians, a scientific community coming to terms with a strange, clever new virus that proliferated via RNA. Activists, epidemiologists and ordinary men and women fought to stop the plague, but not before it took millions of lives around the world. France, who was involved in that activism, turns the AIDS epidemic into a thriller, one whose heroes are mostly tragic. A powerful reminder of what happens when ideology is put before humanity. —Alexander Nazaryan
The Underground Railroad
By Colson Whitehead
Colson Whitehead's novel hardly needs more praise. It became Oprah's first pick in over a year for her eponymous book club in August and won the National Book Award in fiction in November. Still, it begs to be included on this list. Cora is one slave on the run whose personal story is carefully attended to. But her journey on a literal railroad symbolizes so much more as it takes her not only to different geographic locations, but also to different moments in the history of African-American oppression. Kathryn Schulz distilled the vastness of the slim book best in her New Yorker piece. "Cora is trying to escape from much more than a plantation. In the temporally elastic landscape through which she flees, it is slavery, as much as the slave-catcher, that is pursuing her, and anyone alive in today's America knows that she will never entirely outrun it," Schulz wrote. "Behind the slave-catcher we can almost glimpse the police officer misusing lethal force; behind the manacles on the walls of a train depot, the bars of mass incarceration." This simple but artful way that Whitehead comments on a present day he never mentions through a fictional, fantastical past is precisely why the book deserves the attention it has received. —Stav Ziv
Read more from Newsweek.com:
- The year in reading: The best (and worst) books of 2015
- Our favorite books of 2014: Newsweek staff picks
- The last bookstore, symbol of L.A.'s literary renaissance
- Colson Whitehead at National Book Awards: "Be kind to everybody, make art, and fight the power"