Ousted Ukraine Ambassador Claims 'Private Interests,' Not the Public Good, Steered Trump's Foreign Policy
Marie Yovanovitch, the former U.S. ambassador to Ukraine, told lawmakers on Capitol Hill behind closed doors Friday that she was ousted by President Donald Trump based on "private interests," in addition to "unfounded and false claims by people with clearly questionable motives" who had the president's ear, including his personal attorney, Rudy Giuliani.
Yovanovitch said in her prepared remarks that, upon being recalled from Ukraine earlier this year, she was informed by Deputy Secretary of State John Sullivan there had "been a concerted campaign against me, and that the Department had been under pressure from the President to remove me since the Summer of 2018."
Sullivan, who's reportedly been tapped by Trump to become the next U.S. ambassador to Russia, told her she'd done "nothing wrong," Yovanovitch stated.
She was testifying as part of House Democrats' impeachment inquiry into Trump. The deposition provided by the 33-year veteran foreign service officer and three-time ambassador, who detailed a coordinated effort by Trump and Giuliani and his associates to have the State Department remove her based on alleged false claims, could further the party's messaging when it comes to the president's potential ouster from office.
Yovanovitch's opening statement was obtained by Newsweek and can be viewed in full at the bottom of this story. It was first obtained by The New York Times.
She described a State Department that's been denigrated by Trump's actions, "attacked and hollowed out from within." No longer does the idea hold true that the U.S. will have the backs of foreign diplomats and "protect us if we come under attack from foreign interests," she said, characterizing the department as a government agency that could soon be damaged "irreparably."
She also alleged that Trump's foreign policy choices are being shaped by people around him, such as Giuliani, who continue to peddle false conspiracy theories and who have potential improper motives.
"The harm will come when private interests circumvent professional diplomats for their own gain, not the public good," Yovanovitch said. "The harm will come when bad actors in countries beyond Ukraine see how easy it is to use fiction and innuendo to manipulate our system."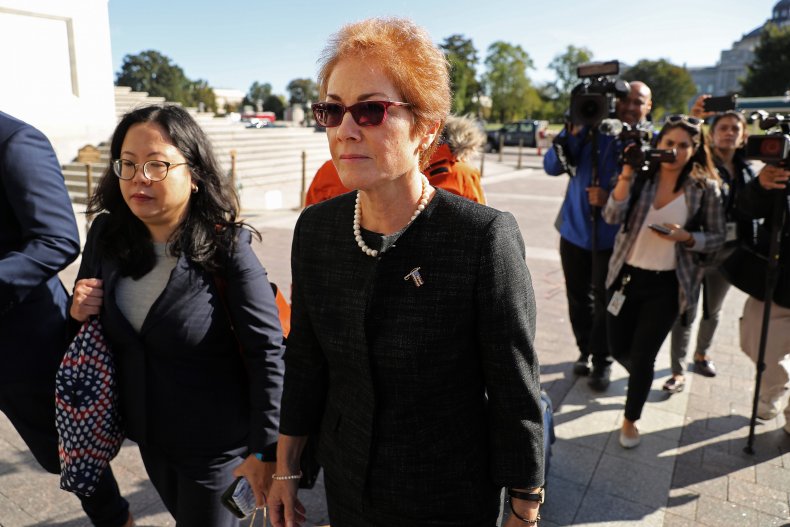 Yovanovitch was removed from her post in May—the same day the new Ukrainian president took office—after those around Trump accused her of being disloyal. Still a State Department employee today, she served as U.S. ambassador to Ukraine since August 2016.
She denied the "fictitious" notion she was "disloyal to President Trump," as Giuliani and his associates, Lev Parnas and Igor Fruman, who were arrested this week for campaign finance violations, have suggested. Prosecutors alleged in the indictment that Parnas and Fruman attempted to influence a former congressman to help oust Yovanovitch at the request of, in part, "one or more Ukrainian government officials." Giuliani was also part of that effort.
"I do not know Mr. Giuliani's motives for attacking me," Yovanovitch said, stating that she's only had "minimal" contact with the former New York mayor. "But individuals who have been named in the press as contacts of Mr. Giuliani may well have believed that their personal financial ambitions were stymied by our anti-corruption policy in Ukraine."
Yovanovitch added that she never asked officials to refrain from investigating "actual corruption" within Ukraine, refuting prior claims she disseminated a "do not prosecute" list.
"Although I understand that I served at the pleasure of the President, I was nevertheless incredulous that the U.S. government chose to remove an Ambassador based, as best as I can tell, on unfounded and false claims by people with clearly questionable motives," Yovanovitch stated. "To make matters worse, all of this occurred during an especially challenging time in bilateral relations with a newly elected Ukrainian president. This was precisely the time when continuity in the Embassy in Ukraine was most needed."
Giuliani, Parnas and Fruman also worked to gain dirt on former Vice President Joe Biden and his son, Hunter, and to convince the Ukrainian government to investigate them.
During Trump's now infamous July 25 phone call, in which he repeatedly pressed Ukrainian President Volodymyr Zelensky to investigate the Bidens, Trump told his foreign counterpart that Yovanovitch "was bad news." Zelensky told Trump that he agreed.
Yovanovitch further told lawmakers she was never asked by the Obama administration to help then-candidate Hillary Clinton or harm then-candidate Trump, never met Hunter Biden and never with Joe Biden did she discuss Hunter or Burisma, the Ukrainian gas company where Hunter was a board member and which Trump wanted investigated by Ukraine.
The chairmen of the committees spearheading the impeachment inquiry revealed Friday afternoon that the State Department, at the direction of the White House, directed Yovanovitch Thursday night not to testify to lawmakers, which was originally voluntarily. As a result, the Democrats said they issued a subpoena to compel her testimony.
Yovanovitch's gave her deposition, despite the White House saying this week they would refuse to cooperate with any further subpoenas because they viewed the ongoing impeachment inquiry as illegitimate.
"This is the latest example of the Administration's efforts to conceal the facts from the American people and obstruct our lawful and constitutionally-authorized impeachment inquiry," the Democratic chairmen said in a statement.
Still, Yovanovitch obliged with the congressional subpoena, against the wishes of Trump. It was a move that could cost her her job. But Yovanovitch made it clear in her testimony why she was doing so, as she held real concerns about ongoing foreign policy matters, the condition of the State Department and the information that was being relayed to Trump by non-government associates.
"The U.S. Embassy, under my leadership, represented and advanced the policies of the United States government as articulated, first by the Obama Administration and then by the Trump Administration. Our efforts were intended, and evidently succeeded, in thwarting corrupt interests in Ukraine, who fought back by selling baseless conspiracy theories to anyone who would listen," she said. "Sadly, someone was listening, and our nation is the worse off for that."