Outrage As Size 18 Woman Told To Lose Weight by Cashier: 'Unacceptable'
A supermarket cashier is being dragged online after fat-shaming a customer.
Sharing her shocking story with Mumsnet's AIBU (Am I Being Unreasonable?) forum on June 20, LMCOA explained that she was trying to return a pair of jeans at her local supermarket when the situation occurred.
In her post, she wrote: "I smiled, handed them over to the cashier and said 'Could I please have a refund on these, unfortunately they don't fit.'
"She took them, laughed and said 'You should lose weight then.'"
Surprised and unsure of what to do, LMCOA said she "giggled in embarrassment and got away as quickly as I could."
"I'm 42, size 20 (US size 18), struggling with an autoimmune issue (which the doctors can't pin down) and menopausal," she continued.
"I am TRYING to lose weight but it's just not happening at the moment. Her comment broke me."
After hearing about the incident, the woman's friends have been encouraging her to make a formal complaint against the cashier.
"What do you lot think?" she asked.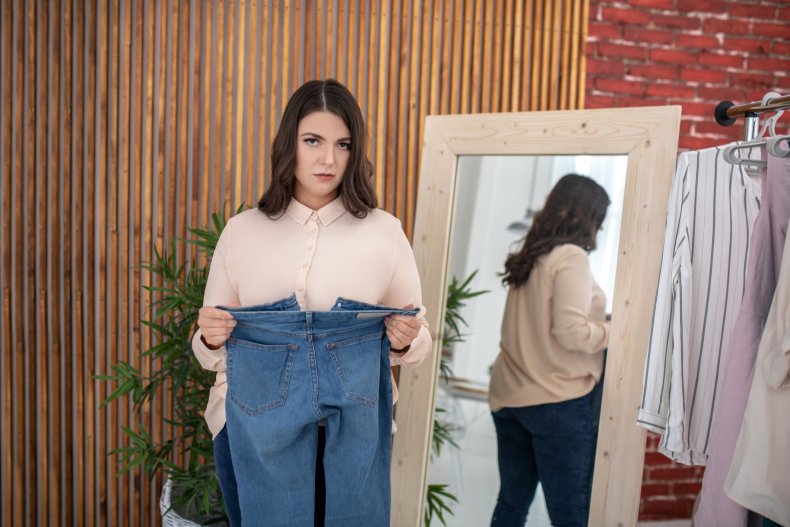 Mumsnet users were disgusted by the cashier's actions.
"Totally unacceptable," said BarbaraWoodlouse.
"So much for 'Customer Service,'" wrote TeeBee.
"Completely inappropriate. Do complain," commented SharpLily.
A 2021 study of almost 14,000 people in six countries found that more than half had experienced fat-shaming. Conducted by the University of Connecticut's Rudd Center for Food Policy and Obesity, researchers surveyed former Weight Watchers members from the United States, Canada, Germany, France, Australia and the U.K.
They found that family members were the most common source of fat-shaming, with between 76 and 68 percent of participants having received negative comments about their weight from a relative, particularly during childhood and adolescence.
However, home isn't the only place those surveyed had experienced fat-shaming. School and work were also cited, as were friends—between 49 and 66 percent had been weight-shamed by a pal.
Mumsnet users were pleased that LMCOA had such supportive friends to help her through the situation.
"You are lucky to have such supportive friends unfortunately the next unfortunate person to deal with that idiot may not have a support network and [it] could be the icing on the cake," wrote 123becauseicouldntthinkofone.
They also reminded her that by reporting the cashier, they'll be saving someone else from going through similar pain.
"Complain for your own peace of mind so you know you've done something," said Worraliberty.
"Complain and don't be meek about it," advised Nowomenaroundeh. "Years ago someone asked me why I never ever wore jeans. I responded that jeans don't come in my big size.
"She started to laugh then looked startled when I burst into tears.
"I was a size twelve (roughly a U.S. size 10). A shop assistant did the damage."
"She maybe thought she was being 'funny', but you should never make comments about someone's weight, whether they're on the larger size or skinny," commented WhenDovesFly.
"This woman needs some customer service training....fast!"