More than 16,000 Christians have signed an online petition rejecting President Donald Trump's nomination of Amy Coney Barrett to the Supreme Court, while also reminding Republican senators that the Bible condemns "hypocrisy."
Faithful America, which describes itself as the largest online community of Christians fighting for social justice, launched the petition on September 26. As of Wednesday morning, the petition against Barrett had well-surpassed its initial goal of 15,000 signatures, with more than 16,300 people having signed.
"Republicans are planning to portray Barrett as the consensus Christian choice and claim that any criticism of her is anti-Catholic—but everything about her record says she will attack our most central rights and values. Progressive and moderate Christians alike must speak out now against this latest election-year hijacking of our faith," the organization said in a post included with a letter that will be sent to senators.
The organization warned—as many activists and Democratic lawmakers have—that Barrett's nomination could potentially undermine progress on a range of issues, including the Affordable Care Act, immigration rights and LGBTQ protections.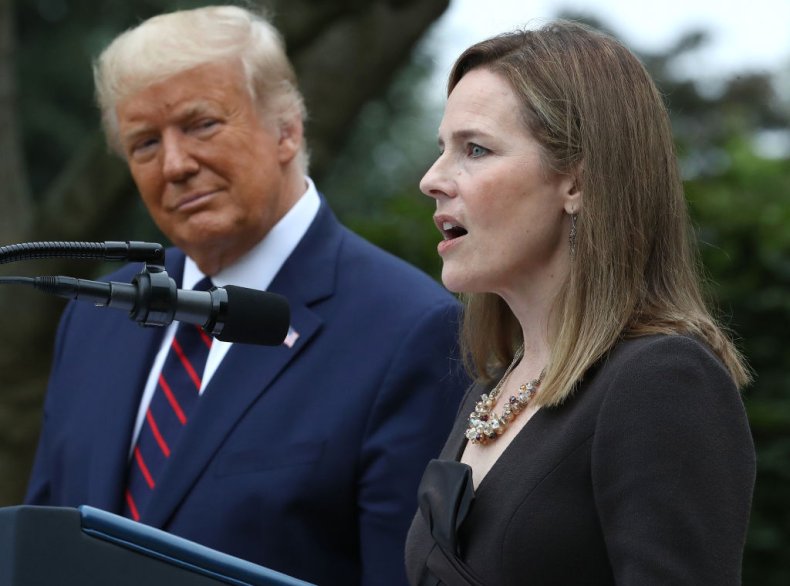 In the letter to senators, which petitioners are asked to sign, the organization calls out Republicans for opposing former President Barack Obama's supreme court nominee ahead of the 2016 election—citing the proximity to the election—while now pushing forward with Trump's nominee in 2020.
"Reject Judge Barrett's nomination, and all nominations made between now and the election. Per the rules Republicans set for the country in 2016, we the people must have a say in election-year vacancies. Remembering that both the Hebrew Bible and the Gospels forcefully condemn hypocrisy, do not deny us our voice," the letter says.
Reverend Nathan Empsall, campaigns director for Faithful America, told Newsweek that "new signatures are automatically sent to senators from their constituents each day, along with any personal comments that signers include along with their names."
"We need a Senate that affirms the values of life, justice and human dignity—not hypocrisy and lies. Republican senators including Lindsey Graham, Thom Tillis, Joni Ernst and David Perdue were very clear in 2016 that no Supreme Court nominee should ever be considered in any president's final year in office," Empsall said. "Jesus is equally clear in his repeated condemnations of hypocrisy: It would be wrong to have two different sets of rules depending on who is in power."
Trump formally nominated Barrett, a deeply conservative judge, on September 26, just over a week after Supreme Court Justice Ruth Bader Ginsburg died of cancer at 87. Republicans in the Senate indicated that they would move forward quickly with the confirmation process, aiming to finish prior to the November 3 election.
Democrats pointed out that Republicans had staunchly opposed and blocked Obama's nominee Merrick Garland in 2016, citing the upcoming presidential election. Although Garland's nomination came nearly eight months before the election, Republicans are moving forward with Barrett's confirmation, despite the election taking place in less than a month. Given that GOP lawmakers have a 53 to 47 majority in the Senate, with only two Republican senators signaling they may oppose Barrett's confirmation, the conservative justice appears likely to be confirmed.
Although Trump has repeatedly touted his support from Christians, polling from the Pew Research Center in June showed that Christians are evenly split—with 49 percent approving of Trump and 49 percent disapproving. The president's support is highest among white evangelical Christians, of which 72 percent said they approved of Trump. However, that marked a 5 percent decline from January, when 77 percent approved of the president.
Updated October 7, 2020 at 11:05 a.m.: Additional remarks from Faithful America's campaigns director have been added.