202 Confederate Monuments Have Been Removed or Relocated Since Death of George Floyd
The former Confederate capital of Richmond, Virginia brought down a six-meter, bronze statue of General Robert E. Lee today, a move that was cheered by those crowding nearby.
With the removal of this statue, the United States is free of one of the country's largest remaining monuments paying homage to the Confederacy. As the statue was cut into two, Governor Ralph Northam moved a step closer to the goal he announced last June.
"This was a long time coming, part of the healing process so Virginia can move forward and be a welcoming state with inclusiveness and diversity," Northam said. "Any remnant like this that glorifies the lost cause of the Civil War, it needs to come down."
Since the murder of George Floyd on May 25, 2020, 202 Confederate monuments and symbols have been brought down, according to data gathered by the Southern Poverty Law Center, which they provided to Newsweek.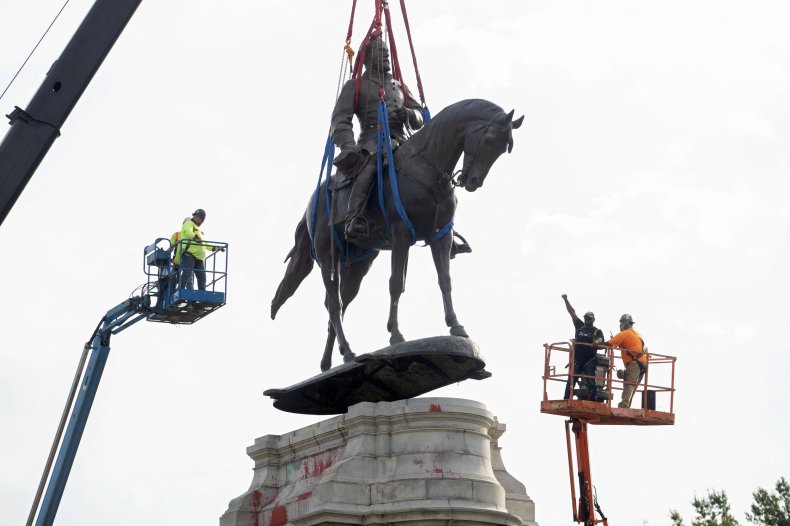 In 2021 alone, a total of 51 Confederate symbols have been relocated, renamed, or removed from public spaces. This figure includes 11 monuments and 40 memorials. The Southern Poverty Law Center also recorded 31 symbols facing pending removals. However, as experienced during the fight to take down Lee's monument, dismantling these symbols of the Confederacy comes with challenges.
Lecia Brooks, chief of staff at the Southern Poverty Law Center in Montgomery, Alabama, said these monuments were erected after the war to "repair and romanticize" the Confederacy's participation in the war and to push back against the fact that the government fought to continue the enslavement of African Americans. As these monuments became engrained within the local landscape and culture, more white southerners tied their heritage to them.
"People just kind of grow up seeing them as part of the landscape and assume that any monument to a person, anyone who's venerated in public space, did something good," Brooks told Newsweek. "The monuments, memorials rarely have any context on a plaque to describe who they are and what happened there. If there is a plaque, it's usually some kind of vague, archaic poem that glorifies the person and their 'noble acts.'"
The Lee monument's removal was met with resistance from those seeking to preserve its historical presence. The issue of removal faced litigation for over a year as supporters looked to thwart its removal through drawing on preservation laws. Plans were finally put into place last week when Virginia's Supreme Court ruled in favor of its removal.
As the days leading up to the monument's takedown drew near, those orchestrating its removal faced a number of hurdles. Devon Henry, a Black executive, oversaw the removal effort undertaken by company Team Henry Enterprises. For his role in the effort, Henry received a number of death threats, the AP reported.
Efforts to dismantle statues like Lee's have faced even worse backlash. Plans to remove another Lee monument in Charlottesville sparked an uproar from white supremacist groups that ultimately resulted in the 2017 Unite the Right rally where three people died and over 49 were injured.
"People who saw this rally could begin to put together that maybe these monuments are not just a symbol of heritage when (Neo-Confederates) are marching with Neo Nazis in the street," Brooks said.
This violent imagery helped propel a number of grassroots efforts to remove these symbols over the following years. Brooks said the 2020 murder of George Floyd in Minneapolis by a white police officer furthered this movement as the moment of reckoning helped Americans see white supremacy's role in the country with greater clarity. These monuments' part in upholding white power became further identified, and support for their removal picked up, according to Brooks.
During last year's wave of statue removals, a number of high-profile figures came out in favor of their removal. One of them was President Joe Biden, who stressed that the monuments should not remain standing in America's cities. However, instead of destroying them, he said they should be kept as a reminder of the nation's dark past.
"I think those statues belong in museums, they don't belong in public places," Biden said. "I can understand the anger and anguish that people feel by having for years and years been under the statue of Robert E. Lee if you're an African American."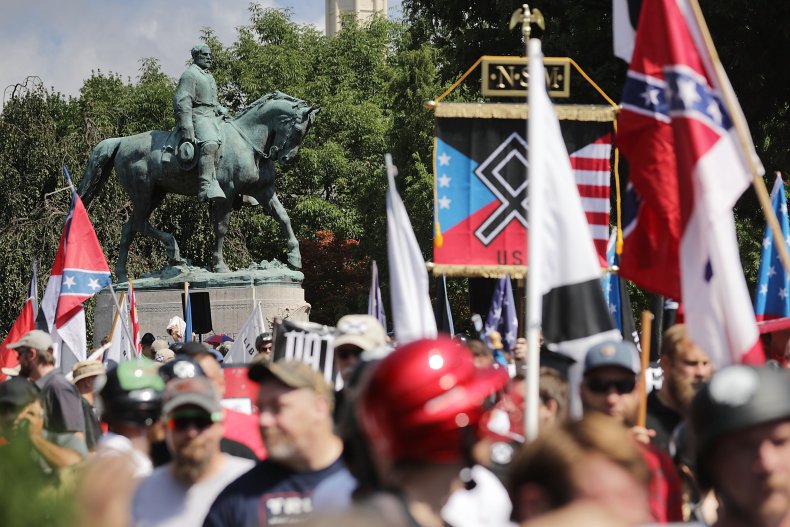 Update 9/8/21, 3:45 p.m. ET: This story was updated with comments from Lecia Brooks, chief of staff at the Southern Poverty Law Center in Montgomery, Alabama.