Over 40% of GOP Don't 'Know Enough' About Liz Cheney, Marjorie Taylor Greene to Form Opinion: Poll
Despite the recent media attention they garnered, Republican Representatives Marjorie Taylor Greene of Georgia and Liz Cheney of Wyoming are relatively unknown members of the GOP, according to a Axios/ Survey Monkey poll released Thursday.
The study found that 49 percent of Republicans said they "don't know enough" about Greene or Cheney to form an opinion about the politicians.
Only one in five Republican and Republican-leaning respondents said they aligned themselves with either politician. About 15 percent said they sided with Greene, while 5 percent backed Cheney.
A larger portion of the Republicans surveyed, however, said their views aren't aligned with either politician, 30 percent.
The poll also found that more Republicans than Democrats "don't know enough" about Greene to rate her favorable or unfavorable. Approximately 51 percent of Republicans responded that they don't know enough about the Georgia congresswoman compared to 29 percent of Democrats.
As a result, the survey concluded that awareness of Greene is lower among those in her own party.
The poll found that Democrats and Democratic-leaning respondents gave Greene a net negative favorability rating, as 62 percent said the congresswoman did not meet their approval and just 7 percent responded in her favor.
Independent respondents also gave Greene a net negative favorability rating: 22 percent unfavorable to 16 percent favorable.
The poll was conducted from February 1 through February 2 and collected data from over 2,600 people.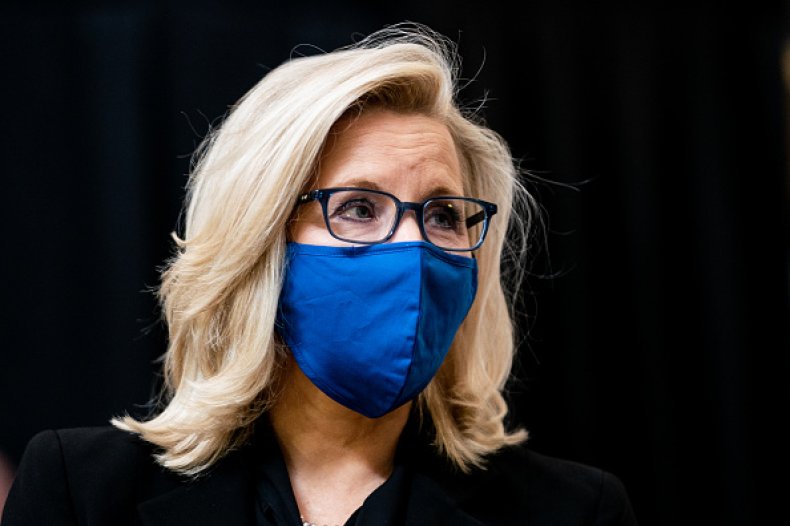 Greene, who sits on the House Education and Labor Committee and the House Budget Committee, has publicly promoted QAnon conspiracy theories and made baseless claims about the Sandy Hook school shooting and the 9/11 terrorist attacks.
The House of Representatives will vote Thursday whether or not to strip committee assignments from Greene, who was heavily criticized for her social media activity supporting far-right extremism.
Meanwhile, a number of Republicans have turned on Cheney after she voted for former President Donald Trump's second impeachment.
Cheney, who holds the third-highest position in the House GOP leadership, was the most prominent of 10 Republicans who joined Democrats in voting to impeach Trump for his role in inciting the deadly January 6 insurrection at the U.S. Capitol in Washington D.C.
She has since faced backlash for that decision, as many House Republicans called for Cheney's removal from her leadership role–including Representatives Matt Rosendale of Montana, Andy Biggs of Arizona, and Matt Gaetz of Florida, among others.
However, House GOP members voted to keep Cheney as chair of the House Republican Conference on Wednesday.
In an emailed statement to Newsweek on Thursday, Survey Monkey's lead researcher Laura Wronski said, "Despite the attention they've received in recent days, neither congresswoman is a household name at this point, and few Republicans are able to say whether they are more ideologically aligned with Greene or Cheney."
Update: This story had been updated to include a comment from Laura Wronski.