Rob Portman Defends Liz Cheney Amid GOP Calls to Punish Her for Trump Impeachment Vote
Republican Senator Rob Portman of Ohio defended Representative Liz Cheney on Sunday amid GOP calls to punish her for voting to impeach former President Donald Trump.
"I think she's very smart and she plays a key role in our party," said Portman during an appearance on CNN's State of the Union. "I would hope that they would not go down that road. I think it's important to have her voice in the process."
"The truth is I think she's very valuable for the team and a great leader," Portman added.
Even though he defended Cheney, Portman added the constitutionality of Trump's upcoming impeachment trial in the Senate needs to be addressed since he no longer holds office and is considered a private citizen.
Cheney, who holds the third-highest position in the House GOP leadership, was one of 10 Republicans from the lower chamber who voted to impeach Trump for inciting the Capitol riot on January 6. She has since faced backlash for that decision, as more than 115 of the 211 House Republican support calls for Cheney's removal from her leadership role—including Representatives Matt Rosendale of Montana, Andy Biggs of Arizona and Matt Gaetz of Florida, among others, according to CBS News.
House Minority Leader Kevin McCarthy also expressed concerns over Cheney's decision to break with Republican leadership during an interview with Politico last week.
"She can have a difference of opinion, but one thing if we're going to lead within the conference, we should work together on that as a whole conference because we're representative of that conference," McCarthy said.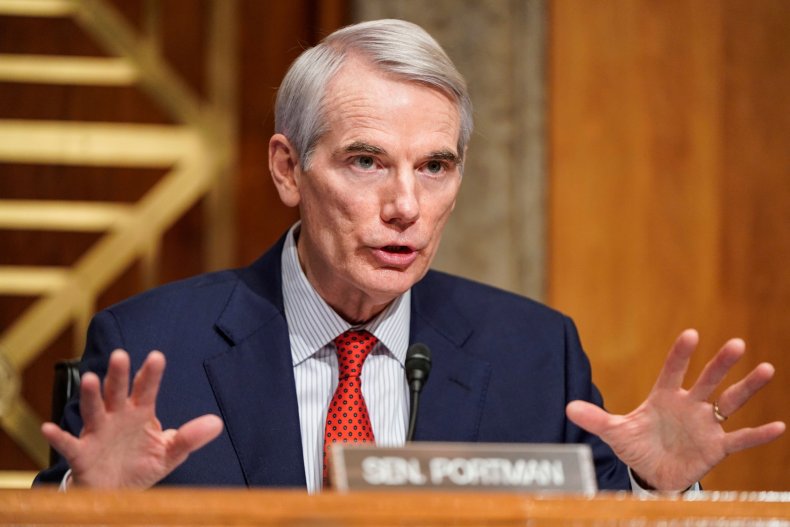 Other GOP congressional members have also faced consequences following their decision to support Trump's impeachment. The South Carolina Republican Party voted to censure Representative Tom Rice on Saturday, saying the congressman "betrayed" his party's constituents by aligning himself with "unprincipled Leftist."
Rice has since defended his decision and criticized the GOP for "cowering" before the former president.
"If the president who did what Donald Trump did that day and sent a mob to stall Congress and the result was an attack on the legislative branch of the United States Government, that is a clear violation of the constitution," Rice said. "I don't care if the president that does that is Republican or a Democrat, I'm voting for impeachment."
Newsweek reached out to Portman's office, but didn't hear back in time for publication. Last week, the Ohio senator announced that he will not seek re-election in 2022.