President Joe Biden has been in office for one full month, and recent polls have shown that more than 50 percent of Americans so far view his job performance favorably.
Biden transitioned into the White House last month with support from over two-thirds of Americans, and his first few days saw approval ratings as high as 63 percent – a number larger than any of former President Donald Trump's rating during his term.
Now, with 30 days into office, Biden continues to have the support of more than half of Americans, though his approval tends to fall heavily along party lines.
According to FiveThirtyEight's poll tracker, 54.4 percent of Americans approve of Biden's presidency one month in, while 38.1 percent disapprove. According to the data, that number has remained relatively consistent since Biden's first week in office, when he had 53 percent approval.
Similarly, a recent Ipsos poll conducted on February 17-18, found that 56 percent of Americans approve of Biden's performance. However, that survey fell largely among party lines, with 90 percent of Democrats viewing the president favorably, while only 20 percent of Republicans approved of the president's actions so far.
And in one of the highest ratings the president has yet to receive, 62 percent of registered voters approved of Biden in a Morning Consult/Politico poll from February 14-15.
"It seems that Americans are looking at what's happening in the Biden White House after four years of the Trump administration, and they're saying 'that's something we can get with,'" Politico's Eugene Daniels told MSNBC about the poll.
According to daily poll tracking from Rasmussen Reports, Biden has maintained a consistent approval rating between 48 and 53 percent since he first took office.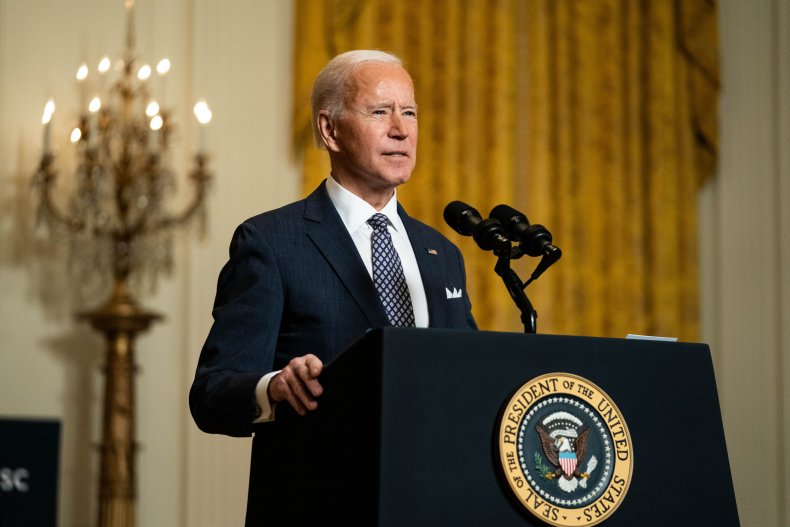 During his first few weeks as president, Biden moved forward with a number of executive actions to reverse orders from the Trump administration and to focus on issues such as the COVID-19 pandemic, climate change and racial equity.
Though his ratings have remained high in his first month compared to Trump, Biden's approval over the next few months will likely depend on how he does in terms of handling the coronavirus pandemic.
So far, nearly 59 percent of Americans approve of his COVID-19 related actions, according to a FiveThirtyEight tracker updated Friday.
But once more, those numbers fell largely along party lines, with 90 percent of Democrats backing the president's efforts, while 53.6 percent of independents, and only 24 percent of Republicans showing support.
Congress is now in the process of trying to get Biden's $1.9 trillion coronavirus relief package passed. Democratic lawmakers have indicated they are prepared to pass the bill, called the American Rescue Plan, without Republican support in the coming weeks.
If passed, the bill will provide $1,400 stimulus checks to eligible Americans, as well as extended unemployment benefits, aid to businesses, and food and rent relief.
"I see enormous pain in this country. A lot of folks are out of work. A lot of folks are going hungry, staring at the ceiling at night wondering, 'What am I going to do tomorrow?' That's why I'm urging Congress to pass the American Rescue Plan and deliver much-needed relief," Biden tweeted on February 12.
Newsweek reached out to the White House for additional comment, but did not hear back in time for publication.