A majority of Americans believe that the United States is already—or soon will be—at war with Russia, new polling shows.
Russian President Vladimir Putin launched a full-scale invasion of Ukraine on February 24, drawing swift international condemnation. Ahead of the unprovoked assault, President Joe Biden and Western European leaders warned repeatedly that an attack from Russia against its Eastern European neighbor was imminent.
In the wake of the invasion, the U.S., Canada and European allies quickly implemented stringent sanctions targeting the Russian economy, as well as Putin and other Moscow elite directly. The U.S. and NATO allies have rapidly transferred billions of dollars in weapons, military equipment and humanitarian aid to assist Ukraine as it fights back against the Kremlin's assault.
Although Biden has repeatedly asserted that the U.S. does not plan to send troops to assist Ukraine, many Americans believe that the country has already gone to war with Russia or will soon be in direct conflict with the adversarial nation.
New polling released Sunday morning by NBC News shows that 57 percent of respondents believe the U.S. is already at war with Russia, or that it will be within the next year. Of those, 41 percent believe the U.S. is on the brink of war with Russia and will be in direct military conflict with the country soon. Sixteen percent said the U.S. is already at war with Russia.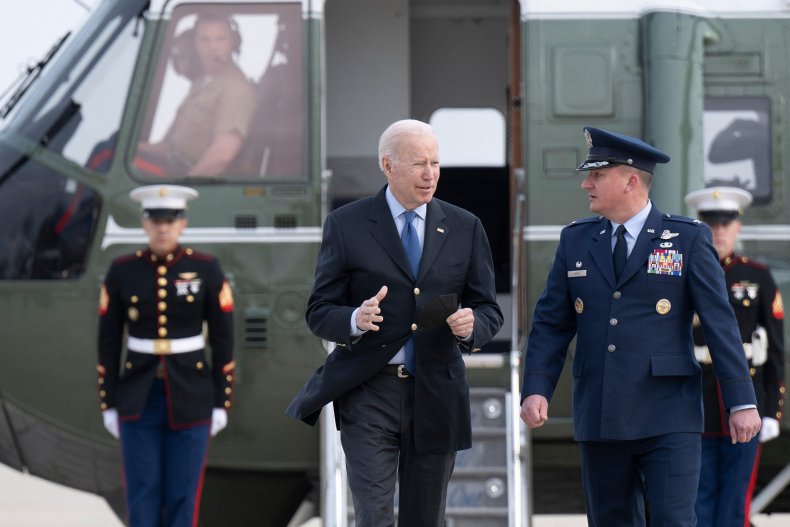 Biden's response to the Russia-Ukraine war also doesn't appear to be drawing much confidence from Americans. Only 28 percent of respondents said that they have "a great deal" or "quite a bit" of confidence in the president to respond adequately to the crisis. Meanwhile, 44 percent said they had "very little" confidence in Biden's ability to respond to the war, and an additional 27 percent said they had "just some" confidence.
The NBC News polling also marked a new record for Biden—the lowest approval rating of his presidency. Just 40 percent of respondents said they approve of the job he is doing in the White House, while 55 percent said they disapprove.
That's nearly a complete reversal of where NBC News polling had Biden about a year ago in April of last year. At that time, 53 percent of respondents said they approved of the president while 39 percent said they disapproved. It also marks a decline since January, when 43 percent said they approved of Biden's performance as commander-in-chief.
Those findings are slightly worse than the current FiveThirtyEight average of national polls. That currently shows, as of Sunday morning, that Biden's approval rating stands at about 42 percent, as 52.8 percent disapprove of the president.
The NBC News poll was conducted from March 18 to 22 and has a margin of error of 3.1 percentage points. One thousand adults were surveyed.
Biden has said that the U.S. will respond directly to Russia if it launches an attack against a NATO ally. On Thursday, the president also said the U.S. would respond "in kind" if Russia uses chemical or biological weapons in Ukraine.
"The nature of the response depends on the nature of the use," he added.
Speaking in Poland on Saturday, the president said: "We will have a different future—a brighter future rooted in democracy and principle; hope and light, decency and dignity; of freedom of possibilities. For God's sake, this man [Putin] cannot remain in power."
The White House later clarified the president's remarks after many interpreted them to mean Biden was calling for Putin's removal as Russia's president.
"The President's point was that Putin cannot be allowed to exercise power over his neighbors or the region," the White House said. "He was not discussing Putin's power in Russia, or regime change."
Speaking with Russia's Tass news agency, Kremlin spokesperson Dmitry Peskov responded to Biden's comments about Putin saying that "each time such personal insults narrow the window of opportunity for our bilateral relations under the current [U.S.] administration. It is necessary to be aware of this."