'Overwatch' Replaces McCree's Noose Spray in Latest Update
The latest update in Blizzard's popular Overwatch rolled out this week, and one unannounced but notable change came with the removal of McCree's noose spray.
Players noticed the change after the July 14 update went through as McCree's spray--a cosmetic component of Overwatch that lets players paint spray various images on walls--was changed from a noose to an upside down horseshoe that reads "bad luck."
Take a look at the McCree spray change below.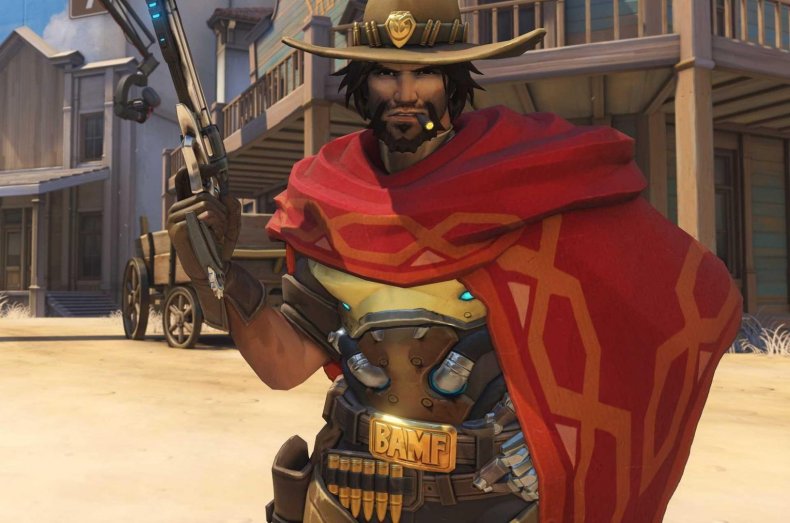 McCree is a gunslinger with an Old Western motif and many of his other sprays have references to movie westerns, so a Hangman's Knot or noose makes sense with the character's aesthetic, but with the current social and political climate it was best that Blizzard removed the spray.
Blizzard didn't announce the change or put it in its usual patch notes. Newsweek reached out to Blizzard Thursday morning for comment and will respond if given.
These changes come at a time where gaming companies are beginning to rethink and change how its properties are presented amid Black Lives Matter protests against police brutality following the killing of George Floyd by police officers.
In early June, Wizards of the Coast, makers of the popular Magic the Gathering card game, removed several cards from circulation that were racist or culturally offensive.
"The events of the past weeks and the ongoing conversation about how we can better support people of color have caused us to examine ourselves, our actions, and our inactions," Wizards said in a statement. "We appreciate everyone helping us to recognize when we fall short. We should have been better, we can be better, and we will be better."
Not to mention the Spacegodzilla: Death Corona card in early April being released and changed when the COVID-19 pandemic was at its peak in the northeast United States.
Just this week, Activision and Infinity Ward, the makers of Call of Duty: Modern Warfare and Warzone changed the name of its "Border War" skin to "Home on the Range" after weeks of public outcry.
But the symbol of a noose should never be allowed, especially at a time where two Black men were found hanged in California and one was found in NASCAR driver Bubba Wallace's garage.
Overwatch is available on PS4, Xbox One, Nintendo Switch, and PC.
What do you think of the latest changes to Overwatch? Let us know in the comments section.