Overwatch will soon be hosting its fifth annual Lunar New Year event, introducing various cosmetic rewards, limited-time challenges and returning game modes.
Observed in Asian countries like China and South Korea, the Lunar New Year marks the refresh of a calendar that is based specifically on moon cycles (as opposed to solar calendars, which are centered around the sun's relative position to other stars).
Under this system, each year is assigned one of 12 different zodiac signs. There is a sequential order to these, beginning with the Year of the Rat, followed then by the Year of the Ox, the tiger, the rabbit, the dragon, the snake, the horse, the goat, the monkey, the rooster, the dog and finally the pig. Once a full rotation of this Chinese Zodiac has been completed, the cycle then starts all over again.
For instance, 2019 was the Year of the Pig according to the Lunar calendar, whereas 2020 was the Year of the Rat and 2021 was the Year of the Ox. The Lunar New Year (or Chinese New Year as it's often known) does not always fall on the exact same day, but generally takes place towards the end of January or at the start of February.
Overwatch began celebrating the event way back in February 2017, and has not missed a festival since. Blizzard Entertainment's hero shooter always releases new skins to mark the occasion and will often have a few special modes running as well.
Not much is known yet about the event that Overwatch will be hosting for 2022, but the start and end dates have been confirmed.
When Is the Lunar New Year Event in 'Overwatch' Running?
A new Twitter post from the official Overwatch account has confirmed that the upcoming Lunar New Year event will begin on Tuesday, January 25. It will then run for three weeks, lasting until Tuesday, February 15.
In terms of the specific start time, seasonal events like this in Overwatch (including the most recent Halloween Terror celebration) typically begin at 1 p.m. ET on the day in question. For those in other time zones, this translates to 6 p.m. GMT or 10 a.m. PST.
In case you were wondering, the real-world Lunar New Year will begin on February 1 for 2022 and will be assigned the tiger zodiac sign.
What Skins Will Be Featured in the 'Overwatch' Lunar New Year Event?
The wardrobe for this year's Lunar New Year event has not been unveiled yet, but there are normally five legendary costumes and three epic outfits up for grabs (themed around the new zodiac sign).
You will be able to unlock these by completing limited-time challenges, which usually just means that you need to win a designated number of matches during the Lunar New Year festivities.
In previous years, the official Overwatch Twitter account has revealed each skin via a thread of social media posts in the hours leading up to the event. So, if you are desperate to see what's in store for 2022 then it's worth following @PlayOverwatch and turning on notifications.
While we are currently unable to confirm what the new skins for this Lunar New Year celebration will be, it's a tradition for the outfits from previous events to make a comeback as well. Instead of being accessible via challenges, however, you will have to open some loot boxes if you want a second chance at getting these.
Assuming that this tradition will be preserved again for 2022, here is an alphabetized list of every epic and legendary skin that was featured in previous Lunar New Year events in Overwatch.
Ancient Bronze - Winston (Epic Skin)
Baihu - Genji (Legendary Skin)
Bajie - Roadhog (Legendary Skin)
Black Lily - Widowmaker (Legendary Skin)
Bull Demon - Orisa (Legendary Skin)
Chang'e - Mei (Legendary Skin)
Dragonfire - Bastion (Legendary Skin)
Face Changer - Sombra (Legendary Skin)
Firework - Junkrat (Epic Skin)
Fortune - Mercy (Epic Skin)
General - Brigitte (Epic Skin)
Guan Yu - Reinhardt (Legendary Skin)
Hong Gildong - Tracer (Legendary Skin)
Huang Zhong - Hanzo (Legendary Skin)
Imperial Guard - Reaper (Epic Skin)
Kkachi - Echo (Legendary Skin)
Luna - Mei (Legendary Skin)
Lü Bu - Reaper (Legendary Skin)
Magistrate - Cassidy (Legendary Skin)
Mask Dancer - Moira (Legendary Skin)
Monk – Doomfist (Epic Skin)
Opera - Brigitte (Legendary Skin)
Palanquin - D.VA (Legendary Skin)
Pale Serpent - Widowmaker (Legendary Skin)
Paper Cutting - Hammond (Epic Skin)
Qinglong - Pharah (Legendary Skin)
Qipao -Symmetra (Epic Skin)
Rooster - Bastion (Epic Skin)
Rose - Tracer (Epic Skin)
Samul Nori - Lucio (Legendary Skin)
Sanye - Orisa (Epic Skin)
Sanzang - Zenyatta (Legendary Skin)
Tal - Ana (Epic Skin)
Terracotta Medic - Baptise (Epic Skin)
Tiger Huntress - Ashe (Legendary Skin)
Wujing - Reinhardt (Legendary Skin)
Wukong - Winston (Legendary Skin)
Xiake - Cassidy (Epic Skin)
Xuanwu - Zarya (Legendary Skin)
Zhang Fei - Torbjorn (Legendary Skin)
Zhuque - Mercy (Legendary Skin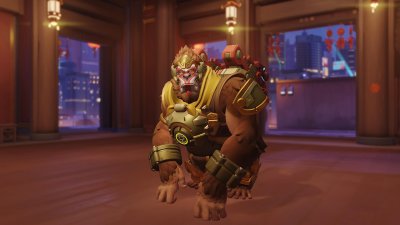 Lunar New Year Event Game Modes
In addition to special skins, the Lunar New Year event is usually accompanied by some limited-time game modes.
Previous outings have seen playlists set up for Bounty Hunter, Capture the Flag and Capture the Flag Blitz matches. A brief description of each of these can be found below:
Bounty Hunter: The player who draws first blood in a match is marked as a target and everybody else must try to assassinate them. Whoever makes the kill then inherits the deadly bounty for themselves.
Capture the Flag: Teams must work together to steal their rival's flag and carry it back to the home base. The first team to score three points wins.
Capture the Flag Blitz: A more frantic version of the standard Capture the Flag mode, in which everybody is bunched closer together and points are scored much more frequently.
It is expected that these modes will return for the Lunar New Year 2022 event.
In related news, Overwatch's publisher, Activision Blizzard, was recently purchased by Microsoft in a record-breaking acquisition. As part of this deal, the corporation will acquire a great deal of lucrative intellectual property, including Overwatch.