Owner Shares 20-Year-Old Cat's Final Perfect Day: 'I'll Never Forget It'
One owner's video of her 20-year-old cat's final day has gained viral attention online this week.
Brandi Ediss, from Western Massachusetts, said goodbye to Sophie the cat after 20 beautiful years together. Adopted in 2003, the ginger cat had been with her for her entire adult life.
In the video, which has more than 1.7 million views on TikTok, Ediss shared Sophie's final day with the internet. From chewing a crinkly bag to eating ice cream, watching movies and spending time relaxing in the sunshine—Sophie enjoyed a wonderful last day with her family.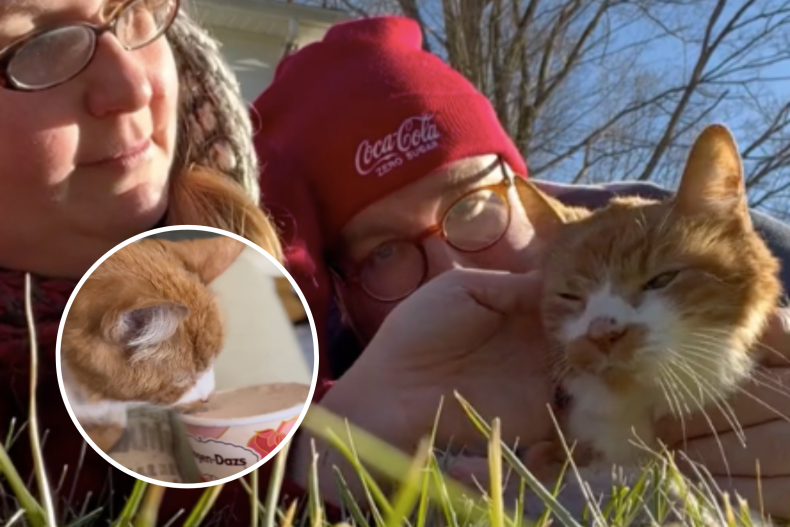 Ediss told Newsweek: "Sophie had given me so much over her lifetime. The only thing that gave me comfort when I thought about losing her was imagining all the ways I could show her how very loved she was, and then trying to pack as many as possible into one perfect day."
An elderly cat, Sophie had been in treatment for multiple conditions for years, including chronic kidney disease. Thanks to medication and great care, Sophie remained relatively stable for years, but over time, she began to need more and more help.
"She took a turn that was alarming enough to send us to the vet, and after a very tough discussion about her prognosis, her doctor advised that it might be time for us to say our goodbyes while Sophie still had some good days left," said Ediss.
"The fact she was still having good days at all made it extremely difficult to make this kind of decision, but ultimately I knew that her quality of life would only continue to deteriorate and that I owed her the kindness of letting her go out on a high note."
Just last summer, Ediss and her husband had also lost their 18-year-old cat Mewie to cancer. However, her sudden decline meant that she spent her last day at the emergency vet.
"While everyone there was very kind to us, I hated that she had to be in an unfamiliar, stressful place without the comforts of home," said Ediss. "I really wanted to do better for Sophie.
"I think my favorite part was being outside with her. Sophie's main hobby was napping on her heating pad, so my husband had the brilliant idea to plug it in outside so that she could luxuriate in the grass and stay warm at the same time—she seemed incredibly relaxed and content," said Ediss. "I'm so glad we got to share that time together. I'll never forget it."
In thousands of comments, TikTok users shared in the grief of losing Sophie, but praised her owners for giving her a beautiful life and final day.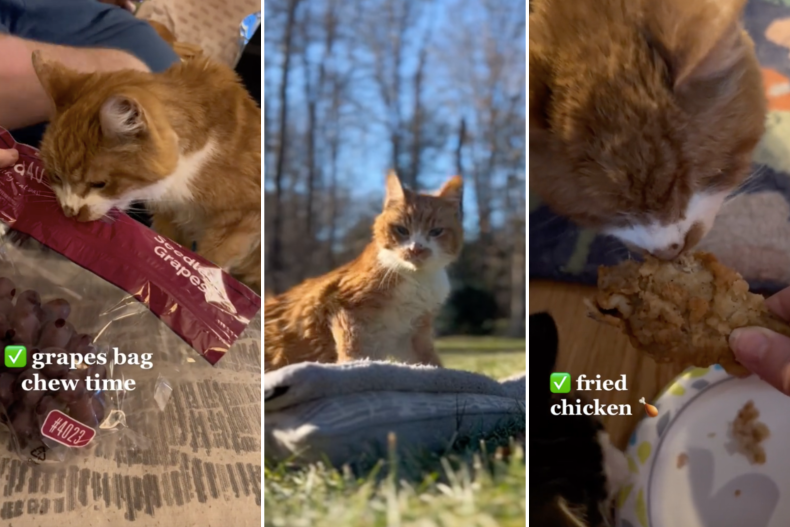 "I'm so sorry for your loss," posted one commenter, while another wrote: "Now I'm sobbing at work."
"What a happy and wonderful 20 years you gave her," read another reply. "So deeply sorry for your loss."
Another TikTok user agreed: "You gave her such a wonderful day and life."
The next morning, Sophie had her final dose of pain medication and was carried to her special pillow on the living-room couch.
"We sat and doted on her until the doctor arrived, feeding a steady stream of her favorite treats as we thanked her for everything," said Ediss.
"The doctor was wonderful—Sophie didn't even know she was there when she gave her the initial sedative from behind. She just continued blissing out on love and treats until a few moments later. She gave a big, deep sigh and her whole body relaxed."
Saying goodbye to Sophie was heartbreaking, but Ediss said it also gave her some comfort knowing that she had the best ending possible.
"It broke my heart entirely because I knew it was the end of this precious friend as we knew her, but it also made me so happy to know that her tired, pained, skinny little body could finally rest," said her owner. "It was incredibly hard to say goodbye for good, but I can't imagine a more-peaceful ending. I know we did right by her."
The video has been praised by viewers on TikTok who shared in the family's heartbreak, but for Ediss, it will always be something to treasure.
"I had to sit with the experience for a few weeks before I could bear to put the clips together, but it was a really cathartic exercise for me and I'm glad I did it," Ediss said.
"I love that Sophie's story has connected so deeply with so many people, and I hope that my video inspires some of them to plan similar bucket-list days for their beloved animal friends if they're lucky enough to have the chance. I know now what a rare gift it is—for humans and animals alike—to be able to say goodbye before things become too dire."