Owners Slammed for Carrying Dogs Around in Clear Suitcases Like an 'Accessory'
A clear suitcase on wheels which people are using to ferry their pets around is proving divisive online.
The noughties saw the rise in dogs being carried around in handbags—think Paris Hilton and the infamous White Chicks scene—but animal transportation has now evolved.
A TikTok account is causing a stir after Gscuted shared a clip to the site, showing themselves wheeling their well-behaved dogs around.
The clear case, which comes in a circular and a rectangular shape, has holes in the plastic so the animal can breathe, but not everyone was convinced by the design.
Gscuted's video, shared on Wednesday, has already been watched 2.5 million times, and their page hosts similar videos.
"We have specially left a hole, it can breathe, don't worry about the safety of the dog," they captioned one video.
"Dogs have a home outside," they explained, and in response to more concern over the dog's welfare, they added: "Don't worry about the dog's breathing at all, pay attention to see that there are holes on the side."
Their page links to the product, sold on Ali Express, which described the case as a "new way for pets to travel."
The listing says: "Breathable & Durable—The solid PC material and soft mat on the bottom, holes on the side bring both better air circulation and anti-scratch effect. Transparent Design—Protection to your pet under dust condition. The material used for the carrier allows your pet to enjoy the sunshine and scenery and to interact with the outside world.
"The transparent design provides easy viewing, so that your pet can see the world and you can see your pet. Easy to carry—The pet backpack carrier provides more outdoor possibilities, such as traveling, riding, walking, camping, hiking and more outdoor activities."
The exact item is not available to purchase, but similar pet suitcases on the site—including some for cats—are currently on sale for $169.55, $187.78 and $206.31. Despite listing numerous benefits, some pet owners weren't a fan.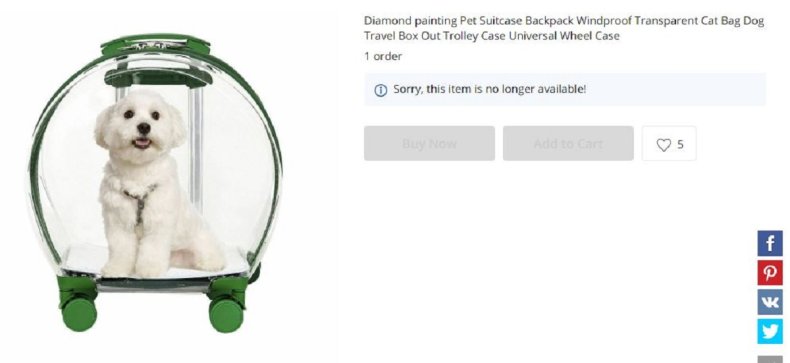 "What about heat? I feel like it can't cool down as easy with only 3-4 holes," Jduh thought.
Abbiesquared suggested: "Or get this, the dog just walks instead."
Similarly, Violet asked: "Do ppl not walk their dogs with a leash now."
Claire-Bear Official fumed: "Or maybe instead of making dogs your accessory you let them walk on a leash and explore the world around them and enjoy their life."
Although Sir Sluger reckoned: "This could be amazing to get your dogs used to an environment they've never been to, they can smells and look around without getting freaked out."
While Albertodiazzzz pointed out: "Old dogs, disabled dogs, tired dogs, safety etc. This product is good for lots of reasons."
Newsweek reached out to Gscuted and Ali Express for comment.