Ozarks Bar Owner Defends Decision to Host Crowded Pool Party
The owner of Backwater Jack's, a bar and pool lounge at the Lake of the Ozarks, has defended the decision to host an event over Memorial Day weekend after videos of customers flouting social distancing guidelines went viral.
Large numbers of revelers in bathing suits and without face masks were filmed enjoying the pool in close proximity to one other in Osage Beach, Missouri, at the weekend.
Footage of the crowded event circulated widely on social media and prompted condemnation from officials.
The event also led St. Louis County to issue a travel advisory on Monday saying anyone who attended the party must self-quarantine for 14 days or until they test negative for COVID-19, the disease caused by the novel coronavirus.
Now, Gary D. Prewitt, the owner of Backwater Jack's, has issued a statement defending the decision to go ahead with the event.
In a post on Facebook on Tuesday, Prewitt said: "We stand by our decision to move forward with Memorial Day Weekend plans."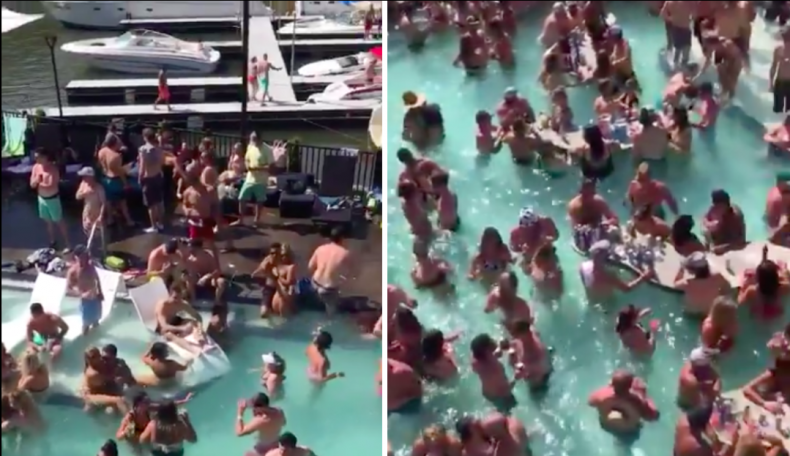 He added: "No laws were broken. Social distancing is not a crime."
Prewitt said numerous safety precautions had been taken at the party, including no-contact thermal checks that he said were done at both entrances to the pool by medical staff hired for the event.
He added that bottles of "FDA-approved" hand sanitizer were available for free to all attendees.
"We understand that there are many emotions and feelings involved on every side of the pandemic situation," he added in the statement.
"Any hateful messages attacking our business, our customers, our staff, or other businesses in our community will not be tolerated and removed from our social media. For our loyal customers who stand in support, thank you. For customers we may have lost, thank you for your previous patronage and we hope to win you back in the future."
Prewitt added that the lockdown imposed to curb the spread of coronavirus had had a "tremendous" impact on his staff and their families.
He maintained that staff were given a choice about whether or not they wanted to return to work "without any negative consequences if they chose not to."
Missouri Gov. Mike Parson addressed the event on Tuesday, warning that those not following social distancing were putting others at risk.
"I know there was a lot in the news this weekend about the Lake of the Ozarks. Unfortunately, there were some poor decisions that were made, and social distancing was not followed," he wrote on Twitter.
"When social distancing is not followed, it is potentially dangerous for EVERYONE."
The Centers for Disease Control and Prevention's (CDC) social distancing guidelines advise people to stay six feet away from others, avoid crowded places and wear a face covering when outside.
Missouri has more than 12,000 confirmed cases of COVID-19 and 686 deaths, according to the latest figures from the state health department.
This infographic, provided by Statista, shows the U.S. states with the most COVID-19 cases as of May 27.