PAC Vows to Spend at Least $1 Million to Remove Republicans Who Contested 2020 Election
The Voter Protection Project, a liberal political action committee and voting rights group, has vowed to spend at least $1 million to oust Republican lawmakers who contested the results of the 2020 presidential election.
The group has created a targeted list of 21 Republicans dubbed the "Treason Caucus," and plans to focus on unseating them in upcoming House and Senate races, Politico first reported.
The list includes Republican Senators Ted Cruz of Texas, Josh Hawley of Missouri and Rick Scott of Florida, and Representatives Devin Nunes of California, Darrell Issa of California, Scott Perry of Pennsylvania and Jeff Van Drew of New Jersey—all of whom objected the election certification of President Joe Biden on January 6.
"These are people who perpetuate the big lie [that] this election was stolen from Donald Trump," Andrew Janz, founder of the Voter Protection Project, told Politico.
"These are people who—after insurrectionists and domestic terrorists tried to overthrow an election—these are the same members of Congress, same politicians, who went back on the House floor, on the Senate floor, and voted in support of these insurrectionists by trying to invalidate a legal and fair election," he added.
Newsweek contacted the Voter Protection Project for additional comment and information, but did not hear back in time for publication.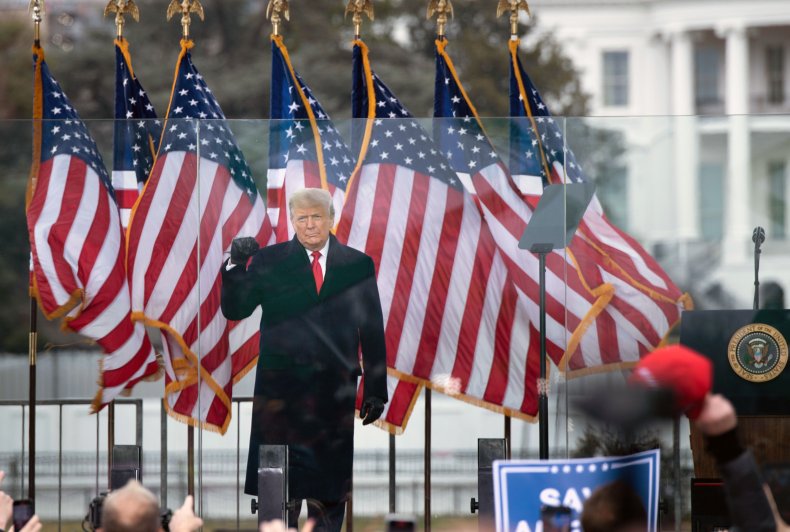 Shortly after a mob of pro-Trump rioters stormed the U.S. Capitol in January, a total of 139 Republican House members and eight senators voted to object to the election results.
Democrats have since accused those lawmakers of aiding in the violent insurrection— which left five people dead—and have called for some to step down or be removed from their positions.
"Any senator who stands up and supports the power of force over the power of democracy has broken their oath of office," Washington Democratic Senator Patty Murray said last month.
The Voter Protection Project has also made a separate targeted list of pro-Trump Republicans that they call "Most Wanted."
"Here at VPP we believe in the mantra of no free rides for terrible Republicans who count on voter suppression and gerrymandering to stay in office. In addition to the #TreasonCaucus we'd like to introduce you to VPP's Most Wanted!" the group tweeted on Friday.
That list includes Florida Governor Ron DeSantis and Senator Marco Rubio of Florida along with Representatives Marjorie Taylor Greene of Georgia, Lauren Boebert of Colorado, Kevin McCarthy of California and Matt Gaetz of Florida.
In total, the PAC expects to spend $10 million on upcoming midterm races, which is $2 million more than what they shelled out on the 2020 election cycle, Politico reported. Each of the House members and senators in their line of fire has been singled out in part because they won their most recent race by single digits, the group tweeted Friday.
The PAC added that it plans to start recruiting and fundraising to support Democratic candidates immediately.
"Now is not the time to let up pressure on a desperate Republican Party who has been sent to the minority by voters," Voter Protection Project Executive Director Heather Greven in a statement, according to Politico.
"VPP isn't wasting any time by naming our top early targets and building a war chest to take on the enemies of voting rights and Democracy," she added.