Buckingham Palace's "obsession with secrecy" over a review into how bullying allegations against Meghan Markle were handled is a "danger," a former Government minister told Newsweek.
The Duchess of Sussex was accused of bullying two PAs out of the royal household in an October 2018 email that was leaked to the media days before her March 2021 Oprah Winfrey interview.
She has consistently denied the allegations.
Buckingham Palace launched a review of how the accusations were handled, conducted by an outside law firm, but more than a year later has announced that nothing will be published.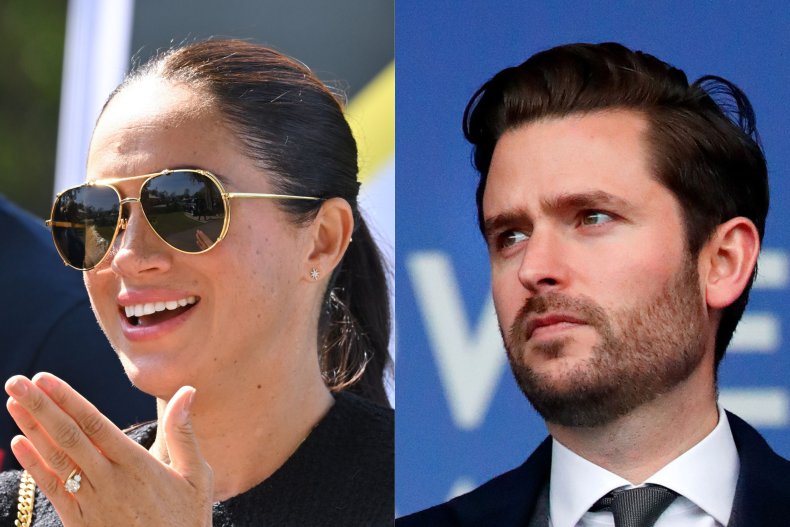 A senior palace source said the staff who contributed to the review were promised confidentiality, meaning both the recommendations and changes to HR policy would be kept private.
Norman Baker, author of royal book And What Do You Do?, told Newsweek he dealt with similar confidentiality issues when he was a U.K. Government minister.
He said: "Of course, some people need to be protected, but you can do that by redacting the names.
"That's the standard way of doing things in Government. There's no way you shouldn't publish the conclusions. And was she a bully or wasn't she? They could do a lot more.
"The danger of this obsession with secrecy they have at the palace is you're going to have one version of the story coming out from California and another in London and you won't know what the truth is. They're much better publishing it right away."
He added: "Transparency is a great cleanser. Secrecy breeds arrogance and cover ups and encourages people to misbehave. If you find things out all the time then people don't misbehave."
Meghan's team described the allegations as a smear campaign while her friend Janina Gavankar went on ITV to say one staff member had to leave due to gross misconduct.
Jenny Afia, Meghan and Harry's lawyer, then told BBC documentary The Princes and the Press in November 2021: "The overall allegation was that the Duchess of Sussex was guilty of bullying. Absolutely not."
She added: "That said, she wouldn't want to negate anyone's personal experiences."
The reputational stakes are high not only for Meghan but also for the palace whose job it is to ensure a positive environment for both staff and family members.
And there have already been allegations the review was "buried" because it exonerated Meghan. Shola Mos-Shogbamimu, a prominent U.K. activist on race and gender, told Newsweek: "My first thought is, this is some serious royal BS. The royal family made such a huge fanfare announcing to the world years after the fact that Meghan was accused of bullying staff at Kensington Palace all to distract from the Oprah interview that Meghan and Harry gave.
"Apparently, some inquiry was conducted. They do not now get to bury the findings of this inquiry after they made it a matter of public interest. We demand and deserve to know what the results are and what the solution is going to be."
However, it may have gone down equally badly with former staff who took part in the review, whose allegations were leaked to the media in the first place. They have also not been told the outcome, and will never know if a judgement was made in either direction on whether they were mistreated.
Graham Smith, chief executive of anti-Monarchy campaign group Republic, told Newsweek: "I think it's deeply disingenuous. And what it looks like is they are allowing people to draw deliberate conclusions about Meghan Markle and whether or not that bullying happened without clarifying it.
"I think they need to be clear about whether something happened and was the finding in favor of one side or the other? I think that leaves everyone guessing and that seems to be grossly unfair to everyone involved."
Sir Michael Stevens, Buckingham Palace's Keeper of the Privy Purse, told journalists during a June 29, 2022, briefing: "I know many of you will want to know if our [annual Sovereign Grant] report contains any information into the review of the historic allegations of bullying that we announced in March 2021.
"There is nothing on this in the report. As we said last year, this work was undertaken privately and had no Sovereign Grant [public] money spent on it.
"I can confirm though that it was a review of the handling of the allegations aimed at enabling the royal households to consider potential improvements to HR policies and procedures.
"The review has been completed and recommendations on our policies and procedures have been taken forward but we will not be commenting further."
For more royal news and commentary check out Newsweek's The Royal Report podcast: