Exclusive: Palestinian Groups Reveal Demands, 'Ready to Face Off' Israel Gaza Invasion
Hamas and other Palestinian groups facing off against Israel have shared with Newsweek their demands to put an end to the most violent confrontation between the two sides in years, and warned that any ground invasion of the Gaza Strip would be met with fierce resistance.
A Hamas spokesperson speaking Friday on behalf of the Palestinian Joint Operations Room, a coalition of about a dozen Gaza-based groups also including Palestinian Islamic Jihad, told Newsweek that "our goals are to have the Israeli occupation authorities accept our demands."
These include "giving free access to worshipers from all parts of Palestine to pray at Al Aqsa Mosque without restriction or harassment by the Israeli police or the Israeli settlers and halting the attempts to expel the Palestinian residents of Sheikh Jarrah."
A court case involving Israelis attempting to evict Palestinians from the Jerusalem neighborhood of Sheikh Jarrah sparked widespread unrest that led to an Israeli storming of the Al-Aqsa Mosque, fueling the current escalation.
An Israeli official told Newsweek that it seemed the demands listed by the Hamas spokesperson were "already and partially the policy of Israel." At the same, the official said the group had no grounds to be issuing demands to Israel.
"I don't think Hamas is in any position to have demands and in general we do not respond to demands of terrorists," the official added.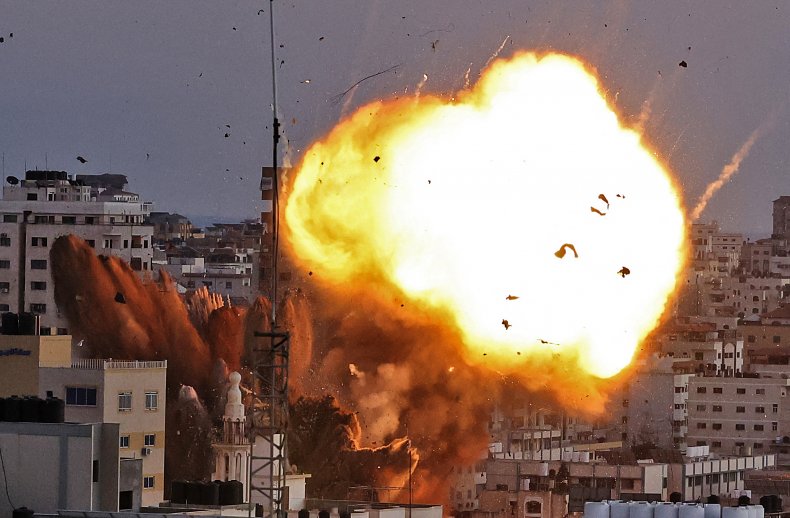 Since the outbreak of the conflict earlier this week, self-styled Palestinian resistance factions have fired a barrage of what the Israel Defense Forces estimated to be nearly 2,000 rockets, and the IDF has attacked the Gaza Strip by air and land. The amassing of ground troops along the border on Thursday appeared to be part of IDF preparations for a potential incursion into the densely-populated Palestinian enclave.
Should that happen, the Palestinian side said it was ready to fight back.
"The Palestinian resistance within the Joint Room for the Palestinian factions is ready to face off any Israeli aggression against our people," the Hamas spokesperson said.
No order has yet been given for an Israeli ground invasion, despite an "internal miscommunication" suggesting otherwise on Thursday and later clarified by the IDF. Comprehensive Israeli operations that same day involved some 160 aircraft, while artillery and armored units shelled enemy positions.
Israel Defense Forces spokesperson Lieutenant Colonel Jonathan Conricus told reporters that the aim was "to deliver a severe blow to Hamas' underground tunnel system, which we refer to as 'the Metro,' which essentially is a city beneath the city of Gaza."
He noted the importance of the tunnel system.
"It is a strategic asset that Hamas has invested many years of effort and time," he said, "and significant resources to construct."
There was no indication of any progress toward a cease-fire.
As of early Friday, Conricus said he was "not aware of any cessation or any efforts or any talks" to mediate a resolution to the conflict. Rather, the IDF orders to continue neutralizing a list of military targets that included both infrastructure and senior personnel among the ranks of Hamas, Palestinian Islamic Jihad and other organizations.
"Our focus for the day is to continue to attack and degrade Hamas and Islamic Jihad capabilities to fire rockets," he added. "We're going to continue to attack the rocket launchers and the launching pits that are scattered all across Gaza, and to suppress their ability to threaten Israeli civilians and fire rockets."
In his remarks, Israeli Prime Minister Benjamin Netanyahu also appeared prepared to press on.
"Hamas pays and will pay a heavy price, as it is not over yet, and they will not escape our strikes," the Israeli leader said in a statement posted on his Twitter account.
Netanyahu also thanked friendly countries, including its top ally, the United States for their support.
The U.S. State Department announced Friday that Deputy Assistant Secretary for Israel and Palestinian Affairs Hady Amr arrived in Tel Aviv in an effort "to work toward a sustainable calm, recognizing Israel's right to self-defense."
"Israelis and Palestinians deserve equal measures of freedom, security, dignity and prosperity," the statement added.
President Joe Biden also issued remarks coinciding with the White House's planned Eid celebrations, for which he acknowledged "the situation in the Holy Land is weighing heavily on Muslims everywhere, including our Muslim communities here in the United States."
"Palestinians—including in Gaza—and Israelis equally deserve to live in dignity, safety and security. No family should have to fear for their safety within their own home or place of worship," Biden said. "We think most about the children in these societies who face trauma from a conflict far beyond their control."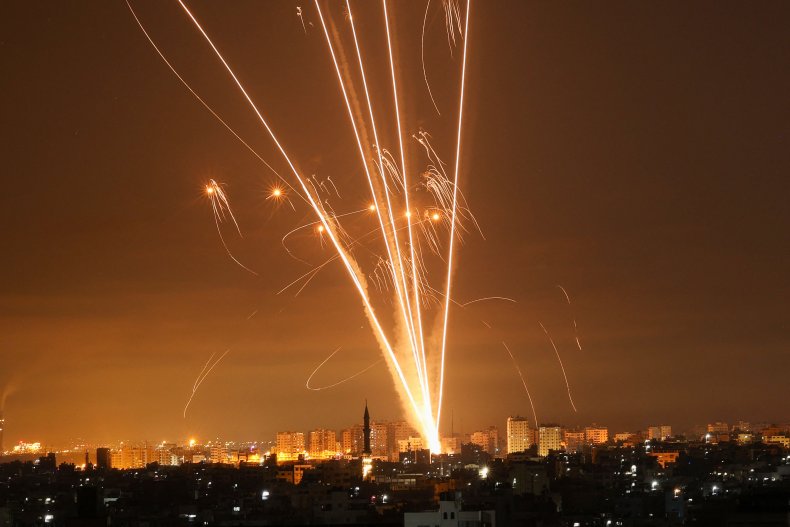 But the fighting has so far only intensified. The Gaza-based Palestinian Ministry of Health has placed the death toll so far on its side at 126. The IDF counts the Israeli death toll at nine.
Hamas' Al-Qassam Brigades military wing spokesperson Abu Obaida warned Thursday that fatalities would increase if Israeli forces proceed with a plan to enter the Gaza Strip.
"Any ground incursion into any area in the Gaza Strip, will, with the will of God, be an opportunity to increase our yield of the enemy's dead and prisoners, and we are ready to teach it harsh lessons with the help of God," he said in a statement obtained by Newsweek.
Meanwhile, Israel faced emerging threats on its other hostile borders in the north.
From Lebanon, three rockets were fired Thursday, all of which landed in the Mediterranean Sea near the coast of Galillee, according to the IDF. A Lebanese official told Newsweek at the time that the suspected launch site was the Palestinian refugee camp of Rashidieh located along the country's southern coast.
The following day, a group of protesters waving Palestinian and Iranian flags along with those of the powerful Iran-backed Hezbollah movement crossed the border, only to met with IDF tank fire, that killed one and injured another. As the IDF, Lebanese Armed Forces and U.N. peacekeepers attempted to control the situation, youths of the Ain al-Helweh Palestinian refugee camp continued to demonstrate, drawing Israeli tear gas and flares.
Also on Friday, the IDF recorded the launch of three rockets from Syria, one of which landed in Syrian territory.
As Israel addressed heightened tensions along borders with Gaza, Lebanon and Syria, it the country also faced a burgeoning domestic crisis as civil unrest broke out throughout cities and towns. Israeli Arabs supportive of the Palestinian campaign and Israeli nationalists backing IDF operations have clashed violently across the nation, adding to the scope of casualties and destruction of property.