As the highly anticipated series Pam & Tommy drops every Wednesday on Hulu and Disney+, audiences across the globe can get hooked on the gripping true story of Pamela Anderson and Mötley Crüe drummer Tommy Lee's marriage and the sex-tape scandal, which ultimately greatly affected the Baywatch star.
Nick Offerman and Taylor Schilling who star as Uncle Miltie and Erica Gauthier respectively in Pam & Tommy spoke to Newsweek about the misconception surrounding the couple's sex tape and the leak, as well as what they hope Anderson will feel about the show.
In the late 1990s, disgruntled electrician Rand Gauthier stole a safe in Tommy Lee's home in protest after Lee refused to pay him for the work he had carried out. Inside the safe was Anderson and Lee's private home video of their honeymoon, featuring 10 minutes of footage of them having sex. Instead of returning the tape, Gauthier took the tape to porn director Michael "Uncle Miltie" Morrison who helped him distribute the tape online.
The leak of Anderson and Lee's sex tape had damaging consequences for not only their marriage but for Anderson in particular. Not only was she vilified in the press, but her career also suffered greatly.
While Tommy Lee has been vocal of his support for the series, telling Entertainment Tonight he had been in contact with Sebastian Stan who plays him in the series, Pamela Anderson has remained silent.
Lee said: "I know Sebastian, he's playing me. From what he's told me, really beautiful story.
"I think a lot of people would think it's one thing, but it's really about privacy and how things got crazy then. There are different laws now.
"The story's actually cool. What actually happened wasn't, but [Stan] tells me it's pretty wild.
"I feel like it was forever ago. But it's a cool story and people need to know. It's cool. I'm stoked."
As for Anderson, a few articles have done the rounds citing "insiders" providing comments about Anderson's views on the series and, apparently, they are not good. Her friend, Courtney Love had also commented, in a now-deleted Facebook post on May 16, 2021—following the release of first-look images of the show—that the series was "so f****** outrageous," adding it was "further causing" Anderson "complex trauma."
Showrunner D.V. DeVincentis has confirmed Anderson did not respond to requests to work on the project in an interview with Entertainment Weekly.
He said: "We particularly wanted to let Pamela Anderson know that this portrayal was very much a positive thing and that we cared a great deal about her and wanted her to know that the show loves her. We didn't get a response, but considering what she's been through and the time that we were reaching out, that was understandable."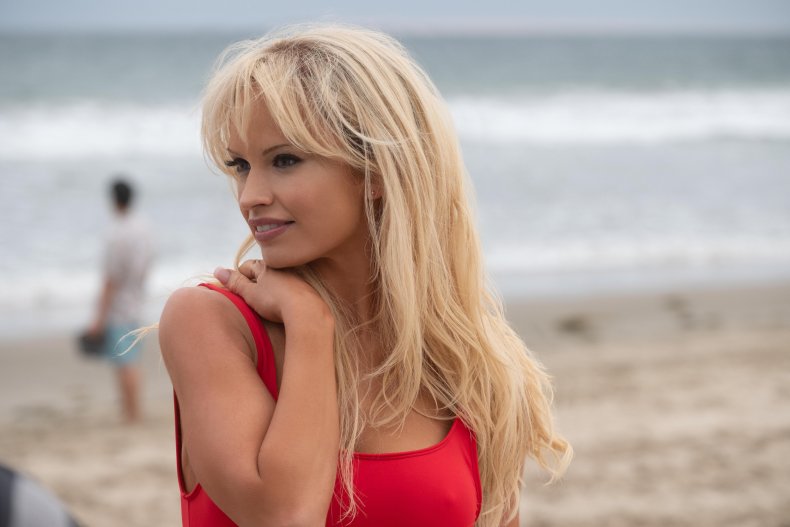 Taylor Schilling who plays adult actress Erica Gauthier/Boyer in Pam & Tommy echoed DeVincentis' sentiments. She told Newsweek: "I hope that they're [Anderson and Lee] able to see it as as a real ode to Pamela and her bravery and her courage. I don't think that this story has been told and that people don't know the truth, and I hope that there's some vindication for her experience inside of this."
Nick Offerman, who plays Uncle Miltie also felt a similar way. He told Newsweek he was attracted to the show because it is from Anderson's point of view and becomes a "bit of feminist statement" in a way.
He shared: "I was just flabbergasted to discover that this was an actual crime that Pam and Tommy were completely the victims. The world cynically sort of assumed when it happened, that they must be involved, it must be some sort of exploitative publicity stunt or something but to discover that it was actually this sort of bumbling theft carpenter and a guy trying to like recoup his wages that had been withheld just fascinated me, I thought it was beautifully written and I also really love how it ends up taking Pam Anderson's point of view and, and becomes a bit of a feminist statement."
He continued: "To see how Pam Anderson is the victim of sexism and misogyny, as the story plays out, I think will be quite eye-opening. It'll really serve as a foundational story to so many such tales that came after. It helps point up the distance that we still have to go in terms of treating everybody equally when it comes to seeing them with their clothes off."
Offerman added he hopes the show will "set the record straight" about what really happened to Anderson and Lee.
"It's quite clear once you see all eight episodes, that the writers and producers said we really want to set the record straight here. I think I think, you know, again, an unwitting audience could make presumptions that there's something exploitative or something at all salacious about this and it's quite the opposite. I think that I think that They [Lee and Anderson] would see that the show's heart is in the right place and hopefully appreciate our efforts."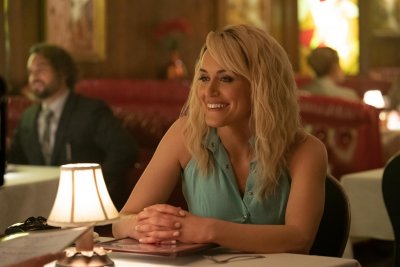 Pam & Tommy is nowhere near a glamorization of Anderson and Lee's ordeal. Instead, the series follows how it impacted the couple and is mainly told from Anderson's point of view. The series also hammers home the Hollywood couple were at the end of the day, victims of a crime despite the fact Rand Gauthier, Miltie, and other conspirators did not serve anytime behind bars.
Schilling shared with Newsweek she hopes audiences will learn the severity of the crime against Anderson and Lee and also the fact they never consented to the tape being released.
She said: "I hope that there's an understanding that Pamela Anderson was the victim of a crime and that the tape came about as a result of criminal activity. That's why it came into the public consciousness. She did not offer her consent for us to see it and she never made any money off of it. I had no idea and I imagine other people have a similar experience.
Pam & Tommy airs Wednesdays on Hulu and Disney+.