'Pam and Tommy's' Taylor Schilling on Playing Porn Star Erica Gauthier
Taylor Schilling is best known for her role as Piper Chapman in Netflix's Orange Is The New Black and Lily Leithauser in The Bite. But Schilling is back on our screens in Hulu's highly anticipated new series Pam & Tommy, as porn star Erica Gauthier.
In the late 1990s, the real Erica Gauthier found herself unexpectedly caught up in the infamous Pamela Anderson and Tommy Lee sex tape scandal, via her estranged husband, Rand Gauthier (played by Seth Rogen) who had stolen the tape from Lee's home in 1995.
Speaking to Newsweek, Schilling shared what it was like to take on the role of Erica Gauthier and serve as the moral voice of reason in Pam & Tommy.
Who Is Erica Gauthier?
In Pam & Tommy, Erica Gauthier is the estranged wife of Rand Gauthier. The couple are no longer together and are seeking a divorce, but remain married as they cannot afford the court costs.
In 1995, Rand had broken into the home of Pamela Anderson and Tommy Lee, after Lee failed to repay him for the work he had done to his home. Rand had stolen their safe which, unknown to him, contained a home-video of their honeymoon and footage of them having sex.
Rand took the tape to his friend, porn director and producer Uncle Miltie (Nick Offerman) who had worked with Erica and Rand Gauthier in the past. After failing to sell the tape to production companies, Rand Gauthier and Miltie decided to sell the tape online, without Anderson and Lee's consent.
Erica Gauthier had no idea what her husband had done until years later.
Erica Gauthier is based on the real-life adult film actress Erica Boyer (née Amanda Gantt), who according to her IMDb page has appeared in over 187 adult films across a 25-year career.
She has also served as a writer and producer on adult film work and worked as a make-up artist on set. In the late 1990s, Erica was inducted into the AVN Hall of Fame Legends of Erotica and the X-rated Critics Organization (XRCO) Hall of Fame.
The real Erica and Rand Gauthier met on a blind date in the San Fernando Valley. She was an aspiring actress and her father was once the assistant attorney general of Alabama, reports Rolling Stone.
After six weeks of dating, Erica and Rand moved in together and, as seen in Pam & Tommy, she managed to land Rand a job in several of the adult films she was starring in.
Rand Gauthier then went on to star in at least 75 porn videos before turning to handyman work.
Erica and Rand eventually married, but split soon after.
Speaking to Newsweek, Schilling shared she saw her character, Erica, as a "counterpart to Pam."
She explained: "Erica is a woman who's made the decision to be an adult actress and has done so with agency and is in charge of her own life. And in that way, she's really able to illustrate for Rand why what Pam and Tommy did is not pornography. And I think in that way, she's sort of almost an ally for Pam. And she's a really vital, vital force in this story overall."
Schilling continued: "I hope that there's an understanding that Pamela Anderson was the victim of a crime and the tape came about as a result of criminal activity. That's why it came into the public consciousness. She did not offer her consent for us to see it and she never made any money off of it. I mean, I had no idea, and I imagine other people have a similar experience."
Despite their differences, Erica, as seen in Pam & Tommy, still holds a soft spot for Rand despite his decision to steal Anderson and Lee's private video.
Schilling teased: "I think Erica really loves Rand and Rand really, really loves Erica and for that reason, he is able to listen to her."
"They were deeply in love. They were married, they worked together, Erica brought Rand into her industry for a bit and by all accounts, Erica was deeply in love with Rand, but he kind of couldn't get his behavior together, and so they separated. But I think that they both had a lot of love for each other, a lot of love and a lot of longing.
She added: "I just loved working with Seth. He's just he's so funny. He's such a funny funny, smart guy, but also just so generous and really, I had so much fun working with him."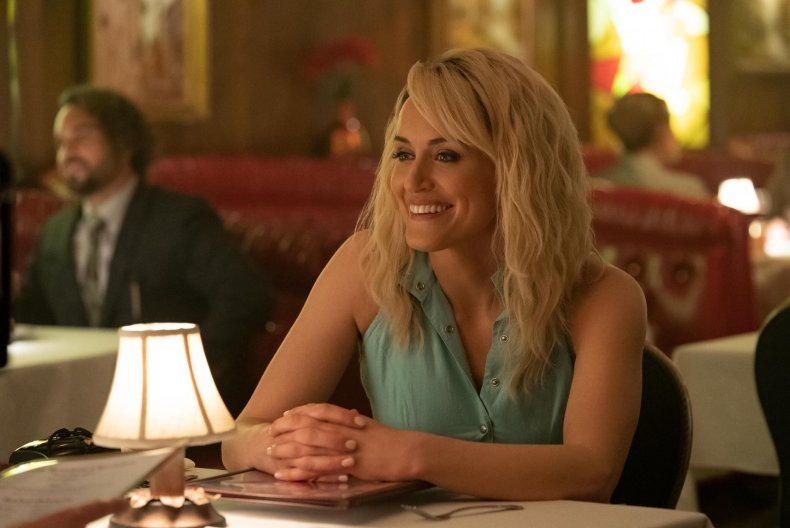 Where Is Erica Gauthier Today?
Sadly, the real Erica (Amanda Gantt) died on New Year's Eve, December 2009 after being hit by a car in Panda City Beah, Florida near her home. She was 53 years old at the time of her death.
She was survived by her husband, American footballer Derrick Jensen, her son vis Jensen; mother, Margaret Shelley; father, Joe Breck Gantt, and wife, Anne; sister, Gretchen Franco; niece, Alexis Franco, reads her obituary in the Panama City News-Herald.
The first three episodes of Pam & Tommy are streaming on Hulu now. The remaining five episodes will air every Wednesday on Hulu.