Paralyzed Dog's Reaction to Wheelchair Harness Reduces People to Tears
A paralyzed dog's excitement at seeing her wheelchair harness, allowing her to walk, has reduced people to tears online.
The pet's reaction has gone viral on TikTok, after their owner, thought to be called Robyn, uploaded footage to their account @cowgoesoverthemoon.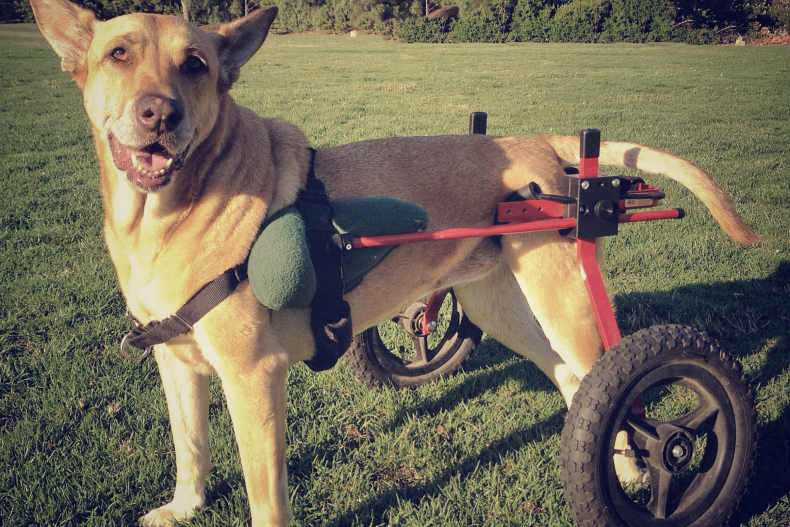 Dogs, just like humans, may need a wheelchair for various issues, including age-related conditions, mobility problems and paralysis.
Dallas Veterinary Surgical Center (DVSC) says that "serious spinal injuries and paralysis are not uncommon in dogs," particularly those that suffer from intervertebral disk disease.
There are varying degrees of paralysis, with some dogs' back legs affected only, while others are paralyzed in all four limbs.
The DVSC says paralysis can be temporary or permanent, as the center shared tips to deal with pets who need extra care.
Ensuring animals are in a safe, ideally confined space, such as a playpen is advised, and if they're unable to move independently, "rotate body position every 3-4 hours."
Hygiene is key, as the site points out "your pet will have to rely on you to help them stay clean," which means extra attention needs to be paid to your dog's bowel and bladder movements, when manual assistance may be required.
The site recommended physical therapy for paralyzed, or partially paralyzed, dogs, as well as a harness to help them get around.
The initial clip has received nearly 5 million views since being posted Monday on TikTok.
Captioned "paralyzed dog sees her wheelchair harness so she can walk," the dog, believed to be called Rose, is visibly overjoyed.
She bobs up and down and taps her front paws on the ground, with a happy expression on her face as Robyn approaches, harness in hand.
A follow-up video, shared after popular request, shows Rose enjoying a walk in her harness and wheelchair, her back legs in stirrups.
In a separate video, Robyn shared a little more of Rose's backstory, revealing she was adopted from India.
A clip was captioned: "December 5 2020 I rescued my best friend from India. Today she is health[y] enough, has her wheels, and got to see snow for the first time."
Another clip showed Rose outside frolicking in the snow, without her wheels. Robyn wrote: "She prefers to be out of them. I only put her wheels on when we are on a walk."
And another showed her lying on the grass without the walking aids, with the caption reading: "Paralyzed dog goes for a roll in the grass!
"Sometimes you need to get out your wheelchair, and be a silly dog in the grass," the on-screen text read.
Commenting on the viral video, TikToker Netty wrote: "Oh god so heartbreaking poor baby but it's so nice to see her so happy," while MamaMaliikaCat commented: "Melted my heart, thank you."
StreetLaRue wrote: "Thanks for making me cry. What an angel," while Dan Lalonde posted: "Omg that was adorable to watch."
"This is the cutest thing I have ever seen. My heart," _Riz091721 wrote.
Newsweek has contacted @cowgoesoverthemoon for comment.
The chart below, provided by Statista, shows popular dog breeds in the U.S.
Do you have funny and adorable videos or pictures of your pet you want to share? Send them to life@newsweek.comwith some details about your best friend and they could appear in our Pet of the Week lineup.