Paralyzed Dog Teaches Baby to Crawl in Adorable Video: 'Cutest Thing Ever'
A dog who was left without the use of her hind legs has been melting hearts after the paralyzed pet pooch was shown teaching her owner's baby how to crawl.
Kahlua broke her spine and hip after falling three stories from a balcony while in the care of her previous owners. However, after several months of recovery and some time spent with a foster family, she bounced back to find a new forever home with her current human companions.
They include a toddler by the name of Caleb who, if a video shared to TikTok under the handle Kahlua The Paralyzed Dog is to be believed, has been teaching the young tot how to get around the house.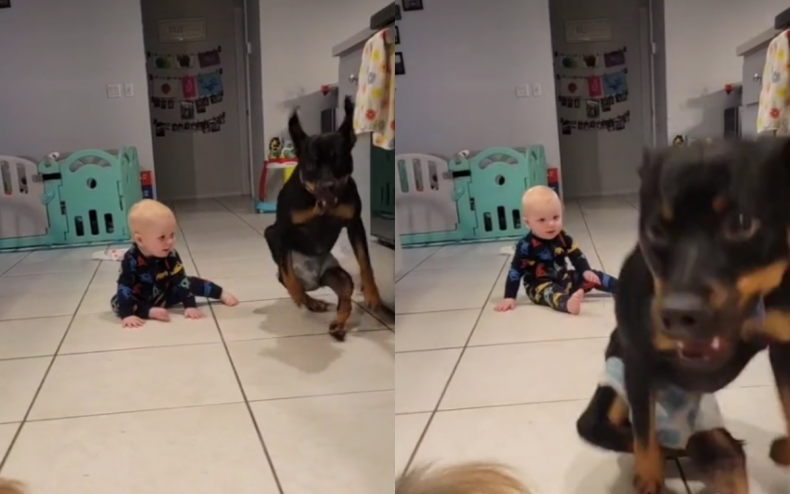 Restricted to the use of her two front paws, Kahlua has not let her disability hold her back by developing a unique skipping-like way to get around the house. When outdoors, meanwhile, she uses a special dog adapted wheelchair.
In any case, his efforts around the house have evidently inspired Caleb, with the video showing the youngster imitating Kahlua's movements and, in the process, learning how to crawl. It can be watched here.
While the idea of an old dog teaching their young owner new tricks might sound absurd, science suggests it's not as outlandish as it sounds.
According to psychologist and canine researcher Stanley Coren, Ph.D., of the University of British Columbia, dogs can understand more than 150 words and possess mental abilities similar to that of a child around the age of 2.
He told the American Psychological Association: "There are three types of dog intelligence: instinctive (what the dog is bred to do), adaptive (how well the dog learns from its environment to solve problems) and working and obedience (the equivalent of 'school learning')."
In that sense, it's not a surprise to see Kahlua teaching Caleb how to crawl. Not that anyone commenting on the clip was that fussed by the science behind it all, of course, with the majority instead preferring to bask in how cute their interaction was.
"The dog was so happy to show him," TRG_ said. "This is adorable and deserves to go viral." Cinder1994 commented: "Makes me smile. They both are adorable." Kellianderson262 wrote: "Sweet doggie, my heart just melted" with Shannon Richards declaring it "the cutest thing ever."
Nurija.gebran commented: "Dogs are too pure for this earth" while St. Cross said it was the "Cutest video ever" and it made them "happy to see their bond." Namaste Hi echoed those sentiments, writing: "Oh my heart!! This is the most precious thing I've seen."
Kahlua's owner Lori told Newsweek Kahlua came into their lives after being given a second chance at life by Good Karma Pet Rescue, a non-profit organization providing care for homeless pets in South Florida.
"She had a fall from a three-story balcony that broke her spine and left her paralyzed with her previous owners no longer in the picture," she said. "The Barr family took her in and fostered her. They took her to many specialist appointments and physical therapy appointments, they prepared her for a forever home, they gained her trust."
Lori continued: "She was eventually posted on Petfinder and we contacted the foster family to learn more. We did a meet and greet and went home and thought long and hard and decided she needed to be part of our family. The rest is history."
She said the video was something of a happy accident. "We were just in the kitchen having some play time before bed," Lori said. "I was randomly videoing thinking I could have some content for her TikTok and the mimicking began. I was like wait, do it again! I was smiling from ear to ear!"
Lori said her son Caleb has had a special bond with Kahlua ever since he became part of the family. "The day we brought Caleb home from the hospital Kahlua claimed him as her own," she said. "Because of her history and trust issues we weren't sure how she would adjust but she surprised us and has loved him from the start."
She said the reaction to the video has blown the family away. "I still can't believe the amount of views and attention this video got," she said. "We love to share Kahlua's story and sass and resilience. The video is pure, people want to see the good in this world."
Do you have funny and adorable videos or pictures of your pet you want to share? We want to see the best ones! Send them in to life@newsweek.com and they could appear on our site.
Update 8/16/22 11:44 a.m. EDT: This article has been updated with video and comments from Kahlua The Paralyzed Dog's owner.