Parents Outraged After 30 Students Sent Home Over Footwear: 'Get a Grip'
Dozens of British students arriving for their first day of school on Tuesday were sent home over their shoes, incensing parents who are strapped for cash this school year.
About 30 students were turned away from Taverham High School in Norfolk, England, headteacher Dr. Roger Harris confirmed to the Norwich Evening News. Harris, who became headteacher this year, said he notified parents of the updated footwear rules in an email in June.
The price of school uniforms can spark panic among families struggling with a cost of living crisis across the United Kingdom. Nearly all British schools have uniforms, which cost parents an average £337 ($387) per year for each secondary school child, according to a 2020 survey from The Children's Society.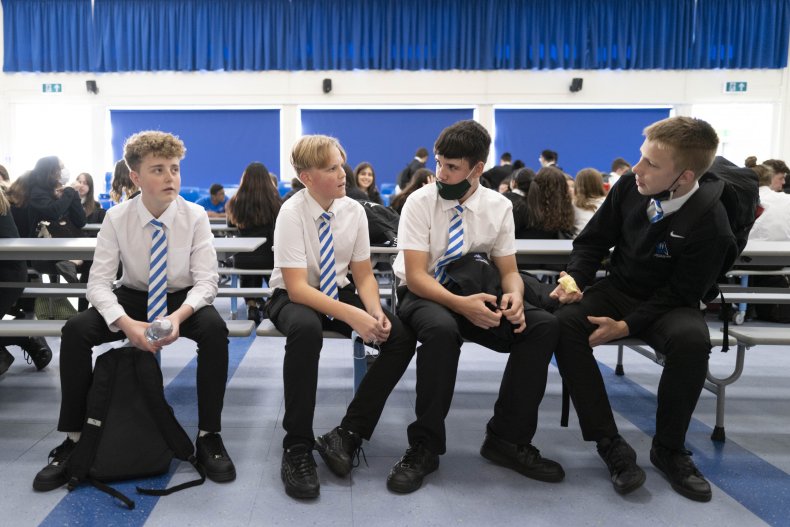 Students of Taverham were to wear smart black shoes that were "appropriate for the workplace," he said. Those who came in other footwear would be sent home, even if their shoes were considered appropriate last term. The headteacher held that strengthened rules around school uniforms improved student "outcomes and behavior."
But for some parents who said they already face impossible financial choices, the high school's footwear restrictions are an unnecessary burden.
To help parents, the U.K. Department for Education issued statutory guidance for schools on the cost of uniforms last year. Although individual schools continue to set their own policies, the department said they must "help keep costs down by taking steps to remove unnecessary branded items and allowing more high-street options, such as supermarket own-label uniforms."
Still, as annual inflation climbs over 10 percent, many households are entering the school year with tightened belts. Private rental prices in Britain rose 3.2 percent over the 12 months to July 2022—the largest jump since 2016, according to data from the Office for National Statistics (ONS). Soaring energy bills have dealt families another blow, exacerbated by Russia's invasion of Ukraine and reduced gas supplies to Europe.
Lucinda May, a 43-year-old mom of a Taverham High School student, told the Norwich Evening News that she had to ask her parents for £64.99 ($74.73) to buy her child the correct pair of shoes.
"It is a complete disregard for parents in regards to the cost of living situation," said May, a single parent and self-employed estate agent.
Anna Eaves, a 37-year-old mom, said her son was among the students sent home. Although she understood the need for a uniform, she said it was wrong for "children to be turned away because of something on their feet."
"I'm reluctant to buy new shoes but I don't want him to miss out on school," she said.
Other parents took to social media to vent their frustration.
Local father Craig Bailey said on Twitter, "Get a grip of yourself Taverham High, it's far more important for learners to be comfortable and bring their authentic selves to school."
Newsweek reached out to Taverham High School for comment.