Parents on 'Rescue Mission' to Save 10-Year-Old Daughter Stuck in Ukraine
As bombs continue to fall on Ukraine, David Korpiewski's mind goes to one place–his 10-year-old daughter in Dnipro. Unable to bring his daughter home from her grandparents' on his own, the conflict with Russia has sent Mary's mother on a rescue mission that Korpiewski realizes could come with deadly consequences.
"This war is so fluid we have no idea what's going to happen," Korpiewski told Newsweek. "There's a very big risk they might not even survive the trip back."
David and Iryna, Mary's mother, debated sending Mary out of the country ahead of the invasion, but like many Ukrainians, Iryna was skeptical of the warnings. When war broke out, she was at a conference in Austria so Mary was staying with her grandparents in Dnipro, a city in central Ukraine.
With her father's passport expired and her mother struggling to cross the border from Poland, Mary's been hunkering down with her grandparents just about 50 miles from a nuclear power plant that's been a target of Russian shelling.
"If they blow it up, she will die from radiation. It will cook her and her grandparents," Korpiewski said. "It has become even more imperative that we get to her."
Russian attacks on the Zaporizhzhia nuclear power plant sparked a fire that claimed multiple Ukrainian lives. It's a war crime to attack a nuclear power plant, according to the American embassy in Ukraine, but Russians took control of the site early Friday morning, giving them an opportunity to control the Ukrainian population by withholding power as punishment.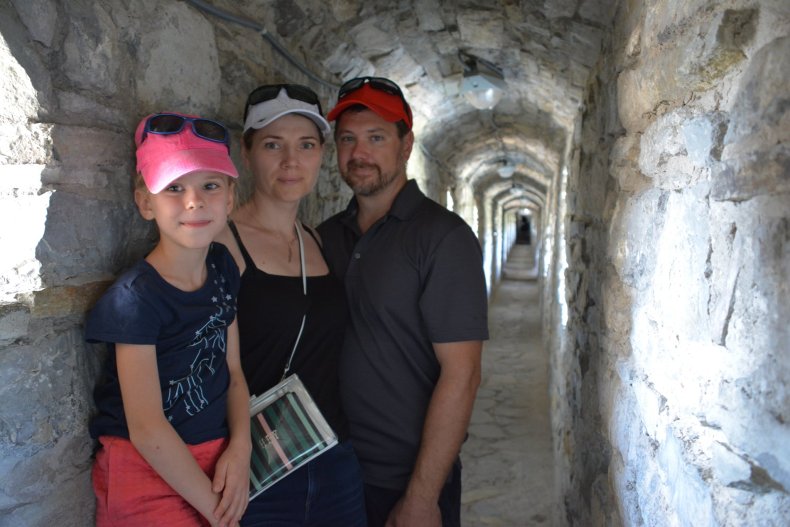 The attack on the plant sparked memories of the 1986 Chernobyl disaster and Ukrainian President Volodymyr Zelensky warned an explosion could have severe consequences. While the reactors have not been compromised, according to IAEA Director General Rafael Mariano Grossi, he noted that the situation is "extremely tense and challenging."
When the war broke out, Korpiewski sought to book a flight to Europe to bring his daughter to the safety of the United States. However, he realized his passport had recently expired, and when he contacted the State Department for help, he said he was told he'd have to wait two weeks because there weren't any appointments available.
I told them, "I don't know if Ukraine is going to be around in two weeks," Korpiewski said. With the help of Senator Ed Markey's office, Korpiewski was able to get an appointment for Friday and plans to fly to Poland on Saturday.
However, once he makes it to Poland, Korpiewski will have little to do but wait and hope. Train tickets have been difficult to get and there have been reports of men of military age not being allowed to leave the country.
Assuming his daughter is able to make it to Poland, the family faces another hurdle–getting her a new passport. Not expecting war to break out while with her grandparents, Mary left her American passport in Kyiv at the home she shares with her mother. It's too risky for the family to return to Kyiv just for the passport, so they need to go to the American embassy in Warsaw to obtain a replacement passport. Once they have that, Korpiewski plans to head for the United States with Mary.
A Ukrainian citizen, Iryna boarded a train headed for Dnipro on Friday. Calling her a "true hero," Korpiewski said she's on a "rescue mission" that will require Iryna to leave her parents behind. With food, water, electricity and fuel, Korpiewski said Iryna's parents plan to stay in Dnipro. "It's their home, they want to live there and they want to die there," he said, adding, "that's where they feel they belong."
On Thursday, Russia and Ukraine agreed to evacuation corridors to help civilians escape the bombardment. It'll temporarily stop the fighting in certain areas–but not everywhere–and Korpiewski is hopeful it'll be the window his family needs to get out of the country safely.
"Iryna's on a rescue mission," Korpiewski said. "It's been a constant battle, but I'm determined to get my daughter here."
A GoFundMe account has raised almost $5,000. The donation request, penned by David, reads in part, "My goal is twofold with this GoFundMe. First, Irina needs money to feed herself and take care of her basic needs at the refugee camp while she waits for a way to get to Mary. Second, we need to get Mary out of where she is now and back to the USA. We still haven't figured out how to get Mary out, sadly, but we might need to hire someone with a car to make this dangerous trek."
For more live updates on the invasion of Ukraine, visit our live blog.