Paris Hilton Had 'the Best Coke,' Bling Ring Member Alleges in New Doc
Today a new docuseries, The Real Bling Ring: Hollywood Heist, hits Netflix, bringing new details and original interviews with members of the burglary gang that—in true early-aughts meta-fame fashion—became celebrities because they stole from celebrities. But the most shocking reveal of the three-part doc involves an old allegation.
"We found a nice bag of coke one time," Bling Ring member Nick Norgo (née Prugo) tells director Miles Bladen-Ryall of breaking into Paris Hilton's home. "Her cokes was like Scarface coke; that was the best coke I'd ever done, just pure. We're doing Paris Hilton's coke—who the f**k can say that?"
It's an allegation Norgo has made in the past—and one Hilton has denied (including in this film: A disclaimer at the end states, "A representative of Paris Hilton has denied that illicit drugs were found at her home")—but it's nevertheless shocking to hear someone who unabashedly stole from her gleefully recount the alleged experience of taking her drugs and using them.
In 2011, Hilton was arrested after an officer found .8 grams of cocaine in her possession after a traffic stop. She pleaded guilty to two misdemeanors and was sentenced to probation.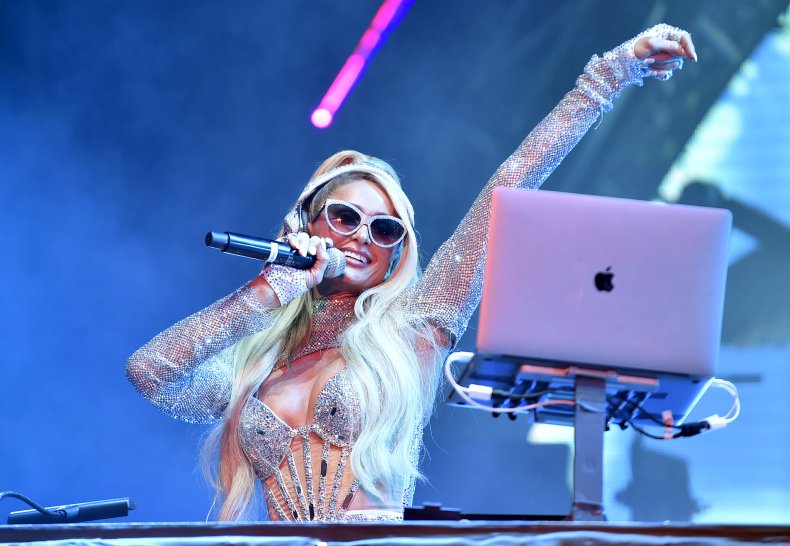 Norgo, along with Alexis Haines (née Neiers), who also appears in the doc, and a group of acquaintances made headlines in the 2010s for breaking into the homes of Orlando Bloom, Lindsay Lohan, Rachel Bilson and Audrina Patridge (who appears as well) and taking hundreds of thousands of dollars worth of property. It's well-worn territory—Sofia Coppola's 2013 film, The Bling Ring, starred Emma Watson as Neiers, who, despite her contention that she was barely involved, became the face of the group—and the new doc introduces new timeline clarity and has Norgo and Haines telling their stories—which often conflict—in parallel.
Bladen-Ryall and executive producer Larry Walford hope the perspective of time can bring some empathy and understanding to the criminals—kids, really—who committed these acts and most important, their motivation and state of mind.
Walford told Newsweek, "When Myles and I first looked at the story, we thought we should do two things: We should tell the story as authentically as we can in terms of the the linear story, but also there's a thesis here really, for a documentarian, which is about a kind of cautionary morality tale.… A lot of people thought that [the Bling Ring] were just like rich kids. But actually, they all had very problematic upbringings, which led to the events. And those were never really reported."
Haines' chaotic home life was chronicled on the short-lived E! reality series Pretty Wild, and in the intervening years, she's been open about her life at the time—particularly her drug addiction—and has become a substance misuse counselor. Hollywood Heist shines a brighter light on the toll taken on a young addict whose lawyers, TV producers and even parental figures all placed fame before care for her as a person, and how that fed into a cycle of behavior.
Norgo, too, talks about his state of mind at the time of the robberies, detailing a struggle with his sexuality and inability to really connect with people until he met Rachel Lee, the alleged mastermind of the Bling Ring.
Said Bladen-Ryall, "I think it's very easy in this case [and] what a lot of the reporting and media did at the time was basically just sort of point and wag fingers at these young people for doing what they did. It's not to say that they don't need to take responsibility for their actions and they're not responsible for their actions. Of course, they are, but [it's] more complicated and complex than just pointing your fingers at people for perpetrating crimes. You've got to look at the wider context, you've got to look at their upbringing, their surroundings, the culture, the society they live in. And sometimes I think it's important to ask, whether we are sort of [tacitly complicit]."
The doc puts viewers back into the mindset of the nascent era of sites like Perez Hilton (the blogger appears as a talking head) and 24/7 surveillance of stars like Paris and Kim Kardashian, who, for the first time ever, ushered in a type of celebrity that was still novel at the time: the one who was famous for being famous (or in their particular cases, famous for having sex tapes leaked). Norgo, Haines and the other members of the Bling Ring—who were all eventually prosecuted—were not entirely unlike Hilton in that way.
Hilton herself has given context in recent years to her hard-partying early-aughts reputation, revealing in her 2020 documentary, This Is Paris, a history of anxiety stemming in part from repeated trauma at youth treatment centers, including Utah's Provo Canyon School, which she attended at 17. In 2021, she appeared before Congress to urge for federal reform to youth congregate-care facilities. She wrote in The Washington Post of her experience, "I was awakened one night by two men with handcuffs. They asked if I wanted to go 'the easy way or the hard way' before carrying me from my home as I screamed for help. I had no idea why or where I was being taken against my will. I soon learned I was being sent to hell." Hilton also launched in 2021 a podcast called Trapped in Treatment.
When asked how they made the decision to keep in Norgo's drug revelation about Paris, Walford told Newsweek, "Obviously, that person gets a right to reply. So they get the opportunity to respond to the accusation that has been made. And each case is individual, so you can never have a broad brushstroke with this.… But my understanding also is this wasn't the first time this has been reported. I do think this has been reported in the press before."
Norgo has repeatedly alleged that when he and his friends burgled Paris' home, they found and took a bag a cocaine.
Continued Walford, "And therefore it makes the balance of the accusation less accusation, if you can say that. But as long as we are getting all of our all of the people that are talking about the right to apply, then legally, that that's OK. I think if we're talking about something much more serious, like violent crimes or, you know, domestic abuse of some nature, then you really have to be careful about what you're allowing in and what you're allowing out. But in this particular case, it was carefully looked at by the lawyers, and they felt that that comment could be could be allowed to remain in as long as Paris was given a right to reply, which she was."
All three episodes of The Real Bling Ring: Hollywood Heist are on Netflix now.
Newsweek has reached out to representatives for Paris Hilton for comment.