Paris Hilton Blames 2007 N-Word Scandal on Abusive Schools She Attended
Paris Hilton has justified her use of racist and homophobic slurs on being a "blacked-out idiot" and on previous trauma she had experienced at boarding schools.
The heiress was recently called out again for using the n-word when referring to Black people and for derogatory comments against gay and Jewish people. A video surfaced of Hilton in 2007 using the slurs when the contents of a storage locker she owned were sold.
Hilton had addressed the incident in the past but once again spoke about it in a new interview with Harper's Bazaar.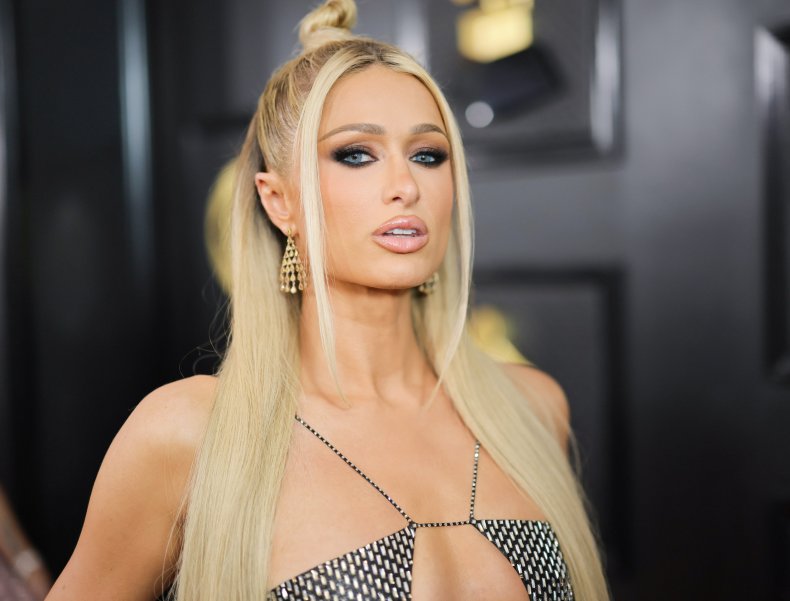 "Yeah, I'm mortified," Hilton began, before adding it was "deep trauma" she had experienced that may have led to her actions. Some of her traumatic experiences included being sent off to for-profit behavior-modification programs for years as a teenager. There, she was once slapped and choked by another student and even forced into isolation as punishment for bad behavior.
Hilton described being woken up in the middle of the night by two strange men and being dragged to the "therapeutic boarding school" as her parents watched on tearfully.
Hilton hotel heir, Richard Hilton and his wife, Kathy, decided to send their teenage daughter to the special programs after she was kicked out of two private schools in Manhattan.
"I was not a bad kid," Hilton said. "I snuck out at night, got bad grades, ditched school. But my mom and dad were so strict. They wanted me to be home at 11:00."
At those "treatment centers," students were encouraged to use "attack therapy." They would hurl insults at each other during group sessions that focused on why they had ended up in a school like that.
Hilton also revealed being groomed by a teacher in middle school and the trauma she experienced when a sex tape of her and ex Rick Salomon leaked in 2003.
Hilton said that her outlandish behavior— including using racial and homophobic slurs— was the result of unprocessed trauma.
"But after talking to other survivors, I see that so many of the things that I did are classic signs of survival. Everyone lives and learns in life," she told Harper's Bazaar.
In her memoir Paris, Hilton further explained that, in the attack-therapy sessions, "people went for the most obvious target in the ugliest possible language. The N-word. The C-word. The F-word. (Not that F-word, the worse one.) ... I don't remember half the stuff people say I said when I was being a blacked-out idiot, but I'm not denying it."
Hilton's use of slurs became public knowledge in 2007 when a website called parisexposed.com published items they had bought from Hilton's storage locker after she had let her rental payments lapse.
One of the videos showed Hilton dancing with her sister Nicky to The Notorious B.I.G.'s "Hypnotize" at a house party. Hilton goes toward the camera and says: "We're like two [n-words]!"
In another clip, she describes someone at the party by saying, "f***** hoodlum broke, poor b**** from, like, Compton. Public school b****." She also calls a male friend a "f*****" multiple times.
But other media organizations also unearthed other examples of Hilton's use of slurs. Jezebel published antisemitic comments in 2020 made by her when she changed the lyrics to Sister Sledge's "We Are Family."
Hilton sang: "I am a fat ugly Jewish b****/ I'm a little jap-y Jew / I am a little Black w****, I get f***** in the butt for coke / I'm a [n-word] and I'm Black and I steal s***."
Another incident saw a Daily Mail reporter claim to have seen footage of Hilton calling two Black men "dumb [n-words]" behind their back when they approached her and oil-heir friend Brandon Davis in Paris. Author Mark Ebner also wrote about the incident in his 2009 book Six Degrees of Paris Hilton, but added that she said "dirty" instead of "dumb."
Davis spoke out about his former friend. He told the National Enquirer in 2004 that Hilton was "racist" and "she was forever using the n-word. I told her not to use it. It was offensive. But she just laughed. She is a racist, plus an idiot.
"Every Black person she referred to was a [n-word]," Davis added. "She uses the word all the time, and I've known her all of her life. It's '[n-word] this' and '[n-word] that.' She's a disgrace. She is a racist," he said at the time.
"She puts down Jews and other minorities, too. And I'm Jewish. I found it depressing. I finally had enough of her attitude six months ago, and I finished with her. I don't want anything to do with her. I don't need anything from her. She is no longer my friend. She's just not a nice person."
Other alleged incidents include Hilton telling celebrity profiler Neil Strauss in 1999 that she "can't stand Black guys." She also was recorded by a taxi driver saying gay men were "disgusting" and "most of them probably have AIDS."
A spokesperson for Hilton defended her comments to RadarOnline.com, which had published the recording.
"Paris Hilton's comments were to express that it is dangerous for anyone to have unprotected sex that could lead to a life-threatening disease," the spokesperson said in 2012.
"The conversation became heated after a close gay friend told her in a cab ride a story about a gay man who has AIDS and is knowingly having unprotected sex. He also discussed a website that encourages random sex by gay men with strangers.
"As she was being shown the website, her comments were in reference to those people promoting themselves on the site," the spokesperson added. "The cab driver, who recorded this, only provided a portion of the conversation.
"It was not her intent to make any derogatory comments about all gays. Paris Hilton is a huge supporter of the gay community and would never purposefully make any negative statements about anyone's sexual orientation."