Paris Hospital Director Calls for Christmas Gatherings to be Canceled as France's COVID Cases Rise
A Paris hospital director called to cancel Christmas and New Year's gatherings as France's coronavirus cases continue to rise.
Julien Lenglet, a hospital director at Anthony Hospital in the Paris region, told RMC Radio on Thursday that Christmas and New Year's Eve parties could cause cases to surge further.
Lenglet said that celebrations could end as "giant, intergenerational clusters that could be at the origins of a potential new third wave" of the coronavirus pandemic.
"I would say, without any hesitation, that we ought to cancel Christmas and Saint-Sylvestre," Lenglet continued.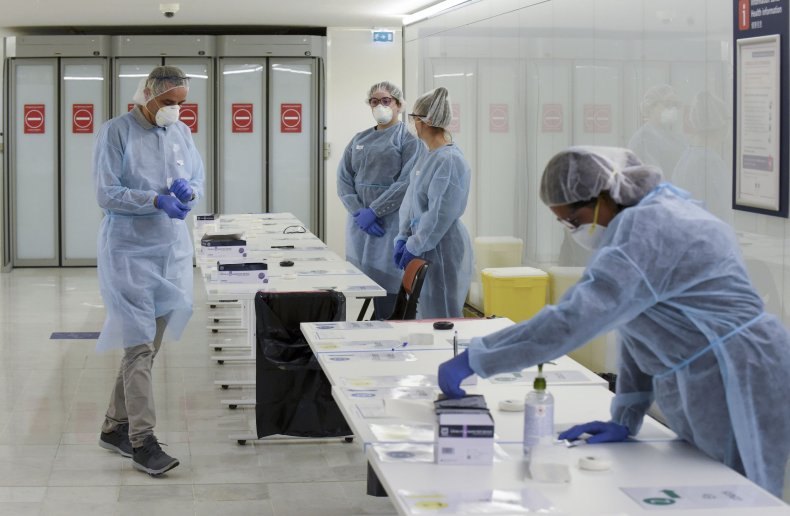 France entered a second national lockdown at the end of October with the aim of curbing the spread of COVID-19.
French President Emmanuel Macron said during a televised address on October 28 that the country entered a second lockdown because France has been "overpowered by a second wave."
The lockdown is expected to last until December but could be extended or shortened depending on what data reflects in the upcoming weeks, said Macron.
The European Commission has since issued a call for its member states to "work closely together" and warned, "no member state will emerge safely from this pandemic until everyone does."
German Chancellor Angela Merkel also announced a four-week partial lockdown amid the country's rise in cases in October. Spain and Italy have imposed lockdown restrictions as well.
France introduced its first lockdown in mid-March and began lifting restrictions two months, later. While the country appeared to have flattened its virus curve throughout the summer months, cases numbers began increasing again in August.
In October, public health officials began reporting daily cases in the country increasing by the tens of thousands.
On November 8, France reported 86,852 cases, a record high for the country, according to data compiled by the World Health Organization. France's new daily cases have since decreased to 38,619 on November 9, an approximate 55 percent fall in cases from the day prior.
With over 1.8 million coronavirus cases confirmed in the country since the beginning of the pandemic, France is ranked with the fourth-highest number of cases in the world, behind the U.S., India and Brazil, according to data from John Hopkins University.
With only a few weeks before the start of the holiday season in In the U.S., public health officials are also wary of potential COVID-19 spikes due to Thanksgiving, Christmas and New Year's gatherings.
Dr. Anthony Fauci, White House coronavirus task force member and director of the National Institute of Allergy and Infectious Diseases, told CNN in October that some people should "hold off" on holiday celebrations.
"I say that some people in this country are going to be a relatively normal type of a Thanksgiving but in other areas of the country, it's gonna be— you better hold off and maybe just have immediate family," said Fauci. "You know, I'd like to say that everything is gonna be great by Thanksgiving, but I'm not so sure it is."