Park Cannon to Return to Georgia State Capitol After Arrest, as Her Attorney Dismisses Charges
Georgia state Representative Park Cannon, a Democrat, plans to return to work at the state Capitol on Monday, with her attorney dismissing the charges filed against her after she knocked on Governor Brian Kemp's door ahead of the signing of the highly controversial SB202 legislation.
Videos of Cannon's arrest and her being escorted from the state Capitol on Thursday went viral online. The state representative, who is Black, has been charged with two felonies of obstructing law enforcement and disrupting a general assembly session because she knocked on Kemp's door.
The lawmaker insisted that members of the General Assembly and the public should be allowed to witness the signing of the controversial legislation. The bill has received significant backlash, as it would make requirements for absentee voting more rigorous, while also limiting ballot drop boxes and shortening the time that voters can request a mail-in ballot.
"She absolutely plans to return [to work]," Cannon's attorney Gerald Griggs told ABC News on Saturday. "She'll be doing the job that she was elected to do for her district and the people of Georgia. And as far as the charges are concerned, they're just allegations at this point. They have to be proven beyond a reasonable doubt."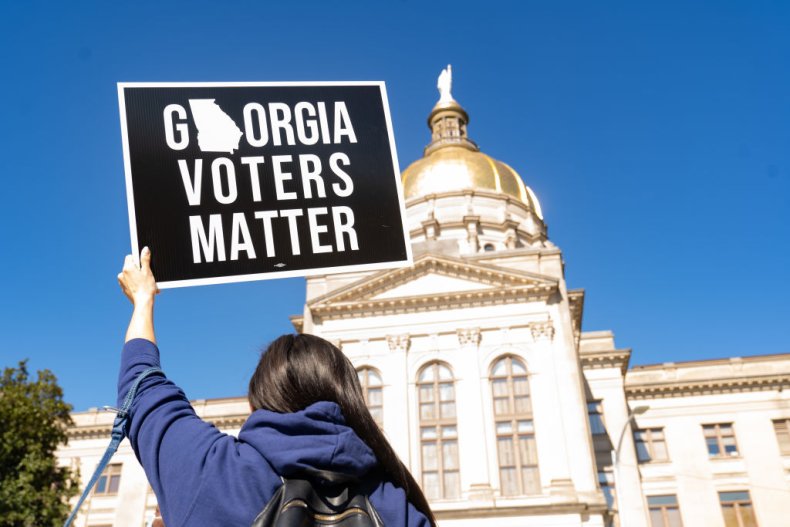 Griggs suggested that the Georgia lawmaker may actually have a legal case against the state for an unlawful arrest. Cannon and her attorney point out that state lawmakers are normally allowed in the area of the state Capitol where she was detained and that she had no expectation that she would be arrested for knocking on the governor's door.
"The state of Georgia needs to understand that this is a nation of laws and the laws are quite clear when you unlawfully arrest someone," Griggs explained. "We believe that the facts and evidence clearly shown to the entire world show she's innocent. So, we plan to continue to legislate the way she's always legislated, and keep moving until these charges are dismissed."
The state representative's lawyer also drew a comparison between Georgia's current Republican leaders and the tactics of infamous segregationist George Wallace, who served four terms as Alabama's governor.
"It reminds us of the '50s and the '60s in Alabama, Mississippi and Georgia and South Carolina," Griggs said. "But I think the governor needs to understand that we are not going to sit back on George Wallace-type tactics and not respond the same way we responded to George Wallace. So I think the rest of the country needs to take a very strong look at the tactics that are being used in Georgia."
Democrats have slammed the new Georgia election law, which was pushed quickly through the state's Republican-controlled legislature based largely on President Donald Trump's false claims of widespread voter fraud. President Joe Biden and other Democratic lawmakers have described SB202 as "Jim Crow in the 21st century," as the laws are seen to target communities of color.
"Hey everyone, thank you for your support. I've been released from jail. I am not the first Georgian to be arrested for fighting voter suppression. I'd love to say I'm the last, but we know that isn't true," Cannon wrote in a Friday tweet.
"But someday soon that last person will step out of jail for the last time and breathe a first breath knowing that no one will be jailed again for fighting for the right to vote," she added in a follow-up post.
Newsweek reached out to Kemp's office for comment, but did not immediately receive a response.