The owner of a Tesla said his car is now "completely gone" after it caught fire outside a California home.
Ediel Ruiz and his partner were visiting family in California City on Saturday, May 14.
Ruiz then received a phone notification that his car alarm had gone off and went outside to investigate what had happened, according to CBS affiliate KBAK.
When he opened the back door, Ruiz found his 2019 Model 3 Tesla had somehow caught fire and had already melted his 4-month-old child's car seat.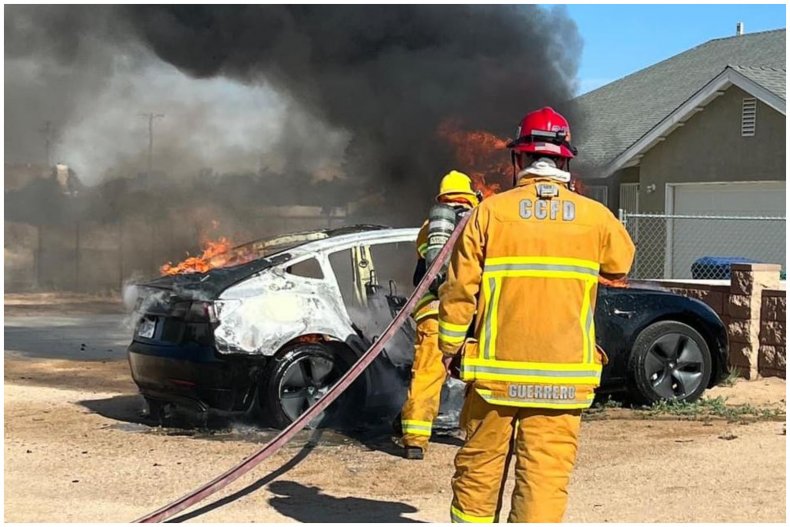 He told KBAK: "We had that, the stroller, formula, [my partner] had just graduated from USC the day prior. All her graduation stuff burned up."
Ruiz continued: "Honestly, I didn't know how to react, I mean it just kind of happened."
No one was in the car when it caught fire and no one was injured.
The California City Fire Department (CCFD) said firefighters arrived at about 4:56 p.m. putting out the blaze shortly after they arrived.
A CCFD spokesperson said in a May 15 Facebook post: "Paramedic Engine 19 was dispatched to a vehicle fire to the front of a home in the 9600 block of Mendiburu Road.
"Medic Engine 19 arrived on the scene and firefighters quickly provided fire exposer protection and extinguishment of the vehicle fire. No injuries were reported at the time of the incident."
Ruiz told the network it was lucky the fire did not happen while they were driving.
He added: "We were going to go to Bakersfield to go eat at Texas Roadhouse. Luckily, for whatever reason, her grandparents canceled and we didn't go. It didn't happen while we were driving."
California Fire Department PIO David Orr said electric vehicle fires are difficult to put out and that the department has special training to learn how to handle them.
During an electric vehicle fire more than 100 organic chemicals are generated, including some toxic gasses, such as carbon monoxide and hydrogen cyanide, that can be fatal.
Ruiz told firefighters that he wanted the car to be removed from the front of the house and added: "I tried to make it clear that the car was completely gone.
"I don't think they understood how bad the fire was. So when he showed up, he said, 'I'm not prepared or equipped to remove this, I can't drive this down the freeway or the ash will go everywhere.'"
Newsweek has contacted Tesla for comment.
According to safety data gathered by Tesla, from 2012 to 2021 there was one vehicle fire for every 210 million miles traveled.
Newsweek has previously reported on several cases where Tesla vehicles have burst into flames.
Last year, the driver of a $129,000 model found his vehicle caught fire as it was being driven close to their Pennsylvania home. The fire happened three days after it was delivered.
Attorney Mark Gregaros said his client struggled to escape from the car when after it caught fire.
He added the lawyer said that the electronic door system failed and that the driver had to "use force to push it open."