'Parkland 17': Heart-Wrenching ESPN Doc Shows How Marjory Stoneman Douglas Football Team Got Over Tragedy a Year on
Since a mass shooting claimed the lives of 17 people at Marjory Stoneman Douglas high school last February, the number has been intrinsically linked with Parkland, Florida.
As the first anniversary of the shooting approaches, however, the number has come to represent strength and unity, rather than tragedy.
"Seventeen no longer means that such a terrible thing happened," Ryan Kavanaugh, the quarterback of the school's football team, told ESPN in Parkland 17, the first episode of the new series of E:60 documentaries, which airs on Sunday, February 10.
"It really means coming together and struggling to adversity. Nothing can tear us apart."
On February 14, 2018, Nikolas Cruz opened fire on campus, killing 14 students and three staff members, and injuring 17 others. The attack was the deadliest shooting at a U.S. high school, surpassing the massacre that killed 15 people at Columbine High School in 1999.
While the tragedy was experienced by the entire Parkland community, it hit particularly close to the school's football team, as one of the victims was beloved assistant football coach and school security guard Aaron Feis .
A former student and coach at Marjory Stoneman, Feis was told about the gunman by student Chris McKenna.
McKenna was on his way to the bathroom when he ran into Cruz holding a semi-automatic rifle. The student ran out of the building to alert Feis, who drove him to safety on his golf cart.
Shortly afterward, as he tried to enter the area where the massacre was taking place, the 37-year-old was killed.
For Willis May, the school's football coach, Feis's gesture encapsulated the bravery and commitment that had made him such a beloved figure on campus.
"He just thought, 'I've got to go to help,'" May said of his late friend.
"'I'm going where that is. Wherever that guy is, that's where I'm going and then I'm gonna stop him'. He didn't think. He just did his job, he went there and took care of those kids."
May, who has been leading the Eagles for six years, enjoyed a very close relationship with Feis.
"He was like my brother and I loved him," he said.
May still shares a desk right next to his fallen friend's, which he hasn't touched since Feis's death. A banner portraying Feis proudly adorns the entrance to the field, and every Eagles player and May make a point of touching it before each game.
If the scale of the shooting left the country aghast at a time when debate over gun control was dominating the political agenda, Parkland had to deal with its legacy alone.
"February 14 was a nightmare. A complete nightmare," said May, who often wondered whether the community would ever "get out of the shadow" of one of the worst school shootings ever.
"There are so many days when I don't want to come back here," he said.
"I'm only here because I have love for my players, my students and these kids."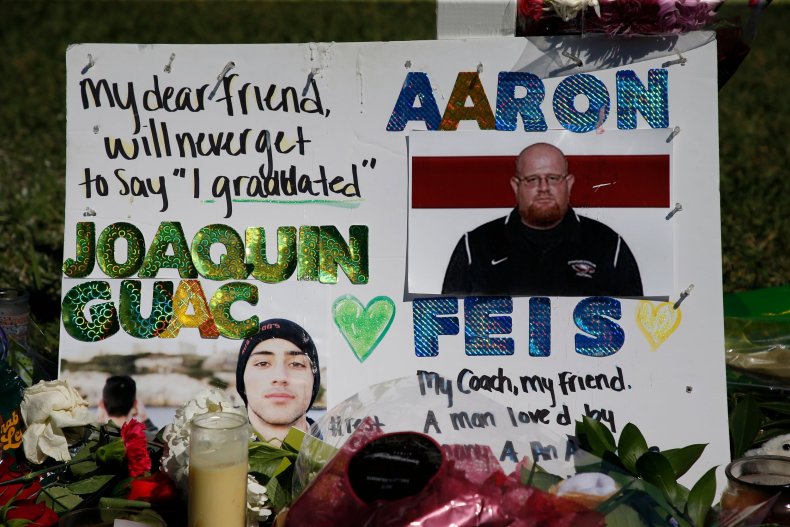 As it is often the case in such tragic situations, sports provided both the opportunity to honor the dead, and to celebrate the living.
For Marjory Stoneman Douglas, football was the conduit to channel grief into strength and unity.
"I just wanted to honor the 17 through our football program," May said.
"I wanted all their families to know we were thinking about them."
The number 17 was a recurrent theme of the Eagles season, as they began their bid for a first playoff spot in 17 years with a 17-point win in their first game.
There was to be no fairy-tale ending to the season, however, as the Eagles missed out on the playoffs after losing their last game of the season. Played on seniors' night, the game was a momentous occasion as relatives of the victims were presented with match balls at half-time, and Feis's high school football number was retired.
While players said the half-time ceremony left them mentally drained, May was philosophical.
"Sometimes life is hard. If anyone should know that, we should know that. But you don't quit, you don't lie down. You just comeback and you fight the next day."
Parkland has stuck to that principle since February 14, 2018.
Parkland 17 airs February 10 at 9 a.m. ET on ESPN.