Parkland School Shooting Prompts Chicago Suburb of Deerfield to Ban Assault Weapons
A Chicago suburb is banning the possession, sale and manufacturing of assault weapons and large-capacity magazines in response to recent mass shooting at a school in Parkland, Florida, and other massacres in the U.S.
Residents in the affluent area of Deerfield, Illinois, now have until June 13 to remove certain guns such as the AR-15, AK-47 and Uzi from their possession, or face a fine of between $250 and $1,000 per day until they do.
The Village Board of Trustees approved the ordinance as assault weapons have been used in an "alarming number of notorious mass shooting", including the attack at the Marjory Stoneman Douglas High School in Parkland which left 17 people dead, as well as the massacres at Pulse Nightclub in Orlando, Florida, that killed 49 people and a Las Vegas music festival which killed 58 people.
"We hope that our local decision helps spur state and national leaders to take steps to make our communities safer," Deerfield Mayor Harriet Rosenthal said in a statement.
The debate over gun control laws has once again reignited in the U.S. following the latest mass shooting, but most chances to alter legislation has been unsuccessful. Florida lawmakers previous voted down a motion to hear a bill on banning assault rifles in the state days after the shooting in Parkland.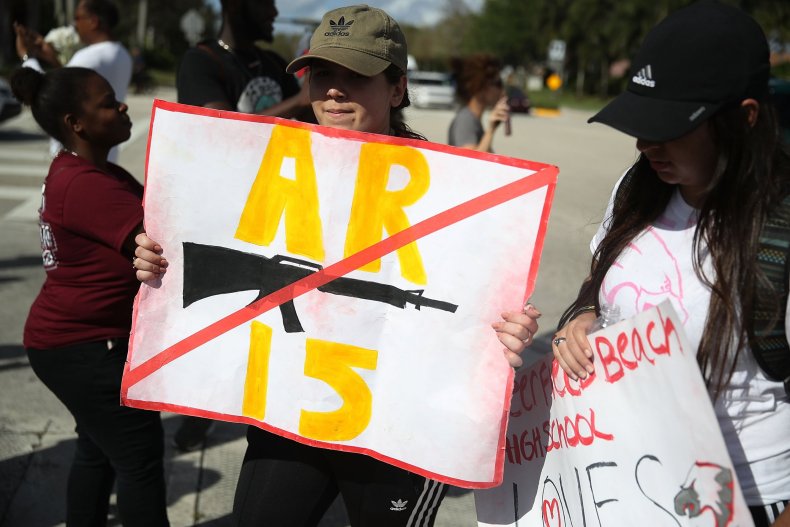 The move to ban assault weapons in Deerfield was met with opposition by the National Rifle Association, an organization who have come under constant criticism during the latest gun control debates.
"Every law-abiding villager of Deerfield has the right to protect themselves, their homes, and their loved ones with the firearm that best suits their needs," said Chris W. Cox, executive director of NRA's lobbying arm.
Gun rights group Guns Save Lives said they would sue Deerfield with the assistance of the NRA in ordered to overturn the decision
"We are going to fight this ordinance, which clearly violates our member's constitutional rights, and with the help of the NRA I believe we can secure a victory for law-abiding gun owners in and around Deerfield," said John Boch, president of Guns Save Life.
Mayor Rosenthal previously said she wanted the the ban in the wake of the Februray 14 school shooting in Parkland.
"Enough is enough," Rosenthal said, reports the Chicago Tribune. "Those students are so articulate just like our students. There is no place here for assault weapons."
The ban is an amendment to a 2013 ordnance which regulated the storage of assault weapons and large magazines.