Parkland Students Voice Outrage After Fourth Mass Shooting in 17 Days
Survivors from the Parkland, Florida, shooting are speaking out in response to the fourth mass shooting in the last 17 days.
"Our hearts are heavy and with Orange County as we wake up today. Yet another community shaken by the preventable tragedy of gun violence," March For Our Lives said in a Thursday statement. "No one should have to face this tragic end, and we are especially saddened to hear a child is among the victims."
"Holding space for the OC Community as they navigate grief and loss," the group added. "We cannot truly be safe until we are free from gun violence."
March For Our Lives is led by students who survived the 2018 mass shooting at Marjory Stoneman Douglas High School. The group also organizes under the political action committee Never Again MSD, which advocates for tighter gun laws.
On Wednesday, four people, including a child, were killed in a shooting at an office building in Orange County, California. A fifth victim was wounded and transported to a local hospital. The incident marked the fourth mass shooting in the U.S. in 17 days.
"Another one," Cameron Kasky, a Parkland survivor, tweeted in response to the news. "A child was just shot dead among three others in an office building, welcome to America."
Kasky and his classmates have become prominent gun control advocates following the Parkland shooting.
On March 24, 2018, Kasky and fellow survivors helped organize a student-led demonstration that gained national prominence after an estimated 1.2 million to 2 million protesters turned out in support of gun legislation.
Parents who lost their children in the Parkland shooting have also become leading activists on the issue.
Fred Guttenberg, who lost his daughter Jamie in the school shooting, tweeted, "Another mass shooting with multiple casualties, including a child. The shooter shot at law enforcement. This public health emergency will NOT solve itself. We need national leadership NOW. Americans voted for background checks & the Senate must act."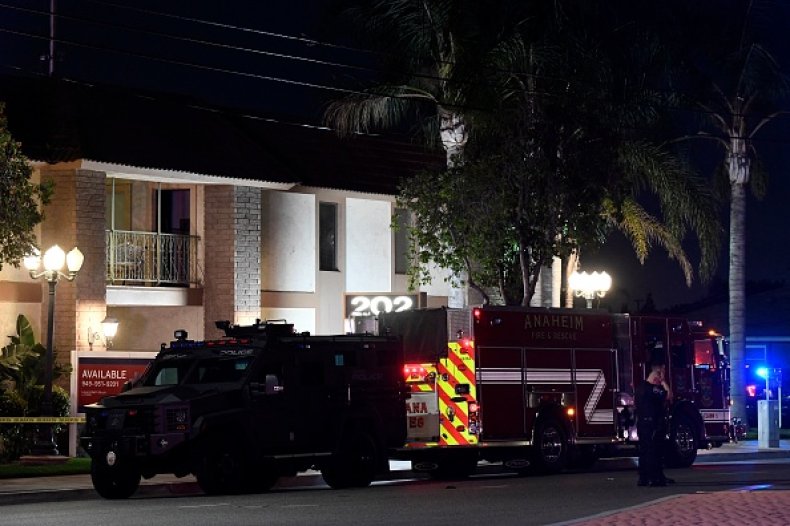 Two other high-profile mass shootings occurred in March—one in Atlanta and the other in Boulder, Colorado—the two incidents within a week of one another.
On March 16, a gunman killed eight people, including six Asian women, at three spas in Atlanta in what has been suspected to be a hate crime against Asian Americans.
Less than a week later, a 21-year-old shooter stormed a grocery store in Boulder, leaving another 10 dead.
On March 28, a Maryland man shot his parents, killing a total of four people, before setting himself on fire. A fifth victim was wounded by gunfire but survived.
The sequence of events has once again mounted pressure on lawmakers to take action on gun laws.
On March 23, senators debated with a new urgency on how to address gun violence in the country, with Democrats demanding legislative change and Republicans denouncing those calls.
This month, House Democrats passed two bills seeking to expand background checks for gun owners, despite the unlikelihood that those bills would pass in the 50-50 Senate.